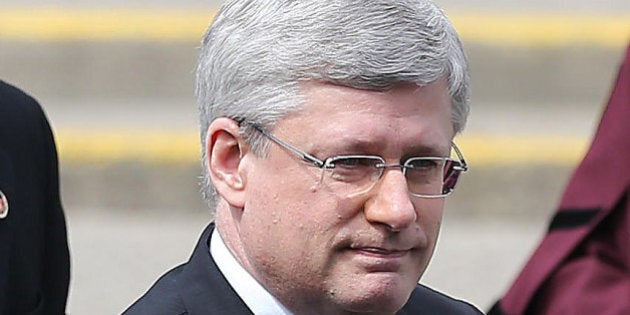 Prime Minister Harper says he won't lift a finger to help the environment because he's working too hard to protect jobs. In fact he is imperiling our future by blocking innovation in order to support a fading industry: fossil fuels.
Instead of the discredited trickle down theories of the right we now get "trickle over" from Harper. You see, he believes that if we just keep building horrendously expensive tar sands plants the jobs will magically waft across Alberta's borders. It ain't working.
The Canadian economy expanded by an anemic 1.2 per cent in the first three months of the year as job growth and spending sputtered in an economy that has its lost mojo. TD economist Leslie Preston said the bleak picture will stretch well into mid year. And you have to wonder if he's being optimistic.
Despite these woes, Harper this week met fellow climate confusionist, Prime Minister Tony Abbott of Australia, and in a rare moment of candor laid bare his woeful plan of inaction.
"It's not that we don't seek to deal with climate change," Harper said, as he proceeded to explain precisely why he would take no such action on climate: "But we seek to deal with it in a way that will protect and enhance our ability to create jobs and growth, not destroy jobs and growth in our countries. "
In Canada and the world we are at a critical crossroads today over global warming -- it is triggering catastrophic changes in our climate. But the kicker is taking action now is not only needed, it will actually help spur job growth in the economy.
U.S. President Obama, for all his many faults, is finally leading on his most important brief: global warming. He is unleashing the Environmental Protection Agency to cut emissions from coal-fired power plants. It is a major step forward for the U.S. and while more needs to be done, it could lead to an international consensus on how to battle global warming.
Obama's move will also unleash innovation in renewable energy so the big power companies can cope with the tough new standards. It would be at Canada's peril to ignore its largest trading partner when it makes such a big move in a new direction -- sort of like sloughing off Ford's Model T or the onset of the personal computer. The fix is in for momentous change.
So from team Obama, score one for the environment and one for the economy. We of course are getting no such leadership from Harper with his dystopian visions of Canada.
Some commentators said Harper would feel the pressure from Obama's move on climate Not bloody likely: watch him double down in his efforts to entrench Canada as a global, fossil fuel pariah. He will also continue to ignore the economic demise of central Canada.
One of the scariest things is watching Canada hitch its fortunes to the fading oil and gas sector. Globally the industry is suffering from soaring exploration and extraction costs, problems which are now hitting Alberta as well.
In November, Deutsche Bank's former head of energy research Mark Lewis noted:
"Over the past decade, the oil and gas industry's upstream investments have registered an astronomical increase, but these ever higher levels of capital expenditure have yielded ever smaller increases in the global oil supply. "
Lewis sees the fossil fuel business industry floundering in the next 20 years and being overwhelmed by the renewable energy industry because, in sharp contrast, it "has achieved tremendous cost reductions in recent years."
In Alberta a major oil sands project, Total's Joslyn development, has just been cancelled and the main voice for big oil in Canada, the Canadian Association of Petroleum Producers, has cut it rosy production forecast by 4.4 percent. As it is their job to cheerlead, CAPP might not be facing up to the full reality of the problems being caused by soaring costs.
What we need are braver people in Ottawa who can see that taking the tough decisions now could start paying off now and down the road. But with this government, it's not going to happen.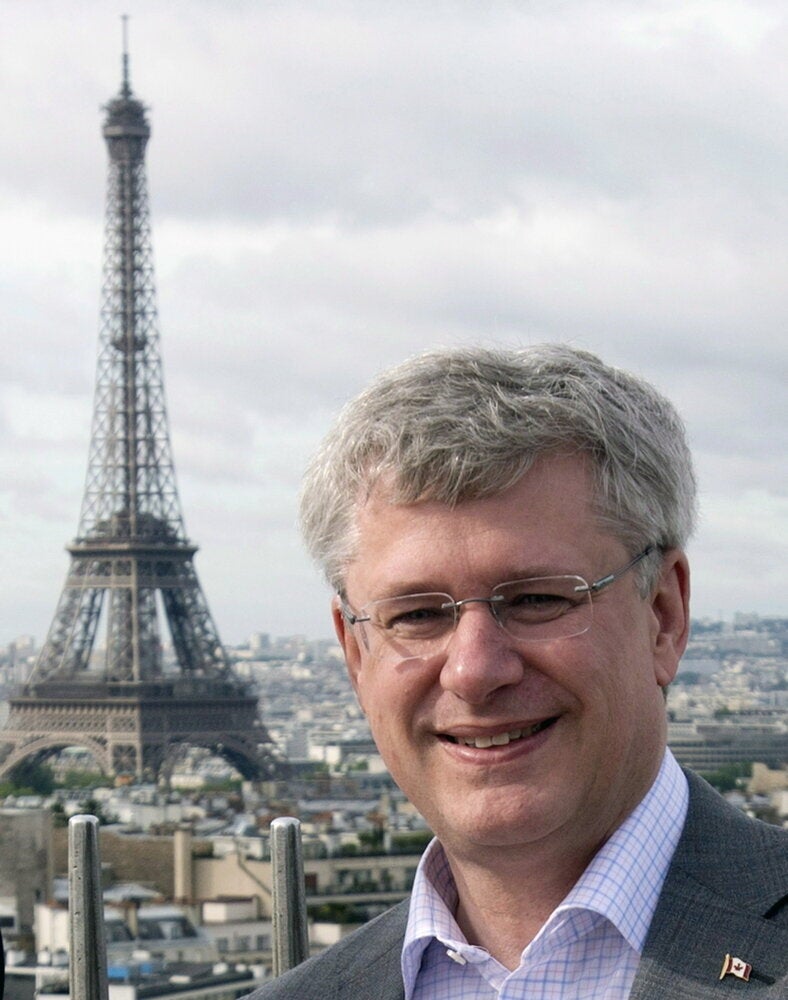 Where In The World Is Stephen Harper?