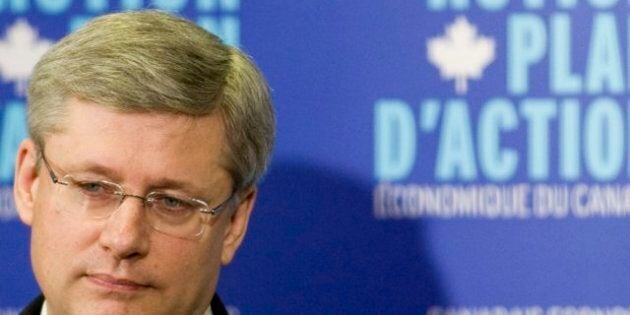 In my last post, which looked at Tony Clement's not-so-open "Open Government" initiatives, I mentioned that the B.C. Freedom of Information and Privacy Association (FIPA) had recently received leaked documents detailing a new federal government plan to make government websites a whole lot less informative.
Since being tipped off to the plan, FIPA has attempted to obtain details under the Access to Information Act. Unfortunately, we keep running into roadblocks thrown up by the Treasury Board, the domain of -- you guessed it -- open government minister Tony Clement. First, Clement's department demanded thousands of dollars in fees to process the request. Now they're insisting on hundreds of days of delays to allow for unspecified "consultations."
Frustrating as this process has been, our leaked documents show it's no surprise that the government is dragging things out.
In our hot little hands, we hold a PowerPoint presentation that outlines the federal government's Web Renewal Action! Plan (available in two parts here and here). Scheduled to roll out at the end of this month, the plan will bring about some major changes in how government information is posted and archived online, and not for the better.
Authorized by the prime minister himself (see slide 2 of part one), it clearly outlines the government's intention to drastically cut the number of government websites available to Canadians. Initially, the page count will be slashed to six, with the ultimate goal of consolidating all online Government of Canada information into one big website.
Even more worrisome is the fact that the government is also contemplating making content available according to popularity (see slides 4 and 6 of part one), preserving only that which receives a suitable number of clicks. Because everyone knows the most important information is always the most popular.
Although the deadline for the change is the end of this month, many of the proposed changes have already taken place.
Note, for example, the new blue and white motif that now graces some ministerial websites, as well as the Government of Canada landing page. More standardized layouts have also been introduced.
But that consolidation is coming at a steep cost. Information has already started to disappear from the revamped websites. The Department of Justice website used to include a section for minister's speeches, archived by year. In the transition to the new format, that section was apparently axed. Though perhaps this is because Justice Minister Rob Nicholson hadn't posted a single speech since March 2010 and it was starting to get embarrassing.
The Aboriginal Portal, established in 2001, is also gone. Today, the site simply hosts a piece of text declaring that, since there is now more information on aboriginal issues available elsewhere online, the records once archived in the portal are no longer necessary. According to the government, "search engines and social media have rendered the portal website obsolete." Apparently Twitter has displaced properly vetted and archived government records.
These slash-and-burn tactics, though, are not without opposition. Librarians at the Universities of Toronto and Alberta wisely crawl-captured the content before it was stuffed down the memory hole. Clearly these information experts aren't convinced that information has a "best before" date. Many of the links they managed to grab, however, are already dead.
"Further to the 2012 Budget, the decision has been made to completely transition all publications published by the Publishing Program and publications provided by departments to the Depository Services Program from traditional print to exclusively electronic publication in two years."
But there's a small problem. The staff for digitization at Libraries and Archives Canada has also been cut by 50 percent. This means that new publications will go up online, but older information in hard copy is even less likely to become available.
Long-term research and evidence-based policy making are about to get a lot tougher.
This is all on top of the frequent erasure and/or alteration of electronic information under this government. Recall the mysterious disappearance of information about environmental protection from the Navigable Waters Act online FAQ after a Harper government minister was embarrassed in the House.
But we are saying this based on the information that has leaked out so far. So if anyone at Treasury Board has concerns with the completeness of the details in this blog post, feel free to send us any information you wish. Starting with what we have already requested through ATI.