 Canadians taxpayers have spent more than $85,000 over the last three and a half years helping the Conservatives rebrand the federal government as the "Harper Government."
Government of Canada news releases now routinely credit initiatives as coming from the Harper Government, a term some observers have deemed excessively partisan and a break with traditional practice.
Public servants were directed to use the moniker despite some initial push back after the Tories formed government in 2006. According to data released last week, the term was rarely used between 2006 and 2008 but since 2009 it has become increasingly prominent in government communications. Over the course of the past six years, there have been more than 988 press releases issued by the "Harper Government" at a cost of more than $86,138.
In an order paper question, Liberal MP Carolyn Bennett asked the government how many departments, agencies and Crown corporations had issued press releases with the words "Harper Government" and how much their promotion had cost taxpayers.
Bennett said the term "Harper Government" blurs the line between a political party and the machinery of government.
"This is very very concerning," she told The Huffington Post Canada. "It's about a person, it's about a party, it's not about something that the Government of Canada is moving on.
"When you have the National Research Council… saying that the Harper Government supports some very intricate piece of research, it's not right because it is not Stephen Harper; it is the Government of Canada and it's the people of Canada who paid for this," Bennett said. "The National Research Council is a totally non-partisan arms-length body. It is not a decision made by the Harper Government."
While more than 78 organizations, including the CBC, the National Roundtable on the Environment and the Economy and the Canadian Environmental Assessment Agency said they issued no press releases with the controversial phrase, 37 departments and agencies, including Parks Canada, the Canadian Space Agency, the Natural Sciences and Engineering Research Council and the Canadian Mortgage and Housing Corporation said they issued news releases praising the accomplishments of the "Harper Government."
The number of press releases with a "Harper Government" mention and the cost associated with their distribution is sure to be higher than what was tabled in the House of Commons, however, since two organizations that issue thousands of news releases, Infrastructure Canada and the Economic Development Agency of Canada for the Regions of Quebec, refused to follow direction from the Privy Council Office and table specific answers to Bennett's questions. Four additional agencies said they did not collect data on press releases.
Prime Minister Stephen Harper's spokesman Andrew MacDougall suggested there was nothing wrong with the branding practice.
"The government has not 'done away' with 'Government of Canada' -- the order paper question confirms this fact. Some departments use it, some don't. Both are accurate," MacDougall wrote in an email. He pointed out that Paul Martin's Liberal government had used the term in at least one communication document.
Records released this week show the Federal Economic Development Agency for Southern Ontario spent $2,405 in 2009 to send a news release titled "Harper Government Announces New Cargo Terminal for London International Airport" while the Canadian Tourism Commission spent $1,500 in 2010 to announce the "Harper Government Welcomes First Official Chinese Tour Groups."
The costs of sending news releases varied between departments with some, such as Finance Canada and the Atlantic Canada Opportunities Agency, refusing to disclose individual news release costs citing general contracts with CNW or Marketwire networks. A press release from the Canadian International Development Agency titled "Harper Government Helping Improve Water in Uganda," for example, cost only $100 while there were no costs identified for a Heritage Canada news release saying "Harper Government Launches iPhone Application to Promote the Royal Tour."
Bennett said she plans to introduce a new private member's bill that would establish a third-party clearance body to determine whether government ads are too partisan. She said she's modelling her bill on a system currently in place in Ontario.
"Somebody else would decide whether it should be government money or party money," she said. "This government spends so much money on communications, thousands of people, and at the same time cutting things that matter so much to people's lives."
The Liberal MP said she's deeply troubled by the "Harper Government" branding as well as the Conservatives' spending on Economic Action Plan signs.
"It doesn't stop there," Bennett said. "It's the branding of the websites and how blue is everywhere now and all this subliminal messaging. I mean to the point that they have gotten rid of all the red and green lights at Christmas time and we have blue and orange lights. What's with blue and orange Christmas lights all over Parliament Hill? There has been a serious effort in rebranding Canada blue."
The Conservative government had initially denied claims that it was instructing bureaucrats to change the wording of press releases. But documents obtained by the Canadian Press last year showed otherwise with public servants citing a directive from the Privy Council Office, the prime minister's own department.
Ralph Heinzman, a former civil servant who helped write the Government of Canada's communications policy, told the Canadian Press that public servants were engaging in very troublesome behaviour.
"There's a serious issue here and it's a deeply corrupting one for the public service," he told CP.
Heinzman suggested public servants were breaching the existing Communications Policy and as well as the Values and Ethics Code, a charge the government has denied.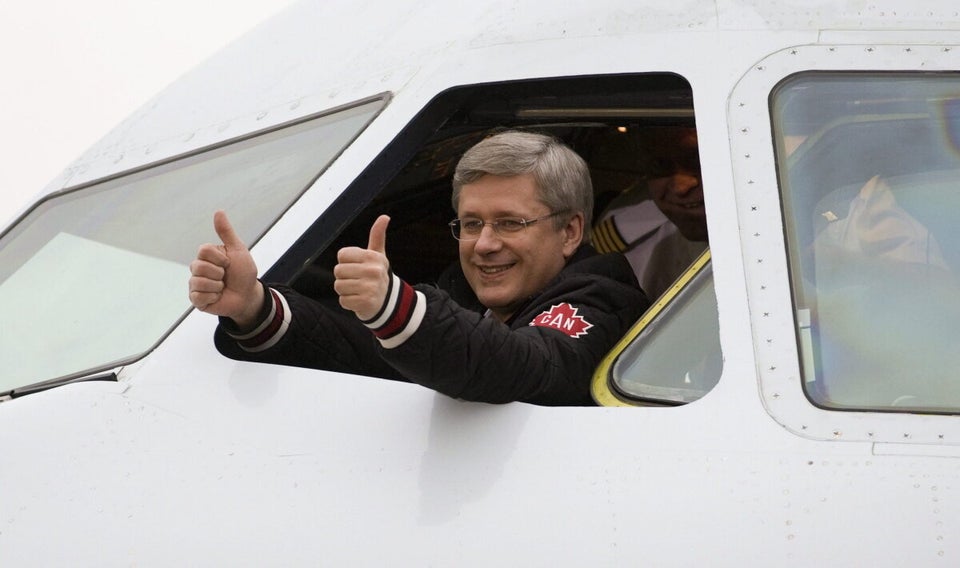 Hilarious Harper Moments