Stephen Harper continues to face uncomfortable questions from reporters about his former chief of staff, his current chief of staff, the senator he appointed, and an infamous $90,000 cheque.
But in what may be a sign of things to come, the Conservative leader is increasingly rejecting the "premise" of some of those questions.
"In (those documents) it shows that senior members of your staff, including members of your election staff, were seen as trying to deceive the Canadian public in the communications lines around the Duffy trial," she said.
"Don't you have an obligation as the prime minister to clean house? You demanded the same thing when you were in opposition of other prime ministers. Why won't you clean house now?"
Harper responded by saying he did not accept "that particular rendition of the facts."
The Conservative leader added that he felt Duffy should have repaid his own expenses and that, because Wright provided those funds himself, it was "appropriate" that the "two individuals responsible" are being held accountable.
CBC News' Hannah Thibedeau also took her turn.
A day earlier, Thibedeau asked Harper how it felt to know that his senior staff — including his current chief of staff, Ray Novak — "knowingly allowed you to repeat a lie for months that Mike Duffy had repaid his own expenses when that actually wasn't the case."
The Conservative leader's response? "Well, look, while I don't accept the premise of the question, I'm not going to get into disputing individual matters that are currently before the court."
On Monday, Thibedeau asked Harper what was wrong with the question she posed Sunday.
"Yesterday and today you said that you don't accept the premise of that question," she said. "What part of the question do you not accept?"
Harper deflected the query by saying he has been "very clear" that he holds Duffy and Wright responsible for their actions.
Watch CBC's video of the exchange:
Evidence at Duffy's trial last week revealed half a dozen PMO staff and Tory party stalwarts knew about Wright's deal with Duffy. Novak was included on an email from Wright detailing his plan to write a cheque for the senator's expenses, but a Conservative spokesman has said Novak did not open that email and was not part of a later conference call on the matter.
Last Friday, Harper told reporters the "vast majority" of his staff did not know about the actions of Wright.
On that same day, Thibedeau asked Harper why, in light of the revelations, he has "tolerated Mr. Novak's lying" and even promoted him to chief of staff.
"I would simply not accept the premise of that question," Harper shot back.
With files from The Canadian Press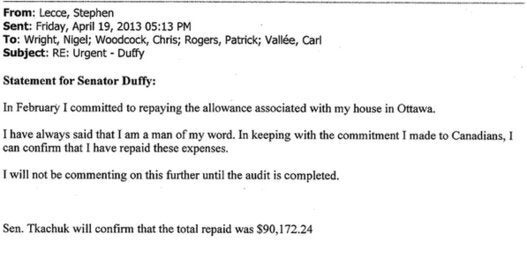 Nigel Wright Emails In Mike Duffy Case