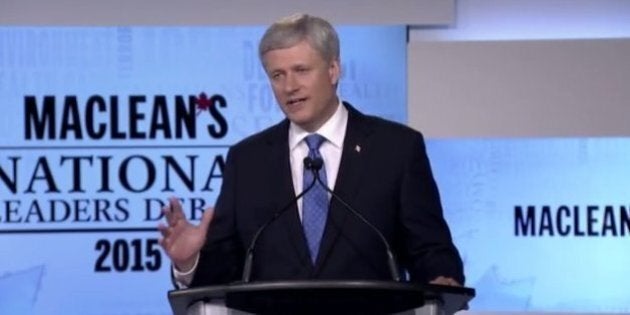 "Well, first of all, I certainly did not name all of the senators in trouble," Harper said at the Maclean's leaders debate on Thursday.
"My role is not to apologize for the bad actions of others."
The Conservative leader balked at the opportunity given by debate moderator Paul Wells to own up to his role in putting suspended senators Mike Duffy, Pamela Wallin, and Patrick Brazeau in the Senate in the first place.
Instead, he elaborated on the principles that come with political leadership.
"When bad actions arise, the role of a leader is to take responsibility and hold people accountable and that's exactly what we're doing," Harper said of his government.
He added that he thinks public pressure will help "force" a solution for a string of high-profile Senate scandals.
"And frankly I think the longer there are more vacancies the more it will raise questions about why we continue with the Senate we do," Harper said. "I've left 22 seats vacant already."
On the subject of democracy, he closed his comments by arguing any measure to open constitutional discussions is the "wrong priority for the country." The right priorities his government would focus on are on the economy and security, he said.
Green Party Leader Elizabeth May quickly took the Conservative leader to task over his remarks with one of the night's best zingers.
"Well, with all due respect Mr. Prime Minister, whoever gave you the advice that simply announcing you wouldn't appoint senators is constitutional needs to go back to law school," said May.
"What you're doing is unconstitutional."
She brought up Conservative senators killing a bill on climate accountability that had been passed by a majority in the House of Commons years earlier.
Introduced by then-NDP MP Bruce Hyer (who has since joined the Green Party), Bill C-311 was dropped in 2010, marking the first time time unelected Conservative senators flexed their near-majority to axe a bill passed by elected MPs.
"The Conservative senators were instructed to kill it at their first opportunity," May charged. "This is the first time in the history of this country that appointed senators have killed a bill without a single day of study in the Senate of Canada."
When the moderator asked Harper if he indeed advised his Conservative senators to stop the bill, he seemed to admit he intervened with the due processes of the Senate — an institution regarded as a place of sober second, independent thought.
"What we always ask senators to do, we cannot force them to do anything. What we ask them to do, Paul, is we ask them to support the party's position," he said.
"The party didn't support that particular bill."
The Conservative Party has not responded to HuffPost Canada's request to comment on Harper's apparent admission.
Voters will head to the polls on Oct. 19.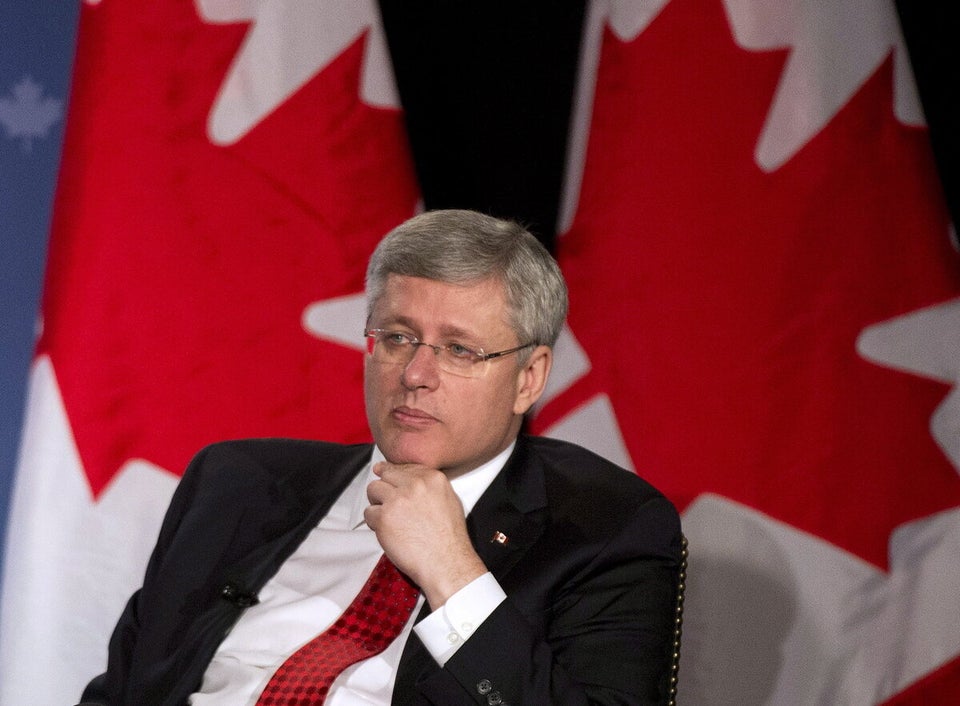 5 Recent Supreme Court Decisions That Went Against The Harper Government
Popular in the Community