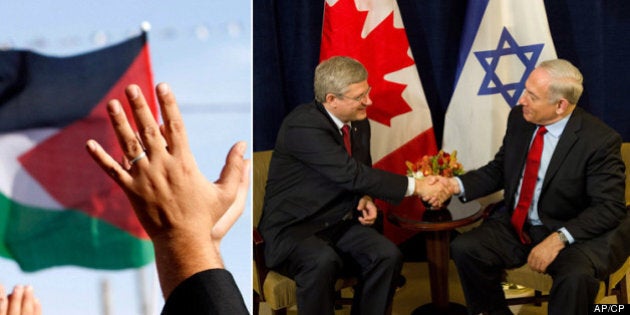 Of the 365 Canadians who wrote to Harper between Nov. 29 and Dec. 31, 2012, after the historic UN vote, the overwhelming majority — 300, 82 per cent — were adamantly opposed to the Conservative government's position. They used words such as "horrified," "disgusted," "saddened," "ashamed" and "disappointed" to express their feelings, according to documents obtained under the Access to Information Act.
On Nov. 29, the UN General Assembly voted overwhelmingly — 138 in favour, nine opposed and 41 abstentions — to upgrade Palestine's status at the UN from "observer" to "non-member observer state." Canada sided with Israel, the United States and six others in opposing the move. While largely symbolic, the status change would provide "a birth certificate to the reality of the State of Palestine," Palestinian President Mahmoud Abbas said. Israel saw the move as a "shortcut" to Palestinian statehood that would impede negotiations between Jerusalem and Ramallah.
Canada's vote against the Palestinian Authority's bid for recognition did not sit well with many correspondents.
Only 62 people — 17 per cent of letter and email writers — sided with the government's position. Three emails were neutral, with residents wanting to know why Canada had sided with the minority of countries that had opposed the Palestinian desire for public acknowledgment of its statehood.
A person writing from British Columbia said: "The vote yesterday at the UN has clearly placed Canada among the hawks and imperialists.... There may be some Canadians (mostly Jews and Jewish owned businesses) who support your view on Palestine but I wish to be counted amongst those who do not." (Names are redacted in the documents to protect privacy).
"[A]s a Canadian and a Jew, I am embarrassed to say that I am a Canadian due to your position taken on the UN vote re: Palestine," wrote another person, who urged Harper to listen and be a leader rather than a follower.
A person from Saskatchewan, who also professed embarrassment over Canada's vote, asked: "What is your response to the Israeli resumption of building new settlements?"
Canada refused to condemn Israel's decision to build 3,000 homes in the West Bank and East Jerusalem — a plan announced a day after the UN General Assembly vote. The White House said the settlements were counterproductive and would make it more difficult to resume negotiations and achieve a two-state solution. Canada, however, stood silent for days.
STORY CONTINUES BELOW SLIDESHOW
The prime minister's spokesman, Andrew MacDougall, refused to say whether Harper had broached the issue with Israeli Prime Minister Benjamin Netanyahu during a phone call on Dec. 1. On CBC, the following week, Deepak Obhrai, the parliamentary secretary for Foreign Minister John Baird, said unilateral action, by either side, would not enhance the peace process.
A B.C. resident wrote of being "ashamed" of Canada and our "petulant" response to recall our representative in Palestine for discussions after we didn't get our way.
"In early November, I was in Palestine with a group with focus on International Law and Human Rights. … and I [was] appalled by the treatment we were shown of the Palestinians by Israelis," the letter writer said.
In a speech to the General Assembly on Nov. 29, Baird said Canada strongly opposed the resolution because it was a unilateral action that would hamper negotiations toward a two-state solution.
"This resolution will not advance the cause of peace or spur a return to negotiations. Will the Palestinian people be better off as a result? No. On the contrary, this unilateral step will harden positions and raise unrealistic expectations while doing nothing to improve the lives of the Palestinian people," Baird said.
"You have mentioned that you believe in two state solution, then why oppose statehood for Palestinians?" one person emailed the evening after Baird spoke. "This is one of the pillars of the solution is it not? It will not invalidate any peace negotiations."
Some residents, however, wrote to say Harper and Baird's actions had made them proud to be Canadian.
"I know that many people are complaining, but I really think that good people are happy about what Baird did. I feel that everyone who really knows what is going on in the Middle East is rejoicing with the way we voted. And thumbs up to the Czech Republic, the U.S. and the others that voted no," a resident of Alberta said.
One person sent a handwritten note on flowery stationery thanking Harper for "taking a stand" and voting no. "Please continue to stand with Israel," the person wrote, underlining each word.
"The UN is a useless body and consists of terrorists and dictators. It has become a battle front for the countries versus Israel. Thank you for seeing who these organizations are and for what they stand," wrote a resident from Quebec.
Several urged Harper to stop sending any aid to the Palestinian territories.
"[C]ancel all aid to any country except Israel...including those Nations that get our Aid but supported this resolution. CANCEL IT ALL !! These states must learn to stop this crap," wrote one person in an email.
The bulk of the messages, however, were firmly opposed to Harper's decision. "I am a long time support[er] of the Conservative Government. I was very happy on your re-election," one person said. "But I am concerned at the recent Canadian stand on opposing vote for Palestinian[s]...Its embarrassing to see we stand in opposition to the righteous path."
Many emails sent in the days leading up to the vote urged Harper to support Palestinian statehood.
"Tomorrow is the vote on this & I certainly hope you and your cabinet have a rethink," wrote one person from B.C.
"Please don't embarrass us anymore," wrote another person whose letter was heavily redacted.
An Access to Information co-ordinator, citing restrictions on the release of personal information, said personal insults directed at Harper, Baird or other members of cabinet had been blacked out.
"[Blank] and your Government are an International Disgrace and I wait with eager anticipation to [blank]," reads one person's redacted letter.
Carleton University political science professor Mira Sucharov said she believes the Conservatives' "unwavering loyalty" to Israel, which has deepened over time, is based on a belief in the "rightness" of Israel's mission, not on a partisan calculation.
The Conservative government honestly believes that recognizing Palestinian statehood at the UN is inappropriate and unhelpful unilateral action, she said. The Tories' attitude toward Israel has little to do with courting the Jewish vote and more to do with sharing the same world view, Sucharov added.
"If it were about numbers, the Jewish community in Canada is much smaller than other communities that would have natural allegiances to the Palestinian cause," she said.
But for a few seats in Toronto and Montreal, where the Jewish vote is concentrated, Sucharov said, the Conservatives' pro-Israeli positions could actually hurt the party electorally with the larger but dispersed Palestinian, Arab and Muslim communities, who believe Canada has lost its status as an honest broker.
Several letter writers said public opinion polls suggest that Canadians strongly favour support for Palestine. Several recent polls, however, indicate that Canadians want a middle-of-the-road policy.
A CBC/Nanos survey in December suggested that 48 per cent of Canadians want a Middle East policy that favours neither Israel nor Palestine.
An Environics survey in 2011 had similar results. Half of those surveyed, 51 per cent, said they believed Canada's policy in the Middle East struck the right balance, while 23 per cent — a five per cent rise from 2008 — said the federal government's policy was "too pro-Israel." Those who felt Ottawa was too close with the Jewish state tended to be educated (with a university degree) or from Quebec.
Of the nine French-language letters sent to Harper's office in late November and December on this issue, six were strongly opposed to the prime minister's position.
The results may not be surprising. According to a BBC survey in 2012, most Canadians — 59 per cent — said they viewed Israel in a negative light, with only 25 per cent saying they viewed Israel's influence as being mainly positive.
Ottawa seems to pride itself on the fact it has never surveyed Canadians for their thoughts on the Middle East. The Privy Council Office — the prime minister's department — and Foreign Affairs both confirmed Monday that they have never polled on the question of Israel and Palestine.
Baird told reporters last month during a visit in the West Bank that Ottawa does not make foreign policy decisions "based on public opinion polls."
"We don't take positions ... based on what is popular. We make decisions based on what we think is right and wrong," he said in April.
"Less than one percent of Canadians side with Hezbollah," the report also stated.