Stephen Harper says he can't find a single "star" among the 54 NDP MPs from Quebec.
But a top New Democrat is firing back by reminding the Conservative leader about the so-called star Tories who lost in the province back in 2011.
The Conservative leader made the remarks Monday morning at an event in Laval where he suggested the "orange wave" of 2011 that saw New Democrats dominate the province actually resulted in sub-par representation.
Harper said that for more than two decades Quebec has sent "opposition MPs to Ottawa" who are "more and more ineffective." And New Democrats, he suggested, are the worst yet.
"That group of NDP MPs in the last four years is the most inefficient, ineffective group we've ever seen," he said in French. "There is not one star among those members of the Quebec NDP caucus."
Harper also reiterated a pitch he made at a rally in Montreal the night before that more Tory MPs from Quebec are needed around the "decision-making table." The Conservatives have only five MPs in Quebec and one key figure, International Development Minister Christian Paradis, is not running again.
In 2011, the NDP under Jack Layton won 58 of Quebec's 75 seats. Since then, three MPs left the caucus to join other parties and one was expelled after being found guilty of mischief.
There will be three additional seats in play in the province this time around, but polls have long suggested the orange team, now lead by former Quebec cabinet minister Thomas Mulcair, remains the one to beat.
Alexandre Boulerice, MP for Rosemont-la-Petite-Patrie since 2011 and his party's justice critic, told The Huffington Post Canada in a statement that the NDP isn't worried.
"We beat their so-called star candidates last time around and we intend to do it again this time," he said, adding that defeating Harper will mean he can't, like last time, turn around and appoint "failed candidates to the Senate."
After the last election, Harper appointed defeated cabinet minister Josée Verner to the upper chamber, and re-appointed defeated Montreal Tory Larry Smith. Harper also re-appointed Fabian Manning, a former Newfoundland MP who was named to the Senate after his defeat in the 2008 election but resigned to run unsuccessfully in 2011.
Former foreign affairs minister Lawrence Cannon, who was defeated by the NDP's Mathieu Ravignat in the riding of Pontiac, was also named Canada's ambassador to France in 2012.
As for the Tory MPs who currently represent the battleground province, Boulerice said they do nothing else but "parrot the lines" drafted by the Prime Minister's Office.
"That's why they went from 14 to 5 MPs in Quebec from 2008 to 2011," he said.
Boulerice said that for the first time in decades, "Quebecers have the opportunity to vote for a party that can form government and that will listen to them."
Though Harper proved he could win a majority government in 2011 without much help from Quebec voters, he notably began his campaign in the Montreal's Mount Royal — a riding Tories have long coveted that was once held by Pierre Elliott Trudeau. Widely-respected Liberal MP Irwin Cotler is not seeking re-election.
"Our road starts here in Montreal — at the heart of the great Quebecois nation," Harper said to supporters Sunday.
"Over the coming weeks, don't ever let anyone to tell you that Conservative values are not Quebecois values — it is absolutely not true."
More than 50 protesters demonstrated outside the Jewish community centre where Harper was speaking. Some anti-Harper stickers were slapped on the Conservative campaign bus and one man was arrested for uttering threats.
Tories are reportedly targeting around 15 seats in the areas of Quebec City and eastern parts of the province — known as the "Blue Arrow" — that could make all the difference between victory or defeat, majority government or minority.
With files from The Canadian Press, Althia Raj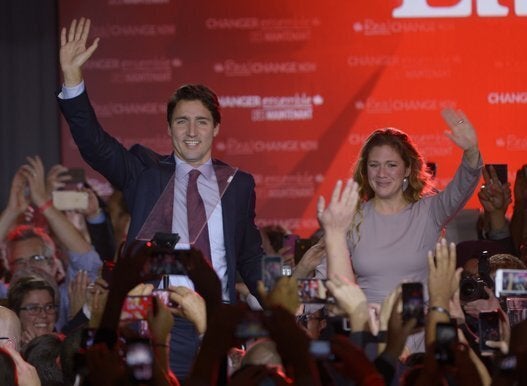 In Photos: Canada Election 2015