Prime Minister Stephen Harper drew attention to the personal finances of one of his key rivals Wednesday while deflecting criticism about the Conservatives' income-splitting promise.
For months now, Liberal Leader Justin Trudeau has hammered the tax break as something that will only benefit well-off families. That is to say, families just like his and Harper's.
A report released this week by the Canadian Centre for Policy Alternatives backed up those claims. According to the study, families with incomes of more than $233,000 stand to benefit most from the plan, which allows an eligible taxpayer with at least one child under 18 to transfer up to $50,000 of income to his or her spouse and collect a non-refundable tax credit of up to $2,000 per year.
Liberals and New Democrats have vowed to reverse the pledge if either party forms government.
On Wednesday, Trudeau rose in question period to tell the government it had the wrong priorities.
"Why does the prime minister insist on giving families like his and mine a $2,000 tax break?" he asked.
Harper shot back with a response that delighted his front bench.
"Let's be clear, the vast majority of Canadian families cannot rely on a personal trust fund," he said, in a thinly veiled jab at the Liberal leader's inheritance.
Harper went on to say "every single Canadian family" will benefit from tax reductions.
"They understand the Liberal Party would take those things away from them," he said. "And Mr. Speaker, they will tell the Liberal Party that it's on the wrong path."
When Trudeau asked the same question again in French moments later, Harper repeated the trust fund dig.
The prime minister's remarks drew a response on social media from Gerald Butts, Trudeau's chief adviser.
Trudeau voluntarily disclosed details of his personal finances while running for the Liberal leadership two years ago, including a $1.2 million inheritance from his father, former prime minister Pierre Trudeau. He told The Ottawa Citizen that he "won the lottery" by being born into a rich family.
Trudeau also divulged that he earned more than $1 million in six years on the public speaking circuit, including hundreds of thousands after he became an MP in 2008. He gave up his lucrative public speaking career when he decided to run for the Grit leadership.
The revelations caused Trudeau to face accusations from those on both the right and left that his privileged upbringing has meant he cannot understand the concerns of middle-class Canadians. And for a time in 2013, rival MPs had a field day with the news that Trudeau accepted speaking fees from charities.
Harper's zinger does not the mark the first time a party leader has scrutinized Trudeau's upbringing.
In a speech to his party's federal council last spring, NDP Leader Thomas Mulcair suggested Trudeau can't understand the concerns of average Canadians because of the way in which he was raised. Mulcair often brings up that, as the second oldest of 10 kids in his family, he had to work for everything he's achieved.
"Justin Trudeau will never know what middle-class means," Mulcair said. "He just doesn't understand the real challenges that families are facing. Never has. Never will."
In a speech earlier this month to kick off the new session of Parliament, Mulcair accused Trudeau of believing he can "just inherit power" without proposing any policies.
As leader of the Liberal Party, Trudeau earns $219,300 a year. As prime minister, Harper takes in $327,400, while Mulcair, as Opposition leader, earns $242,000.
With files from The Canadian Press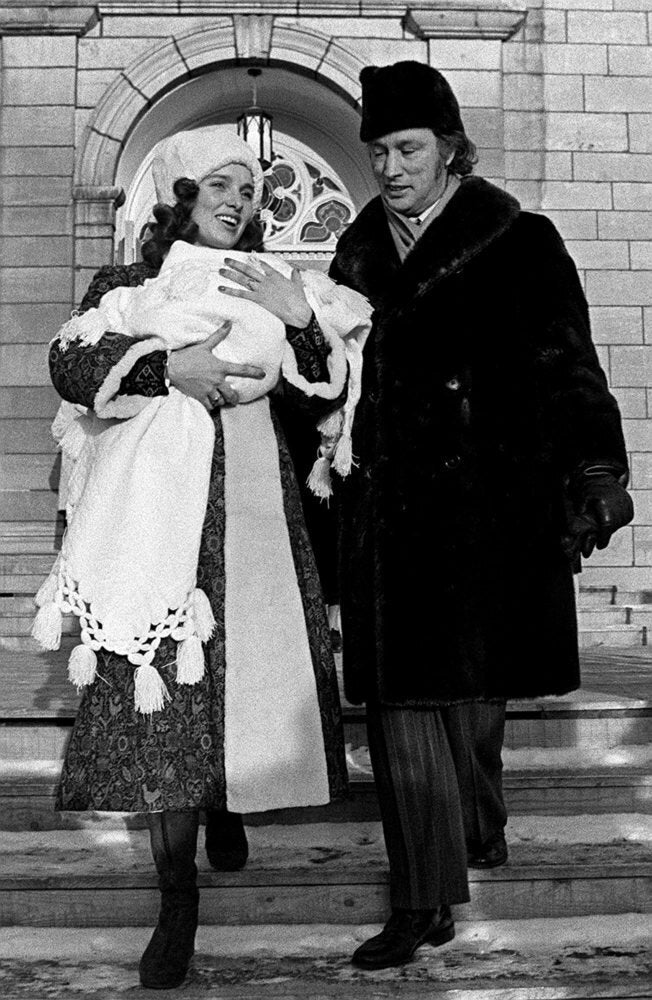 Justin Trudeau Through The Years
Popular in the Community