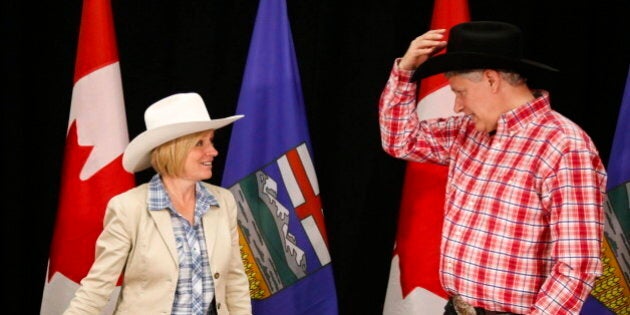 Stephen Harper took an online lashing from Albertans after making a dig at the province's NDP government this week.
During a campaign stop in Laval, Que., the Conservative leader addressed an audience in French and criticized the Alberta government's decision to delay the release of its provincial budget until October.
"We have an experiment like this going on in Alberta right now," Harper said.
"The Alberta government, the new NDP government, in their first action they are incapable of presenting a budget. They raised taxes … the result is a disaster. It's a disaster and (it's) rejected by the population."
Harper did not acknowledge his own government's decision to delay tabling its federal budget earlier this year. Joe Oliver had cited the need for more time to assess the impact of plunging oil prices amid "market instability."
Twitter users took advantage of the discrepancy between the Conservative leader's remarks and its own government actions, by having some fun with the hashtag #HarperBlamesAlbertans:
"Wait, wait, wait. Did Harper just go full Prentice?" asked one Twitter user in reference to an infamous comment made by ousted former Premier Jim Prentice in March.
The hashtag is a rip off of #PrenticeBlamesAlbertans, after the ex-Progressive Conservative premier told voters during the provincial election campaign that they need to "only look in the mirror" to see who's to blame for billions in lost oil revenue.
Prentice would go on to lose the election — by a landslide — to the NDP's Rachel Notley.
On Tuesday, Notley hit back at Harper and issued a statement, asserting her government has taken action to buck a "fiscal shortfall" inherited from "years of Conservative mismanagement" and the oil price drop.
"Protecting the jobs and incomes of regular working families rather than that of wealthy Conservative friends and insiders is the best way to put our province on the path to the economic recovery," she said.
With files from the Canadian Press

Popular in the Community