Canada has become the classic practitioner of megaphone policy.
Imagine a different approach. Imagine if we'd kept our small embassy in Tehran open, with a seasoned diplomat and a couple of bright political and legal officers. Imagine if they'd kept open a window on potential change, as Robert Ford did for years in Moscow at the height of the Cold War.
Imagine we'd brought together our most experienced ambassadors to discuss the Arab Spring as we should be doing...and then been able to intervene more usefully than we have.
Imagine if we had diplomats who were allowed to explain to Canadians what is happening. And imagine if the Prime Minister actually picked up the phone and asked for their opinion and advice.
Imagine if our political intelligence on Iran allowed us to separate the rhetoric from the reality, to understand the differences in the complex theocracy - the impacts of the sanctions, the pressures to ease the economic pain.
Then Canada would become a valued source of advice to other Western governments, a trusted source of information, judgment, wisdom, on some of the most difficult issues facing the world.
Instead we have the megaphone, the Prime Minister telling the American President in his own country that "he won't take no for an answer" on Keystone, John Baird on Saturday expressing skepticism but having no information and no knowledge to assess what is actually happening in Tehran. Just the megaphone.
In my recent travels and discussions with seasoned foreign policy experts and politicians in the U.S. and Europe, I haven't met one who took Canada seriously anymore, except as a posturer, a poseur, a political game player. And these are people who remember a different kind of Canada, and a better approach to diplomacy and politics.
Things are not what they either should be, or could be. Canada's role could be as a valued source of reasoned, thoughtful advice to powers afraid or unwilling to talk to each other, clear-minded about the current risks and dangers in the world, prepared to speak up and speak out, but also willing to engage and to listen.
Mr. Harper's outburst in New York about Keystone is particularly strange. Former Ambassador Jacobson used to talk publicly about a U.S. "process." But now Mr Harper has declared that it's all politics. One can only guess what the administration thinks of a Prime Minister who saunters into New York and effectively bad mouths the American administration and environmental process. Lester Pearson was picked up by the lapels by LBJ for less.
It's almost as if he's looking for a fight, maybe even for an issue to use in an election. Remember - Stephen Harper never led a team Canada delegation to Washington to make the case in a reasoned, coherent way. His fear of the face to face means he has no choice but to shout. It won't work.
President Obama speaks at the UN, and talks on the phone with the Iranian President. He makes it clear that actions must follow words, but he also understands that the change of language and words in Iran is important and worth exploring.
Mr. Harper treats the UN as if it were an organization in quarantine, too sick to be touched, let alone spoken to. John Baird is against rape as a weapon in warfare (who isn't ?) but won't talk about abortion or reproductive services for women who are forced into child marriages or sexually assaulted in war-zones. It's all about sound-bites, the domestic market and appealing to the base back home. What are the President and John Kerry to think of these two? One expects as little as possible, and not much.
Iran and the U.S. will talk, there will be movement on Syria and other conflicts will emerge with frightening speed. Canada will be seen as a right-wing gas bag, shouting from the sidelines, the international equivalent of a Ted Cruz filibuster in the Senate. Is this really the best we can do?
It's time we started imagining something different, and better.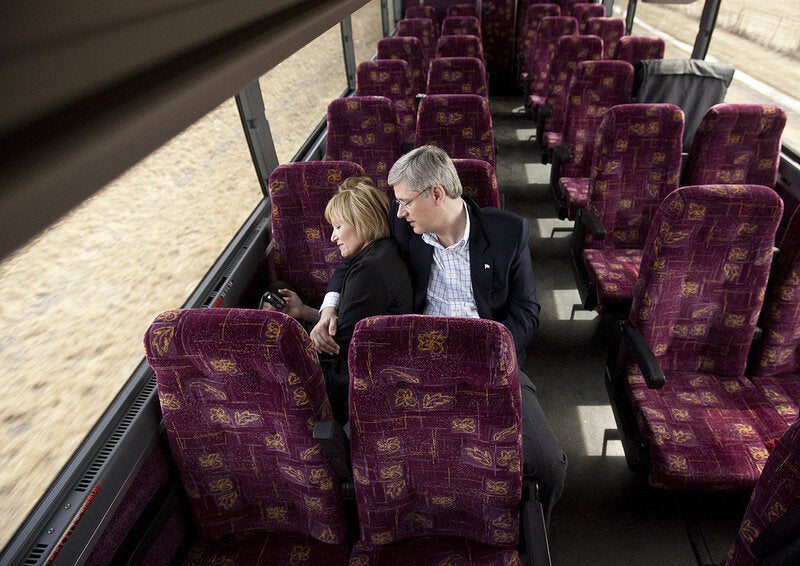 Memorable Stephen Harper Pictures