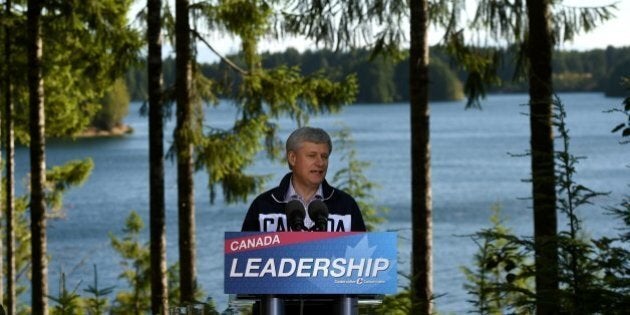 The Conservatives' latest pledge to protect B.C. salmon is a small bandage on the damage made after the country's conservation laws were changed two years ago, an environmental lawyer says.
Anna Johnston, staff counsel at West Coast Environmental Law, told The Huffington Post Canada on Friday that a $15-million election pledge made by Stephen Harper doesn't go far enough.
His promise to restore "key" estuaries and protect a Harrison River salmon habitat doesn't balance controversial changes his government made to the Fisheries Act, she said.
Amendments to the Fisheries Act came into effect in 2013, narrowing the definition of what constitutes a "real" and "significant" threat to fisheries and fishery habitats. It removed broad protective measures that were in place for all fish species, including salmon.
The changes "gutted fish habitat protections, removed legal protection of some fish species, removed legal protection of over 99 per cent of Canada's lakes and rivers," Johnston said of the act's ripple effect.
She added that Harper's new promise doesn't "undo" more than $100 million in budget cuts his government made to Fisheries and Oceans' budget in the past three years.
According to documents acquired by The Globe and Mail at the time of the changes, industry associations may have held a significant role in influencing wording of the revised laws.
"We just don't think that $15 million dollars is nearly enough to repair the damage that this government has done to our fisheries and to our waters," Johnston said.
Earlier in the day, Harper promised that a re-elected Conservative government would extend its partnership with the Pacific Salmon Foundation "to implement conservation action plans."
"Our conservation record shows that you can protect our cherished natural environment while still growing the economy," Harper said at a campaign stop in Campbell River. He also promised to work with the B.C. government, financial stakeholders, and First Nations to establish a marine conservation area in the Strait of Georgia.
Harper made the announcement in the new riding of North Island–Powell River — an area whose residents voted Conservative in the last federal election.
Shortly after the announcement, Vancouver Centre Liberal candidate Hedy Fry said the Conservative leader "isn't fooling anyone" about the government's environmental shortcomings.
"He fired more than 2,000 public scientists who help monitor and protect our environment," she said in a statement. "It's one of the many reasons after 10 failed years, it's time for him to go."