 It's the manipulation of constituency boundaries to give an unfair advantage to one particular political party. The word originated in 1812 with the appalling behaviour of then-Governor "Gerry" of Massachusetts who twisted electoral districts into the shape of salamanders -- just so he could win.
To prevent such bad conduct in Canada, we have long had an independent and politically neutral process for "redistributing" federal riding boundaries every 10 years, according to population changes. The work is not done by politicians to suit themselves. It's done by credible, arm's length commissions that are supposed to reflect the best interests of the public.
In Saskatchewan, the current commission includes a Queen's Bench Judge, a professor emeritus of political science, and the President of the Saskatchewan Association of Rural Municipalities (SARM) -- all hand-picked by the Harper government. (For some reason, the Saskatchewan Urban Municipal Association (SUMA) was not included.)
For the past year, the commission's task has been to devise a new electoral map which distributes Saskatchewan's 14 federal ridings in the fairest possible way. What they've produced is a big improvement over the "old" boundaries now in effect for nearly two decades.
The geographical sizes of proposed constituencies are as manageable as they ever can be in Saskatchewan. The population numbers are well within the allowed range. Historical patterns are respected. And most importantly, "clear communities of common interest" have been better grouped together for more authentic, effective representation.
These are the factors the commission is mandated by law to consider. Their new map is more fair, more balanced and more accurate in reflecting Saskatchewan's changing realities.
Two of those realities are steady population growth and increasing urbanization. A big majority of Saskatchewan people are already urban-dwellers, with fully 40 per cent of our population now living in our two biggest cities of Saskatoon and Regina alone. And yet this province does not have a single urban MP. Not one!
Surely that's a distortion that needs to be remedied. The commission has done so in a sensible and measured way. Instead of stacking all the ridings 14-to-nothing (as the old map does) against any distinctive urban representation whatsoever, the new map provides a balanced mix of constituencies.
Six ridings will be primarily rural (one more than under the old map), five ridings will be urban (three in Saskatoon and two in Regina, instead of none today), and three ridings will be rural/urban blends (namely Moose Jaw-Lake Centre-Lanigan, Prince Albert and Regina-Qu'Appelle).
MPs responsibilities will become more focused. Divided, part-time obligations will be reduced. Both the rural and the urban points of view will be more clearly and more democratically reflected, because the new map better groups their respective interests and allows their distinctive voices to be heard -- undiluted and unobscured.
That's what "community of common interest" means.
A useful comparison can be made with Saskatchewan's two distinctive municipal organizations, SARM and SUMA. We have the two of them because the interests they represent are different.
Mass transit systems vs. grid-roads to service farms and oilwells. City police battling urban gangs vs. contracts with the RCMP to cover RMs. Urban homelessness vs. grain marketing. The examples go on.
These are all big and complex issues. They need focused attention. And that's what they get, from two distinct organizations -- SUMA and SARM.
Both are important. Both are an integral part of Saskatchewan. Both need and deserve effective representation. Some of their issues are similar; but many are not. They work well together. But the distinctive voices of both need to be heard -- loud, clear and unmuddled.
If that were not the case, why not just lump them together in a single group?
When it comes to devising electoral boundaries, our democracy should not be distorted by artificial concoctions in which one point of view will always swamp another. Our voting system should enable all citizens to see themselves fairly reflected in their Parliament. If they can't see that, then people grow cynical and stop participating. Democracy is damaged.
In this spirit of a healthy democracy, the Saskatchewan Federal Electoral Boundaries Commission has done a good job.
But the Harper Conservatives hate the new map -- precisely because it's not rigged in their favour. They're getting ready to interfere in what has been an independent process, so far. Just before a new map is finalized, Mr. Harper wants to change the rules.
Taking a page out of old Governor Gerry's perverted playbook, Conservatives are attacking the thoughtful analysis of their own independent commission and they're setting themselves up to Gerrymander Saskatchewan.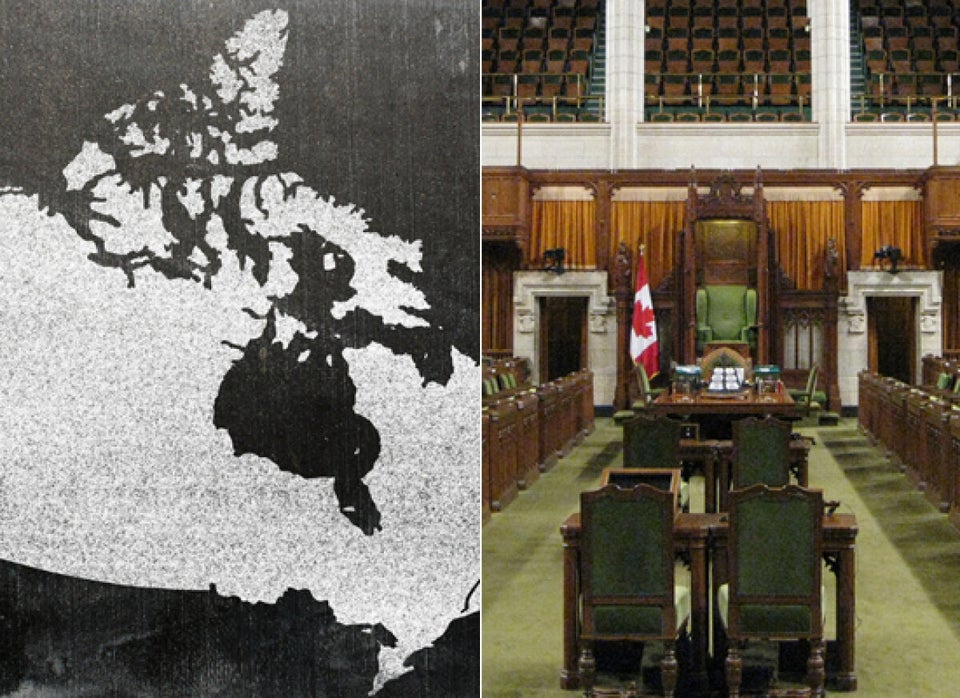 How Many Seats Will Each Province Get?
Popular in the Community