The "Harry Potter" film franchise has given us a lot. It introduced us to incredible child stars who grew up to be even more talented adults, and became a cultural phenomenon that influenced the world around it.
More importantly, the costumes were so cool we all wished we could own them.
Temime, who worked on every "Potter" film except the first two, said the inspiration for Hermione's famous pink Yule Ball dress in the fourth film, "Harry Potter and the Goblet of Fire" came from the idea that she was never a girly-girl, and spent most of her time with boys.
"She appears at the Yule Ball and she's in pink. People look at her as being a girl, and a very pretty one, which was not established before," Temime told Cosmo. "It was a lovely dress. It was quite difficult to design because...I didn't want her to look like she borrowed a dress from her mom or her sister or whatever. It was her sweet sixteen dress, and she loved it."
Another memorable outfit in the fourth film was the cool blue uniform worn by students from the visiting French school, Beauxbatons Academy of Magic.
Temime explained her own upbringing in France inspired the uniforms because in England most schools have one uniform, but her school in France had a different uniform for different occasions.
"In the French high school where I was, we had a different uniform for everything. We had a little hat with a cape when we were walking around, we had a little apron for the cooking lesson. We were changing all the time," the costume designer said.
"You read it in the book that when they arrive something is moving, so I wanted to dress them in silk. Philip Treacy made the hat. I brought him the sketch and he said, 'Well, I'm going to make it.' He made it brilliantly."
"I draped them in the most sensual and feminine fabric I could find, a delicate silk in the blue colour of the French flag. The fabric clings to their form, in complete contrast to the restrictive uniforms the Hogwarts girls wear," she added.
For the following film, "Harry Potter and the Order of the Phoenix," one particular character's wardrobe stood out.
Dolores Umbridge, Harry's cruel Defense Against The Dark Arts professor, was known for wearing abhorrent outfits that were head-to-toe pink.
"[Actress Imelda Staunton] wanted to be fatter, so we had to build up something in her [outfits]. She wanted to have a very fat bottom because she wanted to walk like Daisy Duck," Temime told the magazine.
She also explained the meaning behind the character's varying shades of pink.
"I started with lighter pink, and then as the film developed the pinks are getting hotter and hotter and hotter because she's getting more and more hysterical," the designer added.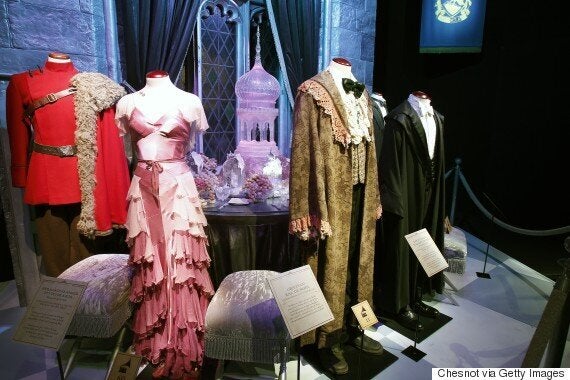 The final two costume picks were both worn by Luna Lovegood in the sixth film, "Harry Potter and the Half-Blood Prince."
Temime, who also worked on the newest James Bond films, said that she collaborated with actress Evanna Lynch to make sure Luna's eccentric personality came through in her clothes.
The first piece was a dress Luna wore to a Christmas party.
"I designed a dress so that she could look like a Christmas tree. She was all glittering," Temime said.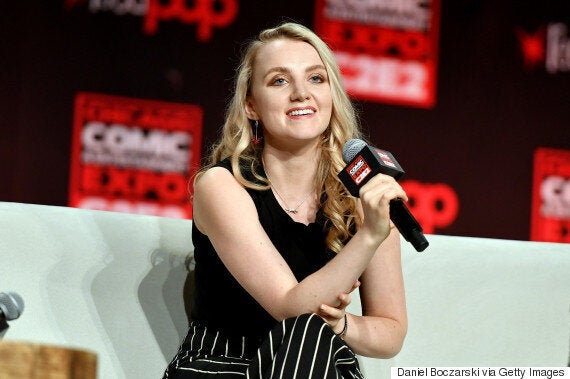 She added that Lynch loved the costume and character so much that she pitched in and designed her own jewelry for Luna.
"She was doing that at home, then coming back to me and showing me those incredible cherries and fruits and little dragons that she was making," Temime added.
Lynch also helped out with the Temime's final pick, the lion hat Luna wore to a Quidditch game. Lynch apparently ended up spending a lot of her free time in the costume department, as she was interested in design and was also very invested in her character.
"We wanted to make sure that Luna's costume reflected a girl with very individual tastes and her own special interests, but not so completely different that she would not fit in with others."
"I made earrings for her that were red radishes, and she insisted that they had to be orange. That's how well she knew the character. We wanted to make sure that Luna's costume reflected a girl with very individual tastes and her own special interests, but not so completely different that she would not fit in with others," Temime also told Movie Magic.
But none of the looks Temime discussed in Cosmo are her favourite. In a November 2016 interview with Entertainment Weekly, she said her absolute favourite costumes in the franchise were of the villain Lord Voldemort and his loyal follower Bellatrix Lestrange.
"I think I could not have done better for Voldemort… I mean there were so many things which were brilliant, but I'm just thinking from my heart, it's always so hard to represent the devil and I think I did [with] Voldemort," Temime said.
She told EW she wanted to make Voldemort seem otherworldly, so she gave him a lot of layers of silk and chambray to give him a lot of movement but keep him spirit-like. She also incorporated Slytherin green, and left the colour black for the villain's followers.
For Bellatrix, Temime said she worked with actress Helena Bonham Carter to reflect the character's madness on screen.
"The corset was never tight enough because [Bonham Carter] wanted to feel the power and the craziness," Temime added.
For her fellow Death Eaters, Temime added she combined the elements of fear and glamour together to create their robes and silver masks.
"It's a glamorous, powerful army — satanic army, although we don't use that word, but it's the army of the bad," she added.
Even though the franchise wrapped up in 2011, the world was so detailed, we're still learning more about it day after day.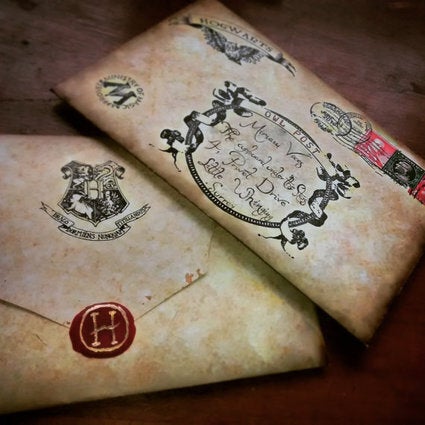 Harry Potter Gifts