Police-reported hate crimes against Muslim Canadians have more than doubled in the past three years, Global News reported Wednesday. There were 99 religiously-motivated hate crimes against Muslims in Canada in 2014, up from only 45 in 2012.
"Year after year we're seeing a significant increase," Amira Elghawaby, the communications director of the National Council of Canadian Muslims (NCCM), told The Huffington Post Canada. The country is in a "ramp-up phase" of these types of crimes, she said.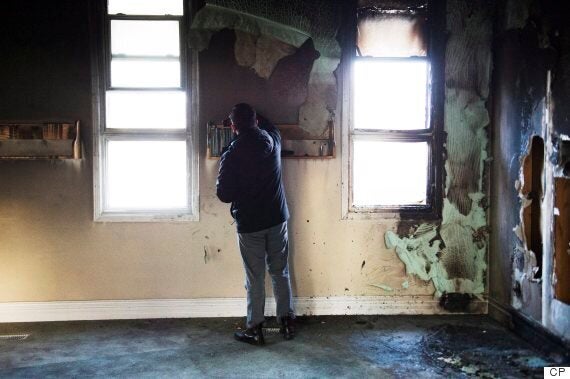 Usama Zahid removes the Quran and other books from shelves, on Nov. 15, 2015, as congregation members clean up debris after the only mosque in Peterborough, Ont., was deliberately set on fire. (Photo: Christopher Katsarov/Canadian Press)
High-profile terrorist attacks and anti-Muslim rhetoric may be partially to blame, Elghawaby said. She noted that after the shootings in Paris last year, there was a spike in hate crimes targeting Muslims, including the fire that was deliberately set at a mosque in Peterborough, Ont.
Even just last week, there were a number of assaults and vandalisms that may constitute hate crimes, the NCCM pointed out in a press release. Two fathers — both newly arrived refugees from Syria — said they were attacked in Calgary over the weekend. Then, another Alberta man woke up to find "go back" spray painted across his garage. His trucks, which were his family's livelihood, were also set on fire.
"It's difficult to create a direct correlation," between these crimes and what goes on in the media, Elghawaby said. But when a woman's niqab became an election issue last year, there was a spike in anti-Muslim hate crimes, she said. And when certain politicians in another election speak about Muslims in a racist way, it can affect the attitudes of Canadians, she said.
"All of this creates a climate of fear," Elghawaby said. "When Donald Trump says something in New York, seventh graders here hear about it."
Bystanders have an important role to play in preventing these types of crimes — and more casual racism — Elghawaby said. "As members of a country that is so diverse and really built through a celebration of that diversity, we really have to step up ourselves."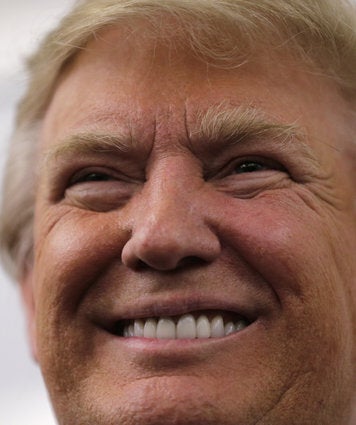 7 Things Every Donald Trump Supporter Should Know