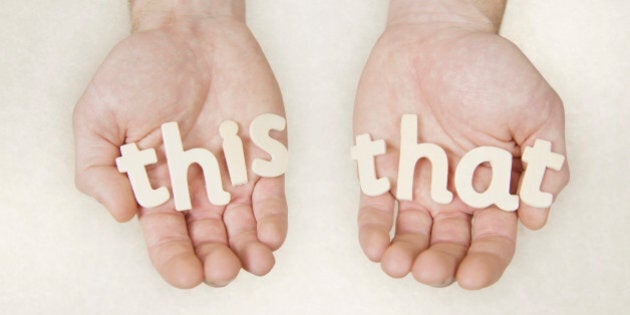 Every day presents us with so many choices, we often take them for granted.
Hit the gym for hot yoga, or a spin class? Have a nutritious and responsible kale smoothie, or indulge in a whip cream frappuccino? The choices we make -- even the little ones -- shape our identities and empower us in our own lives.
Now try to picture your life without all those choices. You eat what you can find, sleep wherever there's shelter. You must take what you're given.
Studies show that feelings of powerlessness can lead to depression and anxiety. In 2011, researchers at the UK's London Business School found a fascinating link between choice and empowerment. Study participants were presented scenarios where they had various amounts of power, such as the being a boss versus an employee. They were then asked to make decisions with varying options. The researchers proved what has long been suspected: that having more choice counterbalances feelings of powerlessness and also improves psychological well-being by giving people a greater sense of control over their lives.
Whether it's an impoverished family a world away in rural India, or a person you see living on the streets, people in need often feel like their lack of choice means they have no say in their lives.
Recognizing the importance of having options, some charitable and community groups across North America are giving the most vulnerable a say in the aid -- and little comforts -- they receive, and discovering it can have almost as much impact as the hand up itself.
Roncesvalles United Church in Toronto is putting choice into its community outreach programs. For example, the church hosts an annual Christmas gala with a dinner and gifts for the homeless and others in need. A few years ago, gala volunteers stopped wrapping the gifts, allowing participants to choose what they want from items laid out on tables. Roncesvalles' Reverend Anne Hines recalls one elderly homeless man who shyly asked if there was a red hat, saying he'd always wanted one. Hines found two for him to choose from.
"He looked like a kid on Christmas morning who finds a bicycle under the tree. You can't underestimate how much being able to state your own preference means to someone," Hines says.
We've heard about another initiative called the Furniture Bank, which collects donations of gently used furniture, appliances, and other household items in Toronto and the surrounding suburbs. Those in need, like women fleeing abuse and refugees who arrive here with nothing, can browse the Bank's warehouse, picking the items that suit them. Through choice, they have a measure of control over one of the most important aspects of their lives -- home.
As we go about our daily lives, it's worth appreciating our freedom of choice.
Some charities now ask for donations of gift cards rather than used items, so people have the dignity of choosing new things they like, not just accepting someone else's castoffs.
South of the border in Missouri, the Kansas City Community Kitchen made headlines by breaking the traditional mould of soup kitchens. Like a family restaurant, a greeter welcomes every guest like a VIP customer, seats them at their own table and hands them a menu with multiple nutritious choices. It's "dining with dignity," explains Beau Heyen, CEO of Episcopal Community Services, which runs the Kitchen.
The reaction has been incredibly positive. Heyen recalls receiving a note from a struggling single father who had brought his children for a meal. It read: "I never get to take my kids to a restaurant, but today I did. Thank you for that."
As we go about our daily lives, it's worth appreciating our freedom of choice.
And as we look for ways to help the most vulnerable in our communities, let's keep in mind that it's one of the best gifts we can give.
Brothers Craig and Marc Kielburger founded a platform for social change that includes the international charity, Free The Children, the social enterprise, Me to We, and the youth empowerment movement, We Day. Visit we.org for more information.
Follow HuffPost Canada Blogs on Facebook
Popular in the Community