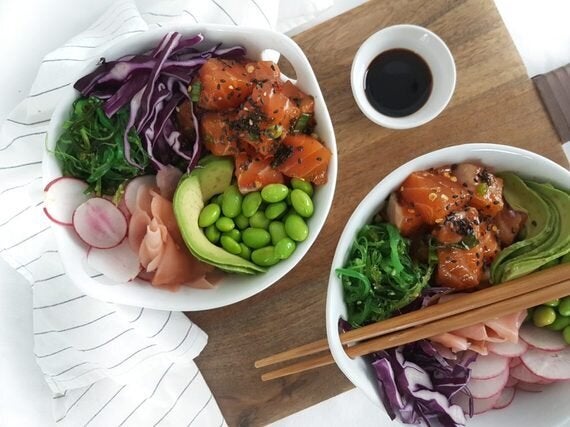 Poke...one of the great loves of my life. Having a sister who lives in Hawaii, I have been lucky enough to enjoy poke for years and could not be happier about the trend of poke shops popping up everywhere here in Vancouver!
Poke (pronounced POKE-AY) is a traditional Hawaiian dish that you can find pretty much anywhere that carries food on the islands -- from grocery stores, to restaurants, and even little beach shacks. Whenever we're in Hawaii I think it's safe to say my diet consists of at least fifty percent poke. There is nothing better than packing a cooler, a towel and a couple of cold ones and heading to the beach to watch the surfers.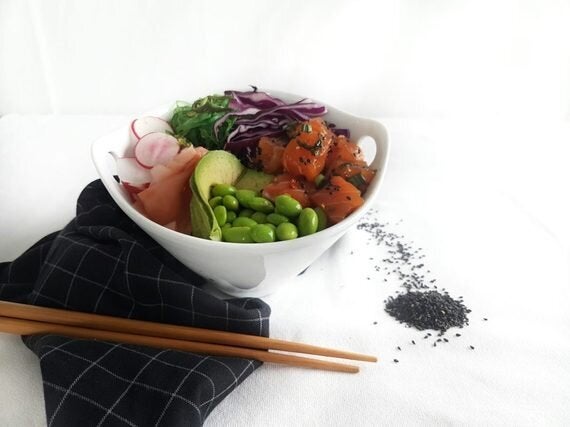 I knew that it was about time I brought this tradition home, so I went on the hunt for all the necessary ingredients and today I am SO excited to be sharing 5 Steps for The Perfect Poke Bowl!
Now this is a big one. You can't eat just any fish raw. I think this is probably the biggest thing that was holding me back. When it comes to seafood I can be a little paranoid. So I got to researching...
What I learned is that there is a special process for sushi grade fish (fish that is safe to eat raw) . The process involves freezing the fish to kill parasites. There is no set regulation, but the FDA recommends either freezing it at −4 °F for 7 days or −31 °F for 15 hours.
In Vancouver, there were three places that came up in my searches with good reviews for sushi grade fish - H-Mart, Fujiya and Granville Island Market. I initially went to H-Mart, being the closest option to me. The staff there was great and super helpful. I was so excited to see that they did in fact have sushi grade salmon. In my excitement I picked some up to get to recipe testing. I realized after that it was only farmed salmon that they had (Atlantic salmon), so I went on the hunt again for some wild salmon. I ended up heading to Granville Island and found some beautiful wild salmon at Longliner Seafoods. It was a bit of a hunt but it was definitely worth it!"
STEP 2: Choose your Grain
Typically Poke bowls are served on short grain Japanese sushi rice, but hey, there are no rules these days. I do love it served traditionally this way but decided to mix it up this time with a purple sticky rice (I used Level Ground Trading's Violet Rice). You could also try it on brown or wild rice, or get really creative and try another grain like Farro or Quinoa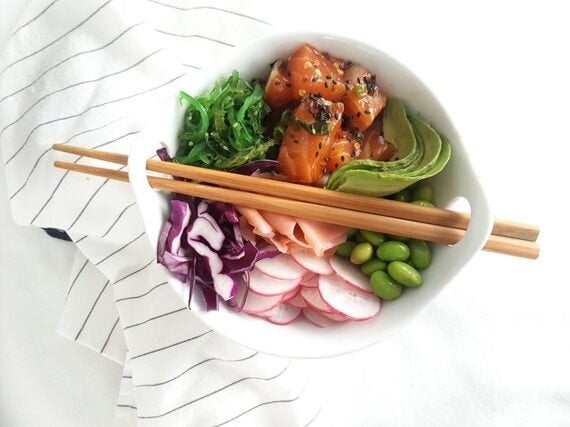 For this bowl, I went with the traditional and simple sesame soy sauce. Another one of my faves is the spicy tuna poke (made with either actual chilis or a chili pepper sauce like Sriracha, Hawaiian sea salt and a bit of mayo). Others I have seen popping up lately that I want to try are Kimchi flavored bowls and simple but delicious wasabi soy bowls. So many options to choose from!
Here's your chance to really get creative and tailor it to your tastes. The possibilities are endless!! From creamy avocado to pickled vegetables, edamame for a bit more protein, thinly sliced cabbage, carrots or beets for some color or toasted sesame seeds or Japanese spice mix, Togorashi, to finish it off with a kick.
As you may know, I am a huge fan of mindful eating, and this is the perfect opportunity to practice it! If you're chowing down in front of the TV or your phone screen, you just won't get the full effect! I recommend throwing on some Bob Marley or maybe even the sound of some waves in the background to really get swept away in this Hawaiian delight 😉
Have you tried poke before? Let me know in the comments below where your favorite poke place is, or better yet, if you have a great recipe to make it from home!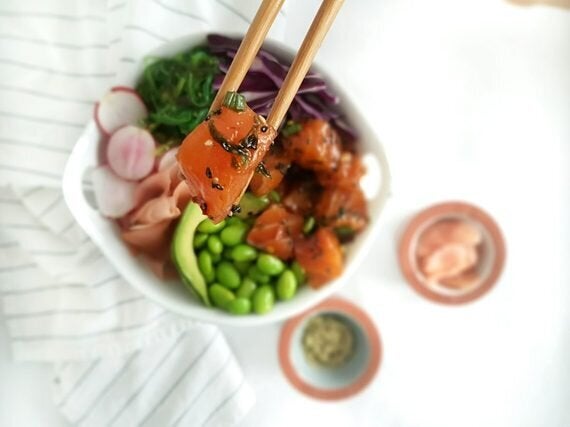 Hawaiian Salmon Poke Bowls
- ¾ cup rice (I used Level Ground Trading's Violet Rice), cook according to package directions
- 1 lb sushi grade salmon
- ½ cup edamame beans, shelled
- 4 radishes, thinly sliced
- 1 cup purple cabbage, thinly sliced
- 1 Tbsp toasted sesame seeds
- Optional toppings: pickled ginger, wasabi, Togorashi (Japanese spice mix)
- ¼ cup green onion, sliced
- 2 Tbsp roasted seaweed, chopped (or use a premade seaweed snack mix)
1. Cook rice according to package directions.
2. Prepare your veggies and toppings and set aside .
3. Meanwhile, in a medium sized mixing bowl, combine your sauce ingredients and whisk with a fork until well combined.
4. Next, cut your salmon into bite sized cubes (approx 1 inch) and add them to the bowl with your sauce mixture. Stir to coat pieces evenly, adding more of any of the sauce ingredients to taste if needed.
5. When rice is cooked, divide between bowls. Top with your salmon mixture and arrange your toppings around the bowl as you like.
6. Finish with a sprinkle of toasted sesame seeds, turn on some Bob and ENJOY!
Follow me on Instagram for more recipe inspo and use #inthekitchenwithLP to show me what you're up to! Happy Eating!
This blog has been updated.
Follow HuffPost Canada Blogs on Facebook