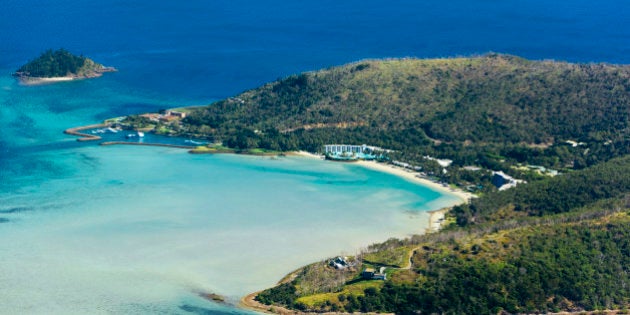 The One And Only way to see the Whitsundays? With a visit to Hayman Island, say Colin and Justin.
Finally: after three glorious weeks in Australia, we're back on North American soil. Sure, we had a ball down under, but ain't it always good getting home, no matter how successful the jaunt? That said, there's no rest for the wicked: in just a few short days we're off to Scotland for a family wedding and a spot of TV work. So we're still running. On fumes, sure. But we're still running...
So what took us down under? Well, rather a lot, actually. A bag of meetings for future antipodean projects, for starters, and a filming gig on The Block, Australia's biggest property show. Being cast as guest judges on the wildly popular series is a coup: we've long since been fans of the juggernaut TV show and have been watching the action -- online from Canada -- for years.
The premise on The Block is simple, as is often the case with many successful formats. Competing couples are "given" a similar property in the same block and, over the course of the series, each homes is renovated, room by room, and then sold at auction during the season finale. A reserve price is put on each apartment and residual profits (over this figure) are won by each duo. It's no small game: last season's winners bagged an astonishing $900,000, so the stakes are wonderfully high.
With our filming days wrapped, we were due to head to Sydney for further meetings but a chance convo with Scotty Cam (The Block's principal host) drew our attention to the Whitsundays. Scotty suggested we treat ourselves to a little time off and, on his suggestion, we scoured Expedia until we found what we thought was a good deal. It rapidly turned into a great deal.
From Sydney we flew to Hamilton Island and then sailed, for 90 minutes, to the smaller -- but utterly beautiful -- Hayman Island and One&Only hotel. Built originally in the 1980s and remodelled recently, the hotel remains true to its original architect's vision. Low rise, and spread across several acres at the side of the Coral Sea, the white painted façade is home to beautifully manicured guest accommodation, verdant grounds, a choice of restaurants and more cockatoos than we've ever seen in one place at one time. Remarkably tame, several of the sulphur-crested beauties gathered on our terrace as we checked in. An avian welcoming committee? Who doesn't like that?
Take a tip: if Australia features in your travel plans, massage the One&Only into your itinerary. Relaxed service makes it a joy: a particular highlight was dinner at the Chef's Table, a dramatic group sitting that felt for all the world like being lost in a scene from bacchanalian cinematic frenzy "The Cook, The Thief, His Wife And Her Lover." During dinner and discourse, ingredients, preparation and inspiration were explained in a feverishly convivial atmosphere. In partnership with Perrier-Jouët, the main kitchen is decorated to reflect the label's delicate, yellow, white and green anemone flowers. Immersed at the very heartbeat of cooking operations, we sampled a host of elegant cuisine accompanied by a precisely tailored wine "flight." Chef Karim Hassene (previously of The Saint Geran, Mauritius) created a delicious tasting menu that fused seafood, wagu beef and a host of delicate comestibles that pretty much sent our table into epicurean orbit.
But hold it: before sidetracking ourselves with matters gastronomic, we set out, today, to expound the virtues of Australia's modernist architectural scene. Across cities like Sydney and Melbourne, the property market has gone into orbit. With values beyond even those in Canada, investors are seeing huge capital gains, particularly where contemporary architecture is concerned.
Little wonder then we espied some of the most striking modern architecture as part of the One&Only resort. To one side of the hotel, perched high on the hill -- with breath taking vistas to the ocean -- are several building plots, some of which have already been developed into remarkably beautiful homes.
Inside, great swathes of glass illuminate, whilst affording unobstructed views over Hayman and out across the still blue waters. Built on metal frames, and almost Bauhausian in vernacular, the homes appear to hang in mid air above the rugged landscape. It really is another world: as we surveyed the hilly landscape, a Wallaby bounced by, its little Joey peeking out from its maternal pouch. As we quickly snapped a picture, it stopped, as if to smile and pose, before bouncing off into the undergrowth. Ah, nature: at one with the land. Beautiful.
Indoor and outdoor spaces are blurred by timber boardwalks, woody plains that travel on both sides of the glass, imbuing proceedings with a modern, almost nautical, vibe. In one villa, a swimming pool is set deep into the architecture, its "infinity" construction affording bathers direct sightlines over the water to the ocean beyond. Had a bevvy of Bond Girls appeared, with 007 in hot pursuit, we'd have been unsurprised: these properties, after all, feel like they've been snatched from the set of an Ian Fleming novel. Cubby Broccoli would almost certainly have been enamoured -- as were we -- by the indulgent excess.
Finishes throughout are beautiful: and so they should be -- with land prices starting at $6 million Australian (and construction costs thereafter) these are investment homes for a certain wealthy elite. But with Australian property prices spiralling as they are, we imagine these homes will surely yield a fantastic return in the long run. In the meantime, investors can always position their property in the One and Only 'rental pool' to soften the initial investment costs. The appetite for world-class accommodation such as this is already significant for travellers who want to experience that little bit more as they navigate their way around the globe's most beautiful destinations.
Our Whitsundays adventure concluding, we travelled by helicopter to Hamilton for our Sydney connection. Choppering low over the Great Barrier Reef was an experience we'll never forget: as we peered from above, we espied whales, rays and dolphins sliding through the calm, turquoise waters. It was as if the oceanic denizens had gathered in sequence, to bid us farewell. We almost wept.
To say the Whitsunday's -- and in particular Hayman Island -- blew us away is an understatement. The food, the attentive staff, the climate and the avian population are just part of the destination's unstinting allure. The mostly manicured -- but in places beautifully jungle like -- landscape within which the One&Only sits, the stunning modernist architecture, as witnessed in the nearby modernist villas, and of course the Whitsunday's crowning glory: the Great Barrier Reef, are literally breathtaking.
We're certain Captain Cook must have held his breath as he charted the coast, in the same way we did whilst surveying the landscape for the very first time. We'll certainly revisit our newly found paradise when schedules permit, and, in the meantime, we're considering "crowd funding" to buy one of the remaining Hayman plots. Well, we can but dream...
To read more about the One&Only Hayman, visit www.hayman.oneandonlyresorts.com.
To Infinity Pool and Beyond...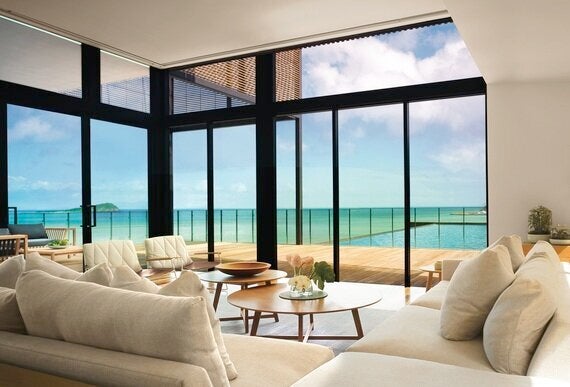 A Hayman Residence Kitchen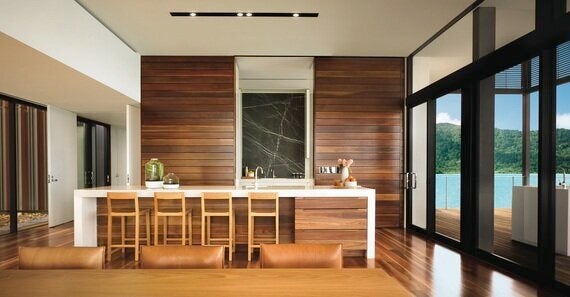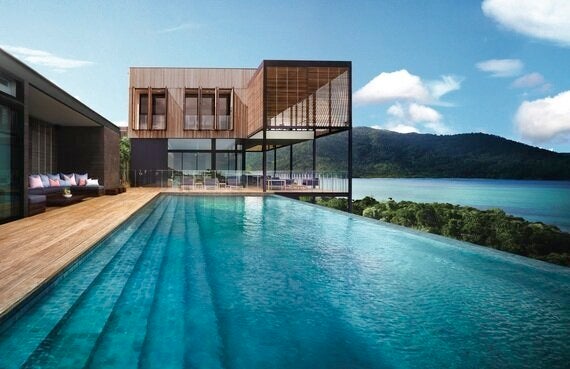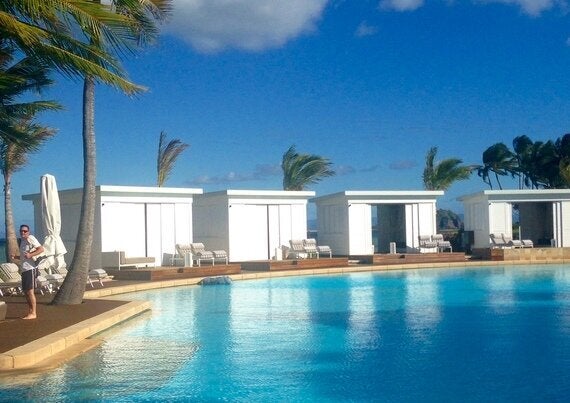 Helicopters are the only way to travel on the reef...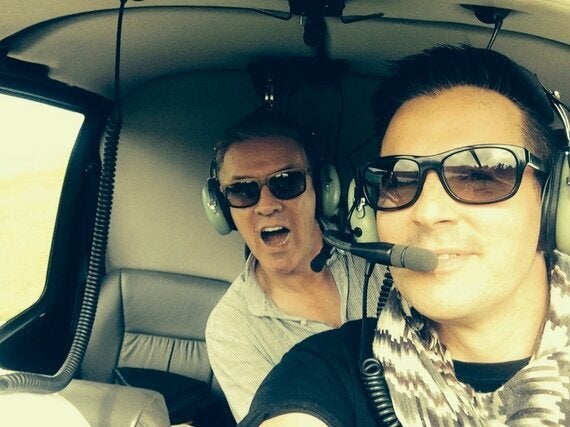 Love is all around... Heart Island in the Great Barrier Reef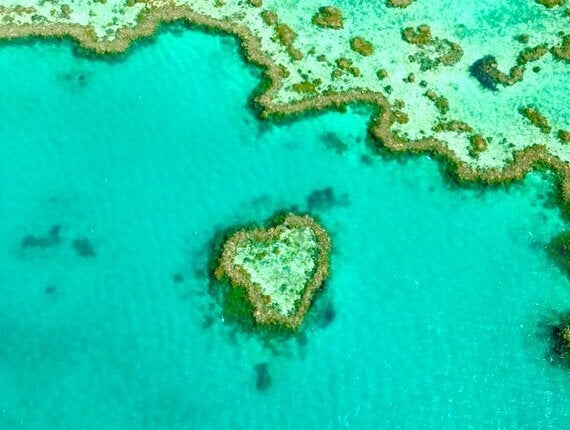 Photos courtesy of One&Only, Colin and Justin