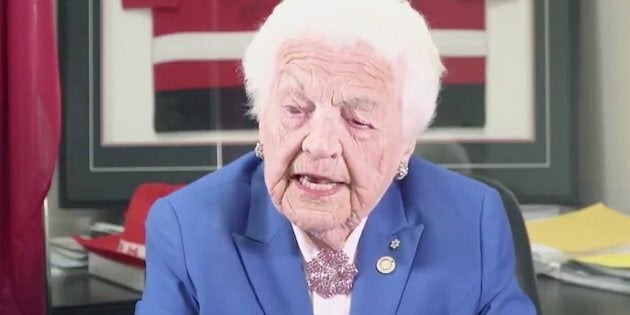 "Hurricane" Hazel McCallion, who did not want to see Doug Ford become mayor of Toronto four years ago, now evidently believes he should be Ontario's next premier.
McCallion, a Canadian political legend who served as mayor of Mississauga for 36 years, made her position known in a video released by Ontario Progressive Conservatives Thursday.
The endorsement could represent a blow to Kathleen Wynne's Ontario Liberals, a party the 97-year-old publicly backed in 2014.
In the one-minute video, McCallion poked fun at Ontario Liberal ads in which they concede things haven't been "perfect" in Wynne's Ontario.
"Well, that's one way of putting it," she says. "As mayor, I never ran the city based on debt."
McCallion called Ford the right leader to "fix" the finances in Canada's largest province, improve health care and get hydro bills under control.
"I know the real Doug Ford and Doug is a family man. He's hardworking. He cares about people of all ages and can be trusted."
Ford, she says, will be "the people's premier."
Wynne told HuffPost Canada in a statement that the endorsement was probably linked to McCallion's push for the province to consider opening up the Greenbelt, permanently protected green space around the Toronto region, for development.
Ford had earlier pledged to open up the Greenbelt for housing development, but backtracked after the idea sparked controversy.
Wynne downplays McCallion's choice
"I respect her, I absolutely do, but it is not a secret that the two of us don't see eye to eye on my strong belief that the Greenbelt needed to be protected from development," Wynne said in the statement.
"She has been asking me for two years to open up the Greenbelt and I've said a firm no. I can see why she would see Doug Ford as an attractive candidate."
The endorsement dropped as Ontario PCs face allegations from Wynne's campaign that Ford was involved in selling bogus PC memberships in 2016 to support Kinga Surma, who is now the party's candidate in the riding of Etobicoke-Centre. Surma is an ex-staffer of former Toronto mayor Rob Ford.
Back in 2014, McCallion threw her coveted support behind John Tory to become Toronto's mayor, not Doug Ford, who ended up finishing second.
Ford told The Toronto Star at the time that while he liked McCallion, she was just another "political person" and that endorsements are for "insiders" who "line up and want favours."
While there's some debate over whether or not endorsements make a lick of difference, McCallion's legacy looms large over the Greater Toronto Area city that could be a crucial battleground. Mississauga has six seats up for grabs in the June election.
In the 2015 federal election, McCallion endorsed Justin Trudeau's federal Liberals and starred in a memorable ad in which she compared then-prime minister Stephen Harper to a phone scammer who targets seniors.
Ontario voters head to the polls on June 7.
With a file from The Canadian Press
Popular in the Community