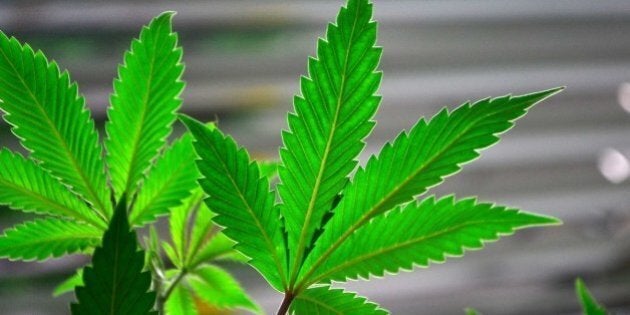 Health Canada expects to spend more than $2 million this year to review applications from companies vying for entry into the commercial medical marijuana market, some of them having burned through millions of dollars trying to navigate a process that insiders say is mired in red tape.
The federal government, which has attracted about 1,200 would-be pot producers with the allure of a potential $1.3 billion industry, has licensed only two new companies to sell the drug in nearly a year, amid growing accusations that Health Canada's selection process is sluggish, convoluted and arbitrary. One company even believes the government is deliberately trying to stop medical marijuana growers from getting licensed, according to a court affidavit.
In total, Health Canada has licensed 23 producers, far short of the 60 originally projected to be in the market at the end of its first fiscal year in March, according to a 2012 cost-benefit analysis prepared for Health Canada.
The 32 government employees working on the new medical marijuana program had 311 applications in their backlog as of Dec. 22.
Health Canada projected in January 2014 that the cost of processing applications alone would surpass $2 million during the program's inaugural year, according to documents obtained by the Huffington Post Canada under the Access To Information Act. That pales, however, in comparison to the millions of dollars applicants are spending before they know whether they will be approved to sell products.
Eric Nash of Island Harvest, told HuffPost that he and a number of his peers have grown frustrated. He says Health Canada keeps changing the regulatory goal posts, making it difficult for applicants to understand what it takes to get approved.
Nash's company was given the greenlight to build a facility in February 2014 by Health Canada. But he says his business has stalled since the federal government suddenly refused to perform one of the final required inspections after it quietly increased the level of security required at his facility without telling him. He wrote to the Deputy Health Minister George Da Pont in November expressing "serious concerns about irregularities, deficiencies and contradictions" in the process.
"I have found the application process onerous, problematic and illusory… it seems as though Health Canada is deliberately attempting to stall and obfuscate the MMPR application process creating very significant barriers to entry," he wrote in an affidavit for an upcoming court case challenging the constitutionality of the current medical marijuana rules.
A number of applicants have privately shared their frustration with the federal government's lack of communication, perceived delays, changing requirements and seemingly arbitrary refusals. But they are reluctant to talk about it publicly for fear of invoking the wrath of Health Canada, which decides whether they ever get a license under the current rules.
One company that did not want to be identified said it has invested $1.5 million and is spending about $11,000 a month as it waits for a required inspection of its facility.
Two applicants said they had hired call centre staff before April 1 when they were optimistic that the licences were imminent, but had to fire them months later when it became apparent that the approval wasn't coming anytime soon.
New Age Medical Solutions Inc. asked a federal court judge to review its rejection in November after Health Canada said it had not hired a suitable quality assurance person.
The company is currently in negotiations with the government to reach an out-of-court settlement. If talks fail and the case is argued in a courtroom, the intricacies of Health Canada's vetting process could soon become a lot more transparent.
Before the program's launch last March, Health Canada appeared more relaxed in its approach to interpreting the regulations as it scrambled to have enough marijuana to supply the market, said David Brown of Lift, a website devoted to Canada's medical marijuana community.
But after a federal court judge granted a last-minute reprieve allowing some 20,000 patients to temporarily keep growing their own stock, the pressure subsided — at least until the outcome of a trial that begins next month — and Health Canada clamped down on the application process.
It has allowed 15 companies to sell their products to patients and eight more to produce but not sell. The last new entrant was approved to grow the drug in September.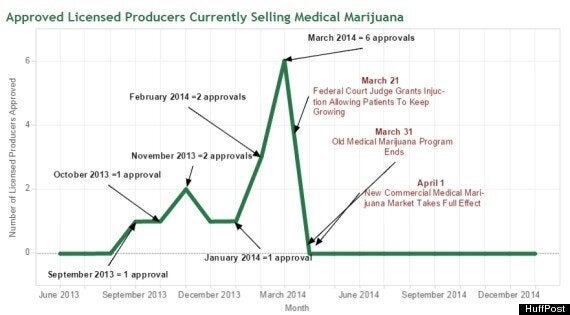 Brown points out that In The Zone Produce Ltd. was among the first producers to receive a licence, but has yet to sell any product. Meanwhile, Thunderbird BioMedical was on the original list of licensed producers but was removed over a municipal zoning conflict.
Brown believes Health Canada wants to limit the number of companies it has to interact with in the interest of a high-functioning, tightly controlled marketplace, discarding ones that don't meet its ideals.
"From a regulatory perspective, they want a handful of really large, well-funded, have-their-act-together producers, because that makes their job easier," he said. "But to get to that point, you have to open the gates wide."
On top of the pile of new applications, Health Canada has had its hands full dealing with unexpected issues at the existing licensed producers — from the recall of contaminated batches at several companies to the seizure of some products en route from small growers to licensed producers.
Health Canada's crackdown on interpretations of the regulations has left 19 early movers — whose proposed sites were given the greenlight before April 1 — in regulatory limbo.
Those companies received "ready to build" letters from the government, which tell applicants that, if their site is built out as proposed, it will meet requirements. Some have interpreted this as tacit approval and spent millions to build out their sites, with little indication about when they might proceed to the next step, the pre-licence inspection, and no guarantee of a licence.
"There are a group of applicants out there who got those ready to build letters, relied on them, built their facilities on the basis of either self-financing or third-party financing and now they're kind of stuck waiting," said Hugo Alves, a commercial lawyer at Bennett Jones who represents several licensed producer applicants.
"And it is very frustrating because they've sunk a lot of capital into their enterprise."
Story continues below slideshow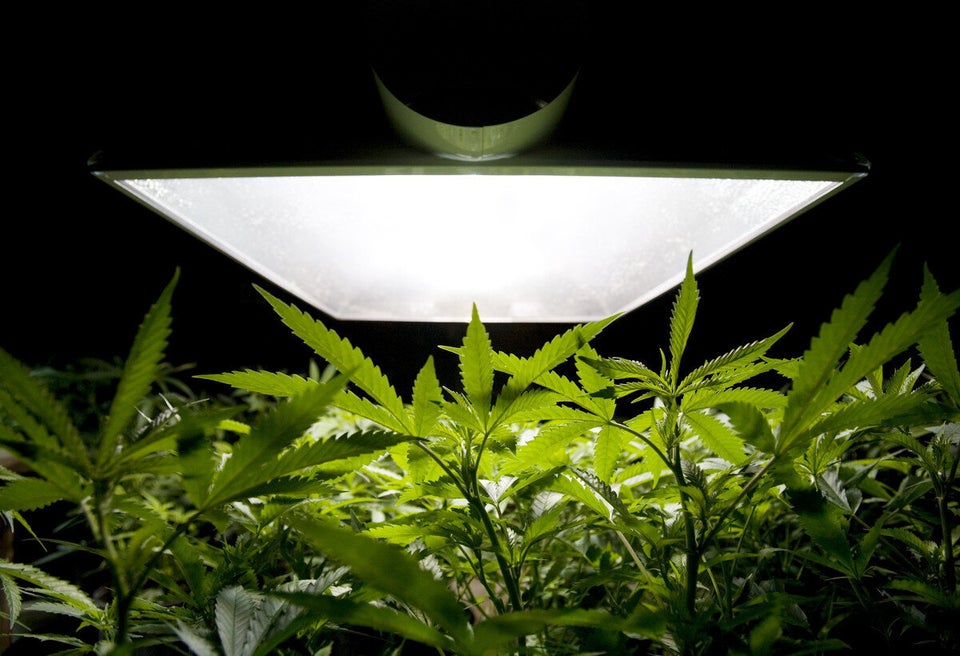 Weed Price By Province & Select U.S. States
Health Canada, meanwhile, is also being accused of being too hands-off with its review process, allowing so-called "pump and dump" stock scams to slip through the cracks.
CEN's chief executive is accused of profiting from misleading statements that led investors to believe it was mere months away from selling legal marijuana at several points — even though it has yet to be licensed.
While Health Canada meticulously examines fine points of producers' applications, from the location of the company's safe to the amount it expects to sell each month, the department says applicants' financial activities fall outside its jurisdiction.
"The proper authorities to deal with illegal financial activities are the police and the relevant security commission," it said in an emailed statement.
Health Canada has denied applicants for violations within its control that are a lot less severe than stock market fraud — and at least one of those reasons should have already resulted in CEN's rejection if the government were applying the rules fairly, says Georges Routhier, a consultant for companies seeking a medical marijuana license from the government.
Routhier said eight of his clients whose sites were pre-approved by Health Canada have been rejected because there are too many homes within a 500-metre radius of their buildings. He said he has seen at least a dozen more similar letters. Some, he said, have spent millions to build a facility but will never be approved based on the one thing they can't change — their location.
He wonders why the government has yet to reject CEN's location in a rural area close to a dozen homes in Lakeshore, Ont.
The town passed a new bylaw that restricts medical marijuana operations to industrial zones after CEN had received Health Canada's stamp of approval to build in the area zoned for agriculture and spent $12 million on its facility.
Routhier provided copies of letters he said his client received within months of each other, a "ready to build" letter dated Jan.1, 2014, saying the proposal meets requirements, and one dated March 19, 2014, stating that "based upon the location of the proposed site, we intend to refuse the application."
"The location of your proposed site is in close proximity to residential homes and would likely create a high risk to public health and safety," several of the letters read.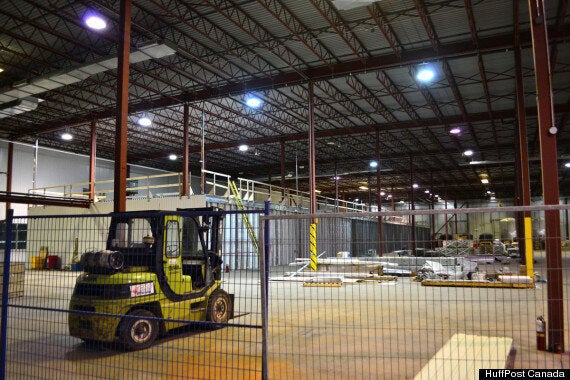 Tweed Inc. a licensed medical marijuana producer, converted the floor of a former Hershey chocolate factory in Smiths Falls, Ont., into a marijuana grow op.
Health Canada maintains that "the proximity of a residential zone is not an automatic ground for refusal," but has not elaborated on its reasoning.
Health Canada said it "continues to improve the review process" and detailed one amendment introduced following the series of recalls last spring: its decision to introduce a phased licensing process that requires producers to obtain a licence to grow, proving they can do so safely and effectively, before they are authorized to sell. Eight companies now sit in this phase of the process.
Other perceived changes, such as the 500-metre rule, are interpretations of the regulations as they apply to individual applicants, Health Canada said.
Routhier said he is baffled as to why Health Canada would not publicize information about the 500 metre rule --and about five other major changes to the review process that applicants and consultants say they have noticed cropping up in correspondences with Health Canada.
One of his biggest frustrations is the letters that tell an applicant that the government "intends to deny" their application based on reasons such as the "risk to public health, safety or security" that are not specific enough for the applicant to address in the time frame allotted.
Some of his clients have received requests for the credentials of their quality assurance staff including diplomas, degrees and reference letters from previous employers to determine whether they meet Health Canada's criteria. However, they state only that the quality assurance person "must have the training, experience and technical knowledge relating to the activity," withholding exact specifications that would allow applicants insight into who fits the bill, and what the bill is.
After the applicants followed up to provide credentials, Routhier said at least one of his applicants was told they were not sufficient.
"Health Canada is putting so much effort into eliminating applicants and so little into licensing them," he said.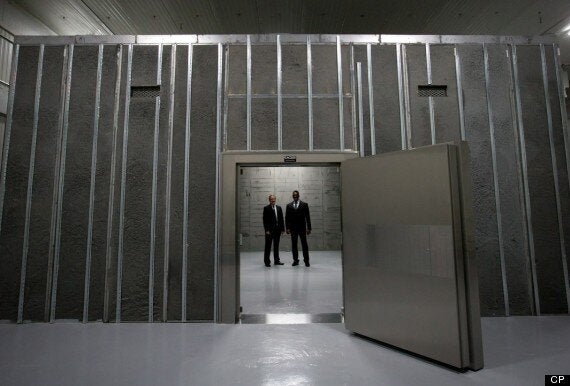 This vault at Richmond, B.C.'s MediJean will hold marijuana before being shipped out. Vaults are one of the many requirements Health Canada lays out for licensed producers.
Industry insiders believe the hours spent correcting quality and safety issues at the existing licensed producers has diverted resources from vetting new ones and has led to a more rigid interpretation of its regulations that is putting a licence out of reach for many.
"Health Canada is refining their requirements based on real life experience, and it's being more stringent about the requirements that new applicants have to meet," said Alves, adding that staffing is likely spread thin as they deal with a tremendous volume of requests while keeping existing licensed producers in check.
The government originally estimated that it would inspect each commercial medical marijuana producer twice a year. Quality and security challenges have likely forced many more. But Health Canada had said only that it conducts regular, unannounced inspections and that there is no set maximum.
Health Canada openly disapproves of marijuana use but has overseen the delivery of medical marijuana since 2001, after its hand was forced by a Supreme Court ruling that grants patients access to medical marijuana.
Now it is under heavy pressure from doctors, patients, investors, the courts and taxpayers to show that its new commercialized system — which it estimated would save $18.7 million in its first year — fulfills its goal of increasing regulation and efficiency in the drug's delivery, while reducing administrative costs for the government and ultimately, the taxpayer.
But Health Canada's January 2014 cost projection of $2 million in application processing costs alone was already about $600,000 higher than a 2012 estimate for the program's total administrative costs during the fiscal year 2014-2015. Three months before the old program ended in April, the government had already spent $1.8 million on implementing the new system, according to the ATIP documents.