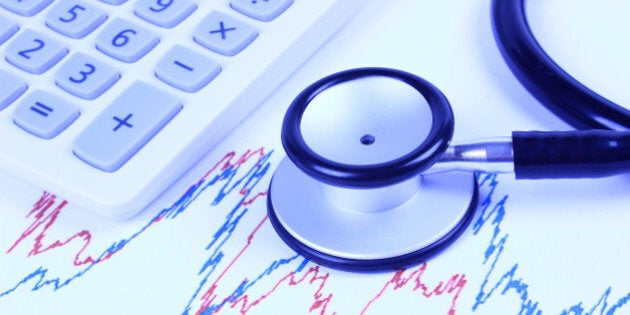 Several weeks ago I had the opportunity to be on "The Agenda with Steve Paikin." The topic of the debate was the failed Tentative Physician Services Agreement (tPSA) that was foisted on physicians in a surprise move this past summer. During the course of the debate, Dr. Richard Reznick mentioned (starting at the 10: 45 mark) that we spend 11 per cent of our gross domestic product on health care, far more than other countries.
I thought that was an interesting point to make, so I decided to look up some statistics, to see if that statement was true. The numbers, alas, are very disheartening.
It's been reported that Canada spends the fourth most per capita on health care of all of the industrialized countries in the world, behind the United States (an odd country that when it comes to health care), Netherlands and Switzerland. Ontario spends about the national average, so we clearly do spend a lot on health care.
But the real story of why our health system is in such disarray comes when you look at the expenses. Quite frankly, the expenditures show that the priorities are badly skewed against the provision of high quality health care.
All of which, when put together, makes me ask on question. Where are our tax dollars going?!
On a per capita basis, we spend the fourth most of any country in the world. But we're certainly not spending money on doctors. We have fewer doctors per capita than Mongolia (no really, go look at the link).
So where are we spending it?
Sadly, this fact seems to be completely ignored by politicians and media. When federal Health Minister Jane Philpott recently expressed concern that Canadians were not getting the bang for their bucks in health-care spending, she suggested "innovation" was needed. But not once in her speech did she mention the obvious, that all of the better performing countries with respect to health care metrics have more physicians/nurses and hospital beds per capita than Canada does.
Similarly, the Toronto Star pointed out that Britain, Italy, Spain, Norway and more, better health outcomes than Canada in their op-ed pages. Did the fact that every single one of the countries listed have more physicians/nurses and hospital beds per capita dawn on them? Nope. Instead, the Star's solution was to add universal daycare, pharmacare and denticare. Yup, more government run programs, run with usual government efficiency.
In Ontario, Health Minister Eric Hoskins and Premier Kathleen Wynne have taken an incredibly haphazard approach to health-care funding. In the past year they have embarked on numerous targeted areas of funding. A little money here for hospital expansion, some there for addiction, more here for community health services. The goal seems to be to target politically favourable areas, hoping this will generate good will and votes.
The people of Ontario don't want, or need, new, opaque transformation plans for health care.
Not only that, Hoskins invoked closure to cut off debate on Bill 41 early, and remarkably, even has limited Standing Committee time, so that he doesn't have to hear the justified criticism of the Bill. So much for respecting democracy.
The people of Ontario don't want, or need, new, opaque transformation plans for health care. They don't even need targeted funding (no matter how justified). They just need their leaders to look at the evidence from other countries, and run their current health system more efficiently, and wisely. It's high time that Kathleen Wynne and Eric Hoskins realized that.
Follow HuffPost Canada Blogs on Facebook