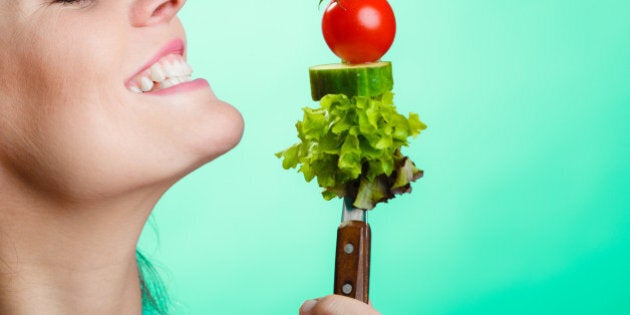 I am traveling more and more these days and I love it! But it is a challenge to maintain the same healthy eating patterns (and exercise) I do at home and take those habits on the road with me.
Recently, I was lucky enough to speak with Bridgette Clare, RHN at Vega. Bridgette shared with me easy and practical tips that will keep your healthy habits on track during your travels.
Quick, convenient, satisfying and portable. What more can you ask for? Your options are endless, from classic peanut butter and jam, to a veggie sandwich slathered with black bean hummus.
What's easier than a PB&J sandwich? Fruit and nut butter. Spread or dip the nut butter of your choice with fruit like apple slices, bananas and berries.
Hanger is combo of hunger and anger that happens when we wait too long to eat. Nip hanger in the bud by eating regularly. Need something quick on-the-go? Try a protein and greens shake with almond milk, in a shaker cup for easy protein.
The easiest way to maintain your healthy lifestyle while you travel is to always pack a water bottle. Keep it full and make sure you drink plenty of water and before, during and after your travels.
Homemade trail mix is a travel staple. Pre-portion your mixes before you hit the road to make it just as easy to grab trail mix as it is to nosh on junk from the gas station.
I also spoke with Fairmont Pacific Rim's executive chef, Nathan Brown. Nathan provided the top tips on how you can eat healthy on your travels.
What are the top tips for eating healthy while travelling?
Healthy eating while travelling is about being prepared. While some establishments do healthy eating better than others, do your research and locate establishments before you travel.
What can you do if you have dietary restrictions?
The best thing to do is get in contact with the chef of the hotel prior to your travels to let them know the specifics of your dietary restrictions. Most chefs have been trained to prepare a vast array of special dietary and allergy-specific meals, and many hotels will have menu options that cater to dietary restrictions, preferences and allergy sensitivities.
Can you ask room service for modified meals?
Many hotels will have many healthy items on existing menus that contribute to overall well-being. Having dishes on a menu that are healthy, gluten free, lactose free, vegetarian, or vegan should always be available. If they are not in the actual in room dining menu, they may be available in the hotel's all-day dining restaurant menu.
Is it a good idea to email the hotel before you leave to ask about healthy eating options?
This is the absolute best way to ensure you get what you want. If you have specific dietary needs, the kitchen will love that you gave them extra time to plan something special for you.
What are healthy snacks suggestions for jet lag?
Stay hydrated during and after a flight.
Vegetable juices will give you some of the energy you are missing. Stay away from sugar, it will give you a feeling of a false high and the "sugar crash" will be worse. I find it helpful to stay away from carbohydrates as well.
I love travelling healthy! Your suggestions are always welcome, as I continue on my journey to live life to the fullest. Let's have the very best 2016!
Follow HuffPost Canada Blogs on Facebook