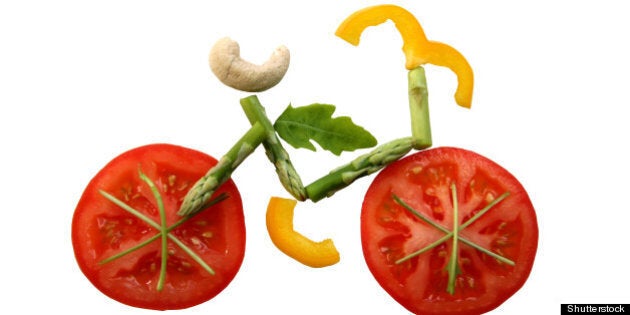 Sometimes you don't have to go far to find the fountain of youth. If you really want to feel younger and fight disease, consider looking no farther than your plate.
"Our diet plays an important role in our lives from birth, through the lifespan and into aging," says Rosanna Lee, a nutrition educator and community health promoter based in Toronto. "As we get older, we may have reduced appetites, chronic diseases, and physical symptoms that make it challenging to eat healthy."
"Choose foods with minimal fat, sugar or salt added. More emphasis should be made on these foods during meals and snacks," Lee says. "As we get older, we may not be able to eat as much or as frequently as we used to so it is important to select foods with higher amounts of energy and nutrition."
Lee says if you're getting tired of the same old palette, adding new spices to your meals also works. She recommends a combination of the Mediterranean diet, the Japanese diet, and the French diet — cuisines that are low in fat and high in nutrients.
LOOK — 10 foods you should add to your plate for the rest of your life:
Cruciferous vegetables like broccoli, cabbage, spinach and kale provide our bodies with folate, calcium, and other nutrients that support proper bone health, promote cognitive function, and prevent age-related eye problems, says Rosanna Lee, professional nutrition educator and community health promoter based in Toronto.
Blueberries, strawberries, cranberries, raspberries and blackberries are packed with antioxidants that promote cell health and protect us against disease. "Look for darker berries like blueberries or blackberries as they provide the best anti-aging benefits due to higher concentration of antioxidants," Lee says.
"Beans like kidney beans and soy are an excellent source of low-fat protein with a good amount of fibre, antioxidants and essential vitamins and minerals like iron, vitamin B and potassium." Research has also found that beans also protect against breast and prostate cancers.
Whole grains like quinoa, brown rice, barley and bulgur are rich in fiber, vitamins, minerals and antioxidants that have protective effects for your body. "Choose breads, pastas, salads and cereals with whole grains to lower your risk for age-related illnesses like cardiovascular diseases and cancer," Lee says.
An essential ingredient in the Mediterranean diet, olive oil is rich in antioxidants and anti-inflammatory monounsaturated fats (the good kind of fat). Use olive oil in your cooking and meal planning to lower your risk for cardiovascular diseases, cancer and age-related cognitive decline.
Tomatoes contains rich amounts of lycopene (an antioxidant) that helps maintain skin texture and reduce your risk for prostate, lung and stomach cancers, as well as heart disease, Lee says. "It is better to eat tomatoes cooked, rather than raw. Studies have found that cooking tomatoes for 30 minutes for about 88 degrees Celsius increases lycopene concentration by 35 per cent."
Almonds and walnuts are packed with nutrients. These nuts contain healthy fats, vitamins, minerals and protein that can benefit your cardiovascular and brain health, she adds. Nuts have been found to also reduce inflammation in the body.
Oily fish like salmon, sardines, arctic char, black cod, rainbow trout, albacore tuna, pacific halibut and Atlantic mackerel (yes, you have a lot to work with), provide abundant amounts of healthy omega-3 fatty acids that help prevent inflammation in the body.
White and green teas contain epigallocatechin gallate, which is one of the most powerful forms of antioxidants. Many studies have found drinking green and white tea may lower one's risk for heart disease, cancer and Alzheimer's disease. And believe it or not, tea also keeps body hydrated.
Popular in the Community