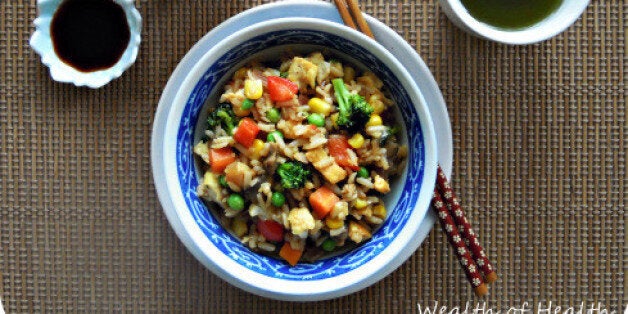 Most people don't associate the words "fried" and "healthy," but with a few simple modifications, fried rice CAN actually be good for you!
Restaurants typically make fried rice by adding white rice to a skillet full of oil, frying it to get a crispy texture, and tossing in a few vegetables. I used higher fibre brown rice, added loads of vegetables (aiming for more vegetables than rice), and sauteed the vegetables in a small amount of omega-3-rich cooking oil.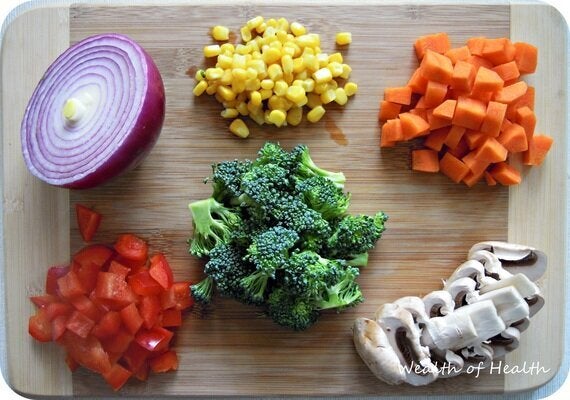 You can also substitute the egg for another protein food such as chicken or tofu. Fibre + protein + healthy fat + plenty of vitamins and minerals = the perfect main course or side dish!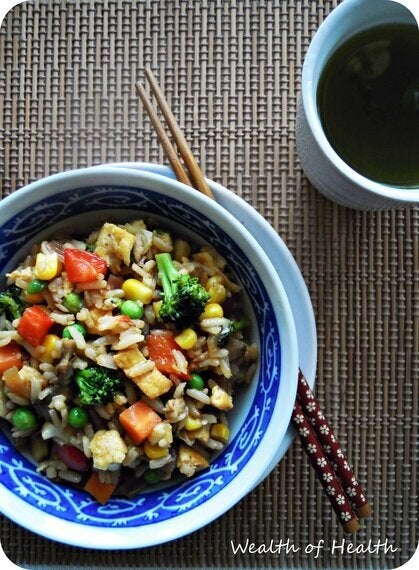 I was tempted to call this dish "Fridge Cleaner Fried Rice" because that's basically what it is. It's a great way to use up those extra vegetables in your fridge before they spoil. You know, that 1/2 a red pepper and lonely onion just chillin' in the chiller...
Makes approximately 6 servings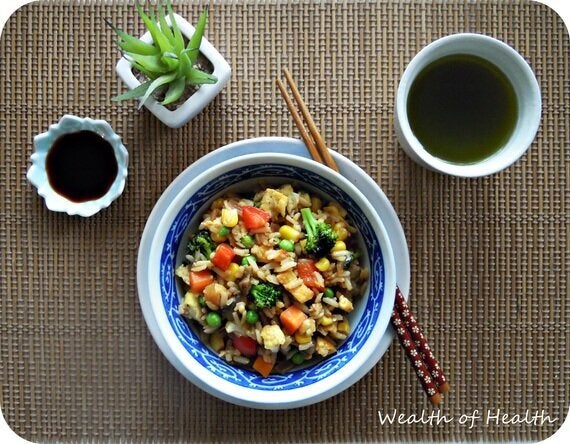 4 cups cooked brown rice (I used parboiled brown rice)
3 tsp flaxseed cooking oil, divided (or any cooking oil of your choice)
1/2 red onion, finely chopped
6 button mushrooms, finely chopped
1 cup broccoli, finely chopped
1 cup cauliflower, finely chopped
1 large carrot, finely chopped
1 red bell pepper, finely chopped
3 tbsp low sodium soy sauce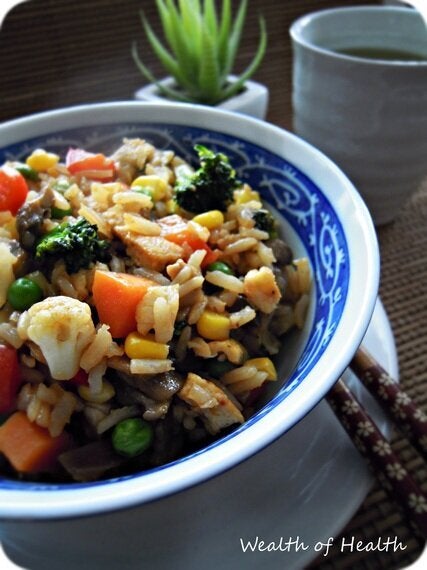 -Cook brown rice according to package directions
-Whisk together eggs in a small bowl
-Heat an 8-inch skillet and drizzle with one teaspoon of oil
-Add eggs and cook as you would an omelette (without stirring) until the underside is cooked. Then flip over and cook the other side
-Remove the egg and chop into bite-sized pieces. Set aside
-Heat the remaining two teaspoons of oil in a large skillet on medium heat
-Saute onions, garlic, mushrooms, and ginger until onion is transparent (about five minutes)
-Add broccoli, cauliflower, carrot, and bell pepper and saute for about five more minutes
-Add peas and corn and cook until just heated through
-Stir in cooked rice, egg, green onions, soy sauce, hoisin sauce, and rice vinegar
-Mix together until all ingredients are heated through