Last week I appeared live on Breakfast Television and showed viewers the various entrees that we love to eat during this festive season. From the audience response by email, Facebook and Twitter I realized I had to share this important information before the holidays so we might all prevent some "damage." The average adult gains between three and five pounds during the holidays and no matter how diligent you are about your New Year's resolutions, not all of that weight gets lost.
I looked at the various meats that grace our tables and came up with great alternatives that are as tasty, yet will save you loads of calories and fat and keep you fitting into your favourite jeans!
BLOG CONTINUES AFTER SLIDESHOW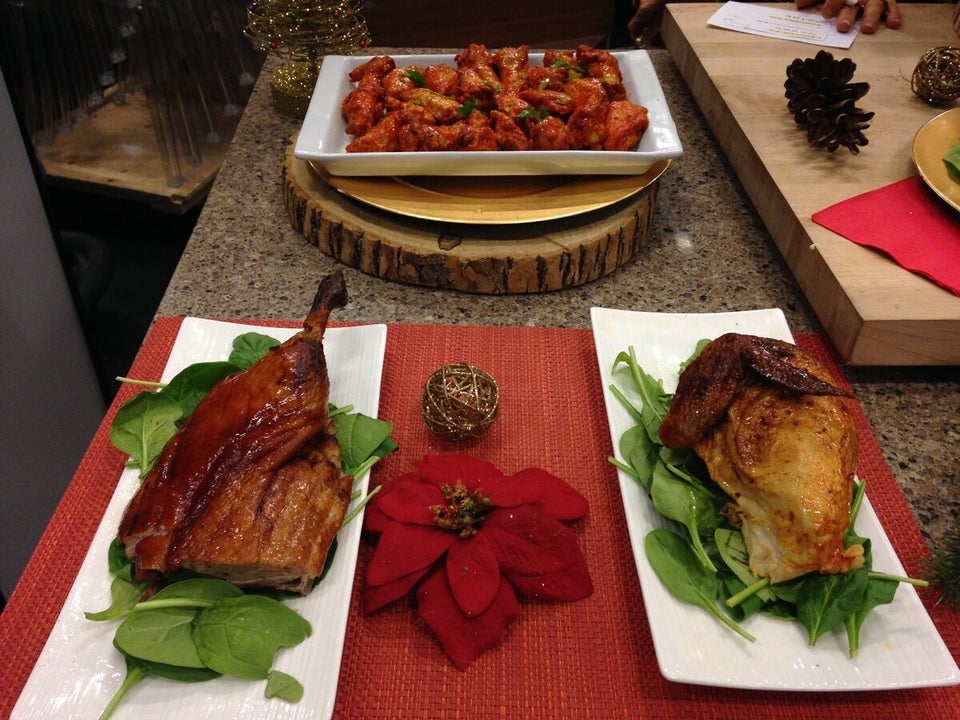 Which Holiday Entrees are Healthier?
Duck versus Roasted Chicken
Duck is dark meat with excess fat and an addictive skin that is usually eaten. Roasted chicken is a lean and white meat and there is a great difference in calories and fat by just removing the skin.
Lose: 8 oz of Roasted Duck = 770 cal / 65 gm fat
This is the same as eating 22 barbequed chicken wings in fat.
Choose: 8 oz of Roasted Chicken = 374 cal / 8 gm fat
Prime Rib versus Beef Tenderloin
Prime rib is delicious but marbled with fat throughout and it's tough to cut away the excess fat. Beef tenderloin is a lean cut with no fat throughout.
Lose: 8 oz Prime Rib Roast = 570 cal / 45 gm fat
This is the same as eating eight roasted turkey legs with the skin in fat.
Choose: 8 oz Beef Tenderloin = 390 cal / 12 gm fat
Rack of Lamb versus Leg of Lamb
Any meat on the bone such as rack of lamb tends to have an excess of fat surrounding the meat, this is the reason the calories and fat are so high. The leg of lamb is lean and has much less fat.
Lose: Rack of Lamb (4 chops) = 640 cal / 48 gm fat
This is the same as eating 24 oz flank steak in fat.
Choose: 8 oz Leg of Lamb = 400 cal / 15 gm fat
Glazed Ham versus Pork Tenderloin
Ham by itself is not a high caloric or high fat meat, but once it's smoked and glazed the sodium is the culprit, which makes it a dangerous food to consume on a regular basis.
Lose: 8 oz of Glazed Ham = 480 cal / 30 gm fat / 2,400 mg sodium
This is the same as eating six cups of salted roasted peanuts worth of sodium
Choose: 8 oz of Pork Tenderloin = 320 cal / 8 gm fat /100 mg sodium
Tourtiere versus Shepherd's Pie
Tourtiere is a two crusted meat pie. The crust alone can have one cup of fat. Shepherd's Pie is a meat filling with a topping of mashed potatoes.
Lose: Tourtiere meat pie in flaky pie crust (300 gm -- 2 small wedges) = 1076 calories / 75 gm fat
This is the same as eating four Druxy's corned beef sandwiches in calories.
Choose: Shepherds Pie (300 gm) = 520 cal / 30 gm fat
Final suggestions before your holiday season:
Looking carefully at what you eat and serve at this festive time will make all the difference on how you feel during and after the holiday season. These are small changes that will yield big results! Happy Holidays!