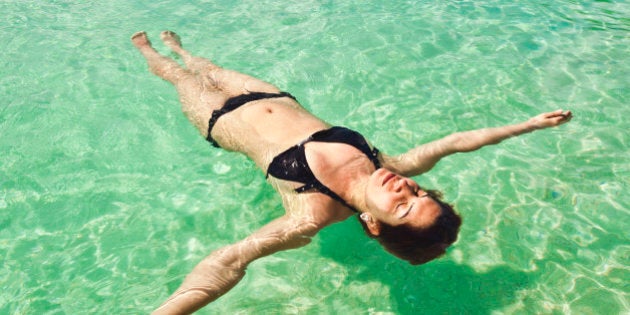 Beach vacations are probably the most unhealthy way to recharge your battery. Most people sit in the sun for too long risking burns, aging skin and skin cancer. Then add the impulse to snack too often, drink too much and move very little. Any exercise that is taken is often low cardio "strolling" and non muscle building.
But there is a way to be sure your beach vacation isn't killing you slowly...
Do it wisely, as I did in Cape Hatteras, North Carolina. The 200-mile long island known as the Outer Banks is a virtual Mecca for activity, this community is built for peaceful earnest action and utter relaxation. There are no restaurant chains on the island which contributes to local and authentic eating but it also eliminates the drive-thru impetus (as well as trash on the beach). The people here are independent, customer service driven entrepreneurs who have learned to roll with the waves and harness the wind. You can find everything from woodland hikes to kiteboarding to go with your peaceful beach time. And, suddenly, your active vacation presents itself.
Add Activity to Beach Days
This is one of the few places left in North America where you can still drive right onto the beach with your surf and paddle boards as well as fishing gear so you can catch dinner. All it takes is a seven-minute video and a four wheel drive vehicle to get a permit. If you can't do that, Koru Village will rig you up, get you out and back in a 4-Wheel Suburban, pack you a picnic lunch and guide you through. They will even take you on a hike through rare and unique forests. Or, they will drop you off and come get you. Before you head out though, do a quick stint at Klub Koru's decked out gym or top notch yoga studio. At this place, you really can find the right balance because you can come back to the spa/pool and beach club for some evening rest. A full and busy day outdoors is very different from a bake-a-thon and beach read.
Choose a NEAT Place to Stay
Many accommodations on this island are rental houses that include access to a club. Outer Beaches Realty includes Klub Koru access and has some massive houses to rent by the week for many families to share as well as smaller more intimate ones. Pick something within walking distance of activities so you can park the car for days at a time. And, while for some it is a drawback, this coastal town, accustomed to awe inspiring weather, builds homes on stilts with lots of stairs...so you are forced to climb. NEAT activity throughout a vacation is key to avoid that "high water mark" ring of belly fat.
Unique to this community, commercial fishermen, deep sea charters and tourist attractions sit cheek by jowl to one another. You won't have to go far to find local action, eats and colour. Spend some time chatting with Ernie, captain of the Albatross Fleet and he will share with you all the stories of the locals whose ancestors floated in on a barrel after a shipwreck. Then he will take you out to fight the big game thereby keeping your upper body strength alive.
It only takes a few active days to learn how to kite board from Kittyhawk Kites. (Yup, the same Kitty Hawk that the Wright brothers chose for its windy nature.) This team are masters at not making you feel like a dumbbutt for dropping the kite over and over again. Once you are on a board, your abs and hips do the work, and, here, if you fall off, the water is knee deep as far as the eye can see. You simply get back up and walk using the warm water for resistance.
You want to start your trip climbing something, anything. Bodie Island Lighthouse is perfect to start you off on the way in. It is a steep climb including a museum's worth of history with one the the few working Fresnel lenses fully restored and working with leaded glass panes. The 360 outdoor view of this region will give you the perspective you need to explore it. Kayaks and kites on the sound side, surfboards and windsails on the ocean. To get from one to the other, you, um, walk across the street.
When you are ready to get out of the sun...mostly...think about a horseback ride through the woods to the beach. Equine Adventures will take you there, tell you how and hurt your underworked inner thighs and abs for a couple blissful hours. Or rent a bike and tour from one end to the other stopping at shops and lookout points along the way.
As I have harped over and over, the healthiest protein comes from the water. And the freshest came out of the water mere minutes ago. When you are ready for a slightly indulgent treat, take a look at Goodwinds Restaurant where Executive Chef, Joel Sardinha is serving pub food with high end quality local ingredients. He is also focusing on local beer wine and moonshine. Yes, moonshine. The key to choosing food on vacation is stick with the broiled, steamed or baked and give up the breaded and deep fried. Choose local.
All beaches in the Outer Banks have public access and are strollable before during and after dark for miles and miles and miles. Blissfully, much of this island is protected but the signs will tell you the space is reserved by the Feds for birds and sea turtles. Because in this North Carolina jewel, the wind, weather and seasons rule. Your vacation will be about harnessing it, living with it and loving it the way the outer banks locals do.
You will be fully exposed on any beach vacation so bring strong sunscreen, no one wants to do away with that particular kiss from heaven. Pick your seasons wisely to avoid nibbling pests, spring and fall work best. Or slap on bug spray and cover ups often. Plan some indoor time between 11 and 2 and keep moving the rest of the day.