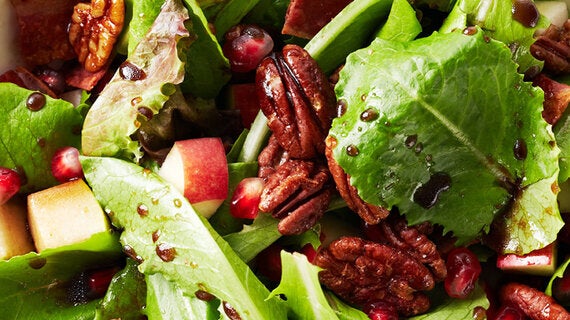 As the cold weather comes in, we can't help but reflect back on those warm summer days where we could step outside without a jacket. But rather than turn to comfort food to warm up, we're bringing the freshness of summer into fall with our top 10 Fall Salads. That's right, salad is the superstar this fall with plenty of hearty ingredients that will fill you up. The leaves may be hitting the ground, but they're falling right into our dishes with these ultra delightful salads.
Kale makes a comeback with our Kale, Spinach and Quinoa Salad -- a superb meal-in-a-bowl with loads of nutrients, fresh mango and avocado tossed in a zesty lemon shallot dressing. If you're feeling a little nutty, then you will love our Nutty Asian Chicken Salad. A bowl full of healthy veggies, protein and of course...you guessed it... a heavenly creamy peanut butter dressing to top it off.
If you're looking to fill your tummy with something wild then our Wheat Berry and Wild Rice Salad is made for you! (Seriously, we made it for you). If you're super intrigued (or super hungry) you will definitely want to check out the rest of our salad recipes below.
Lettuce get you all dressed in the fall spirit!
Follow HuffPost Canada Blogs on Facebook