OTTAWA — Premier Kathleen Wynne received a frosty reception in a suburban Ottawa venue where she hosted a town hall on Thursday.
Representing a 15-year-old Liberal government, Wynne faced questions and criticism on a wide array of topics. One man shared a story about his girlfriend losing her job because of the province's recent minimum wage increase.
"I spoke up because you're trying to say that you're going to make things better but in, I think in most people's experience, this province has gotten worse through the tenure of your premiership and your predecessor," he said.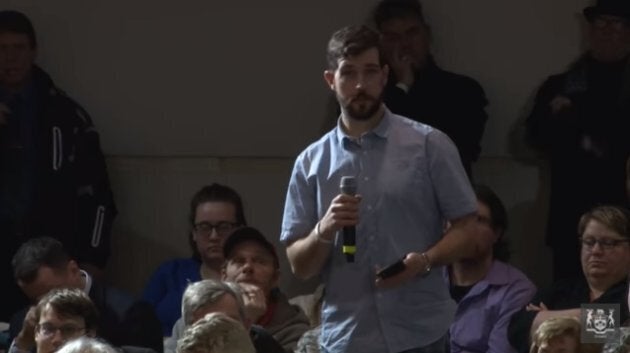 In the next breath, he chastised Wynne for considering policies such as basic income, saying the idea is "essentially socialism."
Ideas like this "destroyed Russia under the Soviet Union, he said, which lead to the deaths of hundreds of millions of people." He urged Wynne to tell him her plan to make the province's economy grow, and create more jobs.
"Don't tell me what benefits you're going to give me when I'm jobless, when I'm not productive, when I can't have a living income from my own labour. Tell me that," he said.
With a large provincial flag set up behind her at Nepean's Ben Franklin Place, Wynne paced across a large green "Ontario" carpet and ​​​defended the recent minimum wage hike.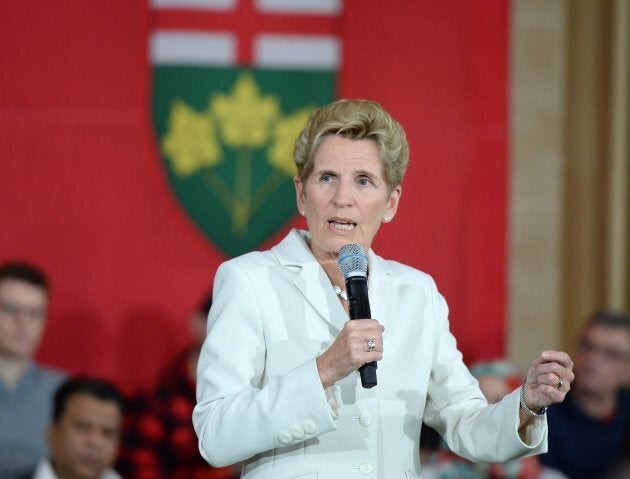 She said Ontario is outpacing other provinces in terms of job creation, adding, "We're doing that by investing, by drawing foreign investment to Ontario."
"The fact is there's lots and lots evidence that having people earning a living wage, that creates a stronger society and ultimately creates better economic health."
Heckler hounds Wynne over child care costs
At the beginning of this year, Ontario raised its minimum wage from $11.60 per hour to $14. Some businesses such as cafes and restaurants have increased prices to compensate for the increase in labour costs.
Other businesses, including some Tim Hortons franchises, have faced public backlash over the decision to cut benefits and breaks to clawback the cost of increased wages.
Later in the town hall, Wynne was interrupted by a heckler who raised concerns about the high cost of child care in the province.
"Are you destroying the Canadian family because of incompetence or because of treason?" said the man, whose name was later identified as Will Hickie.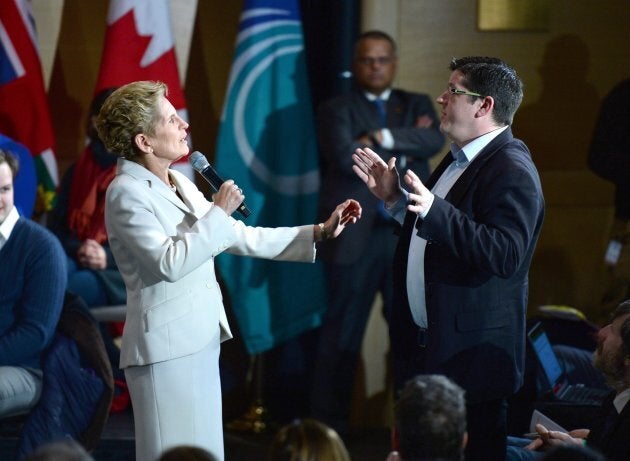 Wynne acknowledged that "people are working harder" and plugged her government's promise of free post-secondary tuition for "every young person in this province."
She touched on the issue of gender equality, mentioning the creation of 100,000 child care spaces because "women can't get into the workforce if there's no childcare in their communities."
"The reality is that the condition that you have identified, which is a 21st century global condition, which is that society is not fairer than it was 50 years ago," she said "We've got big challenges. Our plan actually addresses that head on. It addresses it head on. That's why I'm in politics."
With less than six months before voters head to the polls, Wynne's approval numbers have been consistently low in recent years. In March, an Angus Reid Institute poll announced her approval rating to be at 12 per cent, a record low for the Ontario premier. By September, that number rose to 17 per cent.
"It is not really about popularity. It is about making sure that we have the supports in place that people need," she told the broadcaster. "At the end of the day if people have those supports then they will make their decision about who they are going to vote for."
Unlike the town hall Prime Minister Justin Trudeau held in Quebec City the same night, Wynne did not take any partisan shots at her election rivals, Progressive Conservative Leader Patrick Brown and NDP Leader Andrea Horwath.
Ontario election day is scheduled for June 7, but could be called for an earlier date.
Popular in the Community