When it comes to celebrity Halloween costumes, Heidi Klum always reigns supreme.
The 43-year-old model is known for her legendary Halloween parties, in which she dresses up to the nines in extravagant, dramatic costumes. (Seriously, she's the queen of Halloween.)
However, the "America's Got Talent" judge's costume this year was disappointing, to say the least. In fact, the German beauty didn't dress up at all, she simply went as herself, and had five "clones" wearing prosthetics accompanying her.
Granted, Klum's costume reveal was pretty cool — she and her clones emerged from a huge box labelled with "Made in Germany" on the red carpet, all dressed in identical beige and white bodysuits with knee-high boots.
She also teased her outfit three weeks ago on Instagram, prompting her followers to guess what she would dress up as.
But TBH, Heidi as Maddie Ziegler from Sia's "Chandelier" costume on "The Ellen Degeneres Show" was waaay better.
Sigh. Here's hoping to something less lacklustre next year!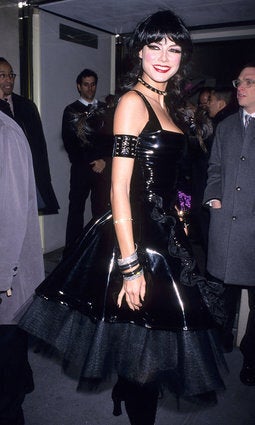 Heidi Klum's Halloween Costumes