At 13 years old, I didn't have a clue how to get in the modeling industry. To start out, I looked for information in local newspapers, where I came across a couple of agencies I was interested in meeting with. After much debating, I decided the only thing to do was cold call them myself. The most prestigious agencies refused to speak to me, so I pretended to be a top agent in Jamaica, calling on behalf of Stacey McKenzie. Luckily, my tactic worked, and I would see all my desired agencies within a few days; only to find out not one of them was interested. They all said the same thing: "No, you're very different looking and we wouldn't even know what to do with you." I took the criticisms, went home, and re-invented my look after each meeting. I even went as far as cutting my hair into a super short pixie cut and covering my freckles with foundation. I made new appointments with all the agencies, but again and again I was faced with "NO." Actually, it was more like: "We saw you last week, you look the same, we're still not interested."
After a good three years of hustling in Toronto, I took a road trip to NYC with six other models and an aspiring agent named Roger LaRose (who I met in a club). We saw almost all the agencies in New York and I was still faced with the same replies, but in a more American way: "HELL NO!" Finally, by the end of our trip, the last agency told me to go back to Canada, pack my bags, and come back to NYC in a week.
When I arrived at the agency one week later, the same woman who told me to "go pack your bags and come back" gave me a dismissive glance and said "I'm not interested." I was devastated. I had dropped out of school and was now in a new world with no family or friends to turn to. I decided to try visiting NYC agencies one last time, and that's when I met the wonderful Karen Lee who fought for me to be with Elite Model Management.
My Elite days were short lived; I quickly became aware of the difficulties of living on my own as a 16-year-old. I was too free to do whatever I wanted. I decided to leave and come back to Canada. I got my GED and worked 3 jobs so I could make a journey to Paris, France.
After arriving in Paris, I got the same harsh welcome from all the agencies. The only difference this time? The feedback was in French! Lucky for me, after some pavement pounding, I finally got signed to a very small agency. The first appointment I was sent to was Jean Paul Gaultier.
To this day, I cry when reminiscing on meeting Mr. Gaultier -- a man who changed my life. At this point, I was very close to reaching my breaking point. The bullying, teasing, criticisms, hate, and NOs were beginning to take their toll on me. Jean Paul was the first designer to tell me I was beautiful. Jean was also the first to encourage me to stay true to myself and pay no mind to what anyone thought. If it weren't for Jean Paul Gaultier, I wouldn't have been offered many of my modeling or acting opportunities including my role in The Fifth Element (he was the reason Luc Besson cast me).
While I was pursuing my modeling career in Paris, France, I came across numerous young women and men who did not have a lot of knowledge about the modeling industry. I began giving them advice and lessons in my studio apartment in La Defense. I soon realized many of the models I encountered along my journey seemed to lack the self-esteem and confidence needed to make it in the industry. As the years passed, I continued with my little workshops and then decided to create Walk This Way Workshops in 2005. I wanted to not only give back expertise and advice, but more importantly: inspire each girl or guy to own who they are and go after their dreams and goals with confidence.
I work diligently in my community mentoring young people. On my first visit to one of my engagements with an inner city program, a young girl said to me, "We can't believe you actually came to see us; no one ever comes to see us." I was honoured that a visit from me could make this young girl's day -- but also shocked and surprised. I decided I would always make it a priority to give back by doing these community workshops whenever I could.
This year, I decided that I would I create an annual summer camp -- focusing on helping inner city youth grow their self esteem and confidence to pursue their dreams. This July, twenty hand-selected inner city youth will be invited to take part in my very first (completely free) "Walk This Way Workshops Camp." Over the course of two weeks, they'll have the chance to be mentored by me and other influential people in the arts, fashion, and entertainment industry.
We are all blessed with our individual talents, gifts, and opportunities for a reason. It's my hope that I can use mine to share, inspire, and help others -- like Gaultier helped me.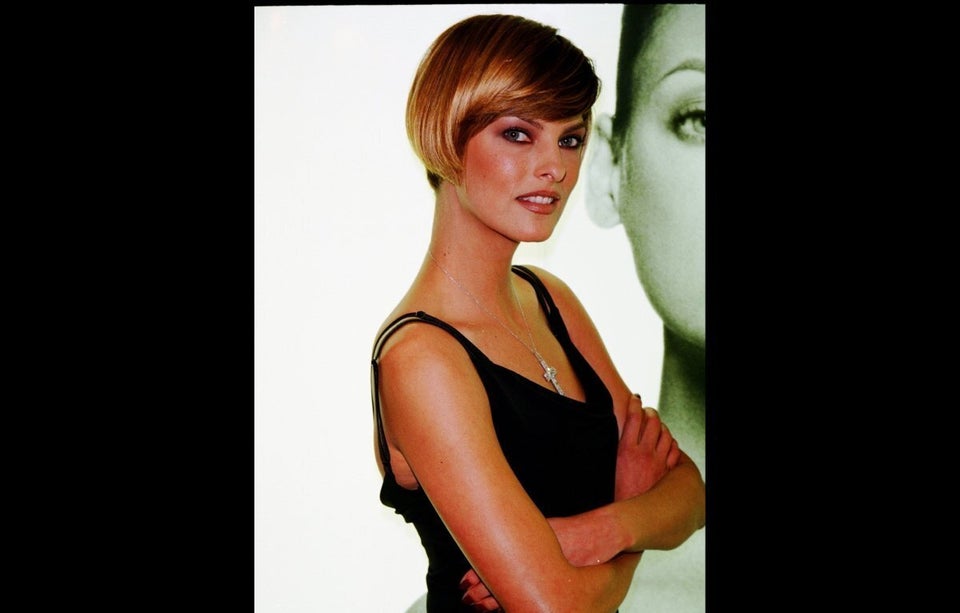 Classic Supermodels: Then & Now