Natalie Strouth is a nurse with Saint Elizabeth and the information specialist behind Ask Elizabeth, a free caregiver support service. Saint Elizabeth, a home health care company, has been a trusted name in Canadian health care for more than a century and is a national, not-for-profit, charitable organization.

In her weekly column, Natalie answers your questions about caring for a family member or friend who needs extra support -- and caring for yourself as a caregiver.

Send your question to askelizabeth@saintelizabeth.com
Caring for a family member, friend or spouse comes with all kinds of tasks and responsibilities. Some you can just jump into with confidence, like preparing meals. Others, like helping an elderly parent with bathing, can come with some fear or embarrassment for both of you.
If you are having these feelings, know they are normal and expected. And sometimes you are so tired and may rush through things, especially the uncomfortable ones, thinking, I can't do this or I need a break. I understand and have seen it with many families. What I can share with all of you loving, hard-working caregivers, is this: You can do far more than you might think you're capable of if you allow yourself the chance to be patient and learn together.
You want to maintain the person's privacy, dignity and independence as much as possible. It might take longer than it used to for the person to do something for themselves, but the benefits far outweigh the extra time. Take your lead from the person you are caring for and provide positive reinforcement for the skills they are able to do themselves.
The person may resist bathing because they're afraid of falling. A home care professional or occupational therapist can help suggest equipment to make bathing safer and more comfortable. Assistive devices like bath seats, grab bars and bath mats can be used to improve safety and independence while bathing and showering. The Canadian Association of Occupational Therapists has many resources and pamphlets.
Allow as much privacy as possible. One way to help is to have the person wrap a towel around themselves, and then clip the towel with a clothespin or attach velcro tabs to the towel. A long, plastic apron can also be worn in the tub or shower for additional privacy.
Stop yourself from doing things that the person can do himself or herself. For example, someone may be able to take a bath independently, but needs your help with washing his or her back. Take your lead from the person as to how much or how little to help out.
Bathing in a tub bath is safer than a shower.
Put a rubber mat in the bottom of the tub or shower stall or use a bath seat. Stay close by in case of a fall.
Use a liquid soap dispenser and a large sponge to make cleaning easier. Use mild, gentle soap and shampoo such as a mild baby wash.
Have a small heater in the bathroom so that the person is always warm, especially if they are having a sponge bath.
Always try to have everything ready for the bath or shower, before you assist the person in getting to the bathroom.
Keep the area around the bathtub or shower stall dry. Wipe any excess water off the floor.
Test the water temperature with your elbows to make sure the water is not too hot or cool.
Ask the person if the water depth and temperature are OK.
Cover the eye area with a dry cloth during hair washing in the tub. To further avoid shampoo and water in the eyes, you may want to use a bath visor. These flexible and waterproof visors have a large hole at the top of the hat for putting the hair through and are available in the children's bathing section of a department store.
A hand-held shower head attached to the faucet will make rinsing and hair washing much easier.
And lastly, remember that some things will take time. Do you remember when you were a kid, how good it felt to have your parent squeeze a cloth of warm water on your back in the bath, or lovingly brush your hair? Enjoy the time spent together, and remember that often, they just need you.
Send your caregiving question to askelizabeth@saintelizabeth.com. Answers may appear in an upcoming weekly column. Ask Elizabeth does not offer legal guidance, nor does it answer questions about personal health issues.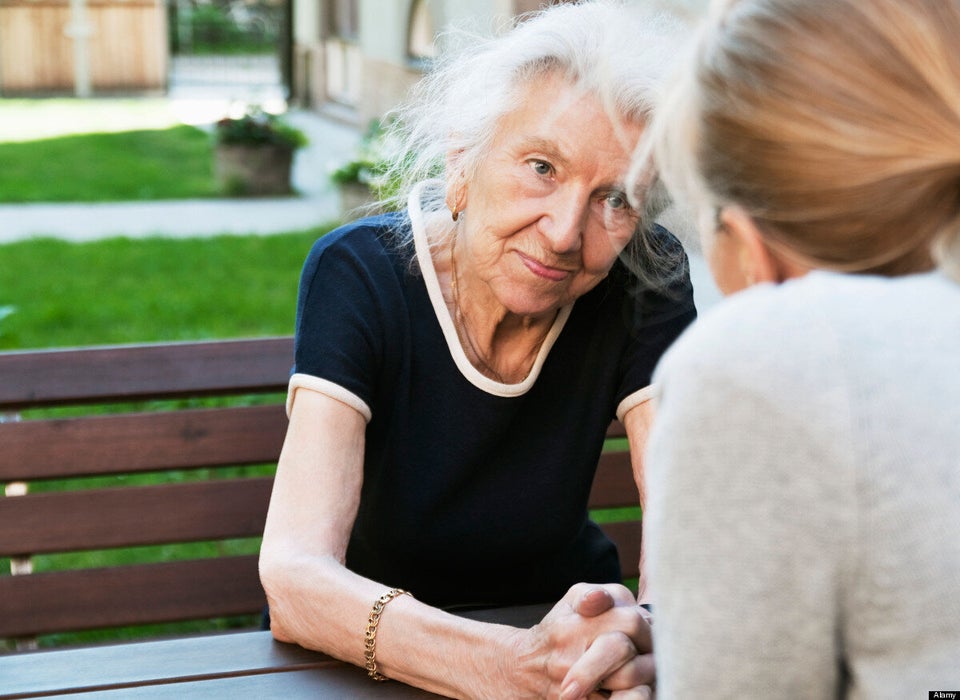 7 Tips For Caregivers