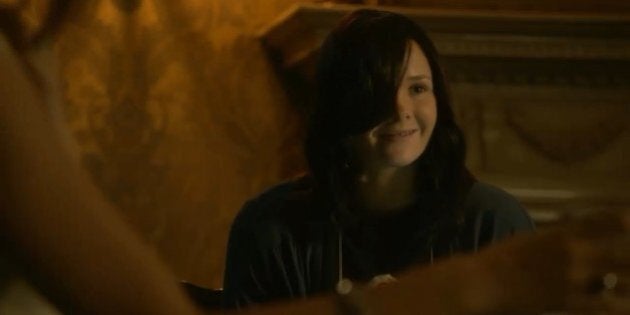 We're only a little over a month away from Season 2 of "Hemlock Grove" premiering on Netflix, but impatient fans of the popular Eli Roth-produced horror series can now get their first look at Madeleine Martin as the show's new Shelley Godfrey, thanks to a new image released exclusively to HuffPost Canada TV.
Last we saw her at the end of Season 1, a critically injured Shelley was running off into the woods and left for dead. Well, judging from this new photo (as well as the news that Martin would be taking over for Nicole Boivin in the role), Shelley's very much alive. And according to Martin and new executive producer/showrunner Charles "Chic" Eglee, her return to "Hemlock Grove" is guaranteed to shake things up this season.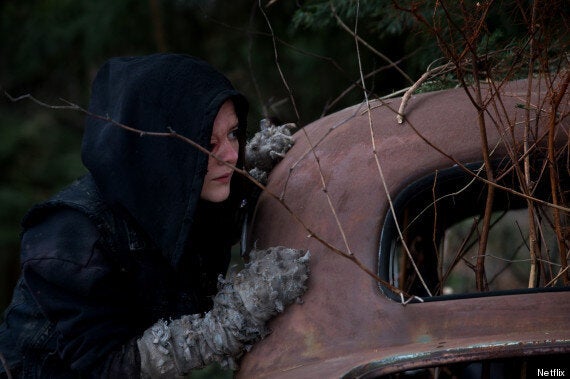 Eglee, whose past credits include shows like "The Shield," "The Walking Dead" and "Dexter," said that the character of Shelley fascinated him from the start. "Shelley was very much the beating heart of the show last season, and really, the only pure soul in the otherwise toxic stew of 'Hemlock Grove,'" he explained. "I was so moved by the character last year."
"The thing is, last year, Shelley as a character was kind of an amalgamation of various production strategies. Some of it was a stand-in, and some of it was a 7-foot double, there was the voiceover narration, and it was a little bit ad hoc in the sense that the execution of that Shelley character on a week-to-week basis was on the fly in terms of the effects, how they were actually filming," Eglee said. "How they were creating the character."
So Eglee looked to simplify the process by recasting the role, which was played by Boivin and a pair of body doubles (as well as Niamh Wilson in flashback) in Season 1. "It seems to me that this is such an important character, and so iconic and central in so many ways to the chemistry of the show. So we set out looking to go and get really the best actress we could find," he explained.
That's how they ended up with Martin, best known for her role as Becca Moody on "Californication." The actress said that producers told her they planned on taking Shelley in a slightly different direction this year, which gave her the freedom to put her own spin on the character. "It's definitely a new, evolved Shelley," promised Martin. "She is going through such a big transition this season."
Martin said she looked to Johnny Depp in "Edward Scissorhands" for inspiration on how to play the misunderstood outcast, "Obviously he's a fully grown man, but he seems like a small child. And that was definitely how I wanted to play Shelley, because she's 6'7", but she probably feels like a diminutive little girl."
"Obviously coming into this, that character as constituted, Shelley was mute. And what Madeleine was able to do without saying a word was quite remarkable, really incredible," said Eglee. "I think the inspiration for the character was certainly there on the page in Brian McGreevy's novel, and there was really good work done last season. But Madeleine really inhabited that character and brought it to life," he added. "She really made that character her own."
You'll have to wait a few episodes to see what Martin can do, since as far as the other characters are concerned, Shelley died at the end of last season. "The assumption is that she's dead and everybody is trying to come to terms with that, and then all of a sudden, bang, we just cut to her running into frame, being chased by something horrible through the woods," explained Eglee. "And the hope there is that the audience will go, 'She's baaack!' and will be really happy to see her."
The new "Hemlock Grove" showrunner has been so pleased with Martin's work that he admits he had a hard time keeping Shelley's return a secret, saying, "One of the spoiler issues when you sign an actress with the level of craft and recognition that Madeleine has, you're obviously going to publicize that you have that wonderful actress."
That doesn't mean the show doesn't still have a few surprises in store for fans when it returns, including one for viewers who thought they couldn't possibly like the fan favorite Shelley any more. "If people liked and responded to Shelley last year, I just think they're going to fall madly in love with her this year," promised Eglee.
Season 2 of "Hemlock Grove" will be available for streaming on Netflix and Netflix Canada on July 11 at 12:01 a.m. PT.