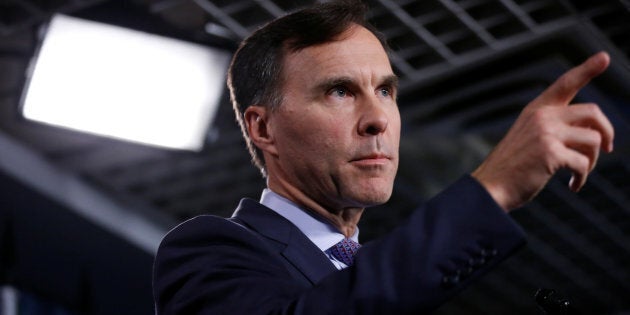 OTTAWA — A Conservative MP joked last week that Finance Minister Bill Morneau would be a "shoo-in" for an award honouring the "most creative use of loopholes."
These loopholes — the ones that allowed Morneau to keep substantial shares in Morneau Shepell, his family's pension and benefits firm, by using numbered companies instead of divesting himself of his assets, and which failed to prevent him from tabling legislation that furthered his own family's interests — were first flagged four years ago.
Back in 2013, when the Tories were in office, Conflict of Interest and Ethics Commissioner Mary Dawson pointed out a number of gaping holes­­ with the Conflict of Interest Act.
The Conservatives chose to ignore her.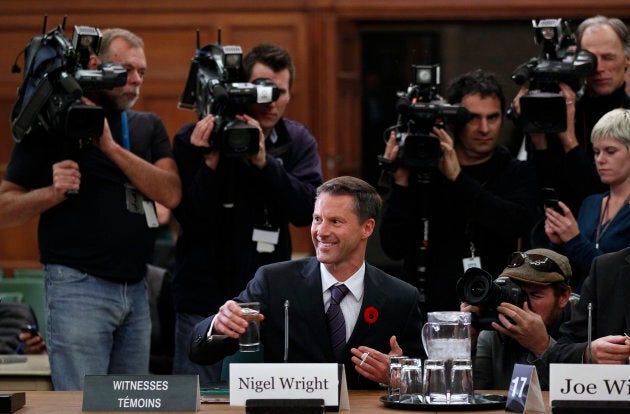 Instead of addressing the loopholes, the Tories, who were embroiled in their own conflicts of interest with the Mike Duffy-Nigel Wright affair, sought to protect individuals subject to Dawson's examinations by keeping news of investigations secret until a final report, while also swamping her office by including some 215,000 federal public servants under the scope of the act.
The Conservatives' committee recommendations led the lone Liberal involved in reviewing the act to comment that the report "is a complete farce" and "ignores all of the very credible testimony" heard, including Dawson's nearly 100 recommendations.
Many politicians and political staffers find Dawson's interpretation of the Conflict of Interest Act overly restrictive. So it's no surprise that there is a lot of head-scratching going on.
"When I met her, she was pretty darn tough," Winnipeg MP Robert-Falcon Ouellette told HuffPost Canada last week. "I can't even go to my kids' school, according to her, and sell raffle tickets, because I might be influencing people for private interests because I am the MP.... It sounds kind of crazy; I said it was 'crazy,' that it was 'off the wall,' but it's not her, it's [the] law."
Last week on Facebook, a number of former Conservative staffers shared their bewilderment at Dawson's decision to allow Morneau to hold millions of dollars of shares in Morneau Shepell in an "indirect" fashion because the loophole had never been closed.
Former Tory staffers vent
"In 2006, I was told by the Ethics Commissioner's office that I had to put my $40,000 of exchange traded index funds into a blind trust. Nobody said anything about putting them into a numbered company being another option," former Conservative staffer Dan Mader posted.
Others chimed in, sharing stories of how Dawson had prevented a colleague from continuing a $10-an-hour side-job as a yoga instructor, and a summer intern at Veterans Affairs Canada who was refused permission to work as a part-time dishwasher at Blue Cactus, a nearby Mexican restaurant.
In the House of Commons on Friday, Conservative finance critic Pierre Poilievre pointed out important issues around how the finance minister had failed to recuse himself on legislation — C-27 — that creates targeted-benefit pension plans that his company sells, as well as tax proposals for small businesses that would encourage the purchase of individualized pension plans, which his company also sells.
Watch Morneau take heat in the House of Commons:
When asked if the law should be changed to close some of the loopholes Morneau used, Poilievre declined to comment. He said he hadn't examined the issue.
"I don't have a specific response to your policy question," he told HuffPost.
"I think we can all examine the law, but if a well-lawyered minister with enough money comes along and seeks out every possible loophole to get around the rules, then the problem isn't the law. The problem is the minister."
Conservative Leader Andrew Scheer's spokesman, Jake Enwright, said he had "nothing to add" to Poilievre's answer.
There is no question the minister's behaviour bears scrutiny but the law also needs fixing.
Here are a few ways the Conflict of Interest Act could be amended to increase transparency and avoid conflict of interests:
1) Consider indirectly held assets to be "controlled asset

s" that require divestment
This is the most obvious and pressing amendment. The NDP may call for this as early as Monday. Public office holders — and certainly the finance minister — should not be allowed to use numbered companies to shield their assets from conflict of interest provisions.
Dawson first flagged this change on page 32 of her 2013 report, writing: "There have been instances where a reporting public office holder does not controlled [sic] assets directly, but holds them indirectly through a holding company or other similar mechanisms. Those instances should be included as well."
Dawson never elaborated on which other office holder was holding controlled assets indirectly and whether that placed him or her in a conflict. In her numerous appearances before MPs, she never raised this loophole as a priority, so it's perhaps no surprise that neither the Tories, nor the NDP, nor the Liberals suggested addressing the obvious gap.
A review of Commons debate and committee discussions from 2006 onwards also finds no MP ever mentioned the loophole, suggesting the problem was not by design.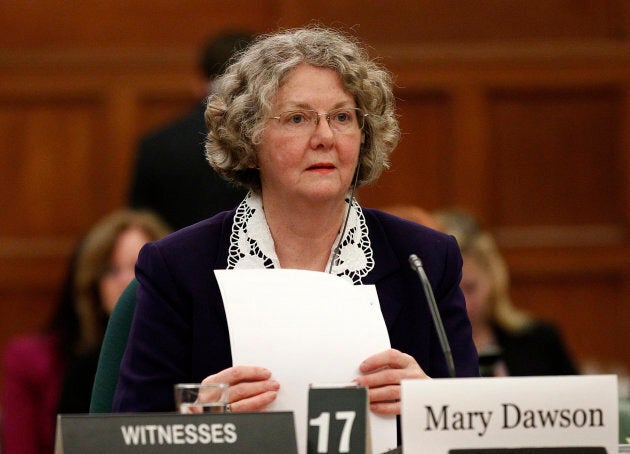 The watchdog group, Democracy Watch, places blame for the loophole on Dawson herself. Writing in a 2013 brief for the bill's statutory five-year review, the group noted that legislative change is needed only because "the ethics commissioner is too narrowly — and legally incorrectly — interpreting the definition of 'controlled assets.'"
What Dawson calls "indirectly" held assets are not included in the act's exhaustive list of "exempt assets," such as cars, paintings and antiques, and Canada Savings Bonds.
As it stands, the law states that public office holders who wield significant decision-making power and have access to privileged information must divest themselves of their "controlled assets" within 120 days of their appointment or place them in a blind trust to be divested through an arms-length process.
So crucial is this to the application of the law, Dawson stated in 2013, that Canadian taxpayers pay the cost of administering these trusts, which can be very expensive as they are generally based on a percentage of a person's holdings.
Currently, public office holders are not in a conflict of interest if they take part in a decision or a matter that is "of general application" or affects them as "one of a broad class of persons."
Morneau has not recused himself from discussions around the C-27, the pension bill, because of this "general application" clause, even though Morneau Shepell is one of only a handful of companies heavily involved in the sector which will be affected by the bill.
In February 2016, Morneau declared that Dawson had set up a conflict of interest screen to prevent him from participating in "any discussions or decision-making processes and any communication with government officials" on "any matters or decisions, other than those of general application, relating to Morneau Shepell Inc. or its subsidiaries, affiliates and associates." If a topic came up he wasn't supposed to be in the room to discuss, it would be up to his chief of staff, Richard Maksymetz, to ensure he was removed.
(Interestingly, the screen did not include any restrictions on participating in discussions affecting the vast family assets of his wife, Nancy McCain.)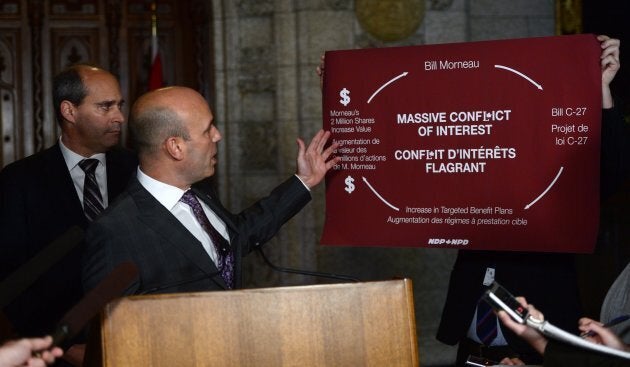 By "general application," as Dawson previously explained, a conflict arises only if a matter discussed is "narrowly focused and affects the interests of [a particular company or person] as one of a small group, or if [that company/person] has a dominant interest in the matter."
NDP ethics critic Nathan Cullen told HuffPost this is an "easily exploited" loophole.
Democracy Watch's Duff Conacher called it "too vague."
"Almost all decisions made by ministers, their staff, and appointed senior government officials ... apply generally – so, in fact, they likely don't have to abstain from participating in very many decision-making processes even when they have a direct conflict of interest," he stated in a press release Friday.
3) Force all recusals to be publicly declared
Morneau told reporters Thursday that he wasn't sure how many times he had been pulled out of meetings because of a potential conflict of interest, "but I can remember at least two times."
He said he doesn't know "what happened at those meetings" because his conflict of interest screen prevented him from knowing what was discussed.
Morneau is legally obliged to recuse himself from "any discussion, decision, debate or vote on any matter in respect of which he ... would be in a conflict of interest." He must publicly declare, within 60 days of the recusal, every time he removes himself in such circumstances.
But Morneau, like all similar office holders, is obliged to declare only instances when he went to a meeting or took part in a discussion or debate and then removed himself. If, for example, he chose not to attend a cabinet discussion because he suspected he would be in a conflict of interest, he doesn't have to publicly declare that he missed the meeting or why.
Cullen, the NDP MP, thinks this suggestion could help the public understand what a cabinet minister feels is a conflict and what is not.
"When you choose to stay out of a meeting or you choose not to, it helps in real terms to define what you think is ethical behaviour and what is not," he told HuffPost.
4) Conflict of interest screens can't be allowed to replace blind trusts
Morneau said Dawson told him a blind trust would not prevent his knowing what was in the blind trust and suggested instead that "a conflict of interest screen would be a superior way" for him to ensure he had no conflicts.
Conflicts of interest screens are not defined in the legislation, but Dawson has the flexibility in the act to set them up. She has said she uses them if a public office holder is in a position "where there is a significant possibility that they will be involved in discussions or decision-making that could affect their own private interests or those of a relative or a friend or an organization with which they have been connected."
Morneau said he took her advice because she is the expert.
Rotman School of Management professor Andrew Stark told HuffPost that Dawson should not have given Morneau that advice, because screens can't be effective when you are dealing with someone with "great power and great wealth.
Watch Morneau get testy with reporter:
"When they come together, the screen is inadequate — and that is the experience of the U.S. treasuries who realized soon in that they would have to be screened from everything they did in office or almost everything they did in office.... The blind trust was the only remedy for them. And it is this particular situation that we are talking about."
Stark also notes Morneau's position that his "indirect assets" posed no conflict of interest — "and that's a position nobody will accept.
"But if that's his position, why the screen?"
5) Oblige spouses to put their holdings in blind trusts
Morneau acknowledged last week that his spouse holds a great deal of shares in Morneau Shepell. The finance minister said she and their children will now divest themselves of all their assets in the family company. But the law doesn't force Morneau, or anyone else in his position, to do so.
Stark calls this "a huge loophole."
"It is not the way it is done in the States.... That is something that needs to be addressed as well.... The law does not adequately prevent conflicts of interest when it comes to spouses in this country," the University of Toronto professor said.
Although there are numerous other changes that could strengthen the Conflict of Interest Act, the few loopholes that the Morneau affair has highlighted are some that should have been discussed earlier.
"Whether by seeking election or by accepting an appointment or employment, each public office holder freely chooses this responsibility. Public office holders voluntarily accept the public trust knowing they must maintain that trust and knowing they must be seen to maintain it."