John Fenik looks out at one of the farms in his large Eastern Ontario riding of Lanark–Frontenac–Kingston.
A long-time Liberal who counts former prime minister Pierre Elliott Trudeau as one of his heroes, Fenik is running for the NDP in this election.
He was the Liberal candidate's campaign manager, but the two had a falling out last fall. A few months later, the NDP came calling.
"I think those things that unite us far outnumber those that divide us," he told The Huffington Post Canada.
Fenik, who is also the mayor of the small town of Perth, said he was swayed to join the NDP and run under the party's banner after seeing Thomas Mulcair in the House of Commons vote against Stephen Harper's anti-terrorism bill, C-51.
"Mr. Mulcair is heads over tails a far better leader than Mr. Trudeau. Who knows, with some more time and that, Mr. Trudeau grows. I don't know. But it's leadership, and I think Mr. Mulcair is the man to be prime minister and lead the nation."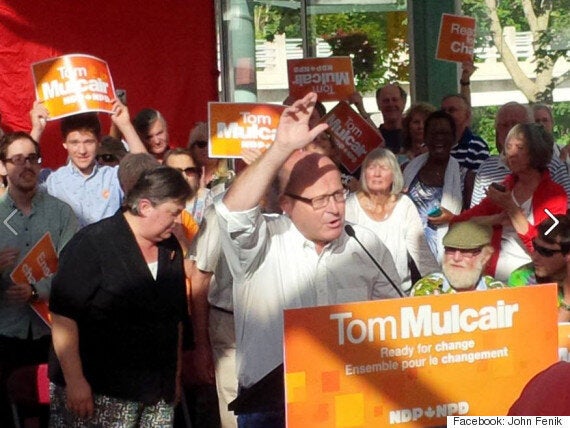 Fenik speaks at a Thomas Mulcair rally in August. (Facebook)
Driving around in his large riding, Fenik said the one thing he is really sensing at the doors is that people want change. "I'm not sure if it's the NDP or if it's the Liberals yet, but … I think we are going to have a change."
Fenik isn't sure — well, in fact, he's pretty certain change won't happen in his riding, but he remains hopeful.
Lanark–Frontenac–Kingston is a new riding carved out mostly from Lanark–Frontenac–Lennox and Addington, and it has been Conservative blue since its formation in 2004. Reform-turned Conservative MP Scott Reid has represented some version of the riding since 1997.
This is not a place where the Liberals and the NDP are splitting the vote. The NDP, historically, has been a distant third here. But Fenik is still trying to persuade Green and Liberal supporters to vote strategically and to "please come under my tent."
"Absolutely anything we can do, we must do," he told HuffPost. Getting rid of Harper's Conservative government should be the first priority, he said.
"If it is a coalition government, working together or blending, by all means we have to do it…. Anything to remove Mr. Harper from power."
If Harper wins another majority, Fenik said, he'll be pushing for a Grit-NDP merger.
"I'll be standing up on the convention floor saying, we have to join forces and get together.
"Maybe I shouldn't say so. I may be fired from my job…. Maybe it's the abortion question," he jokingly added.
Liberal victory 'not realistic': NDP campaign director
Liberals and New Democrats are usually quick to shut down any talk of a possible alliance. They sometimes — often when they are trailing in the polls — want to be seen as collaborative and open to the idea, but when they are leading, or they think they will be leading, they try to talk around the topic.
Polls suggest that more than two-thirds of Canadians want change. But after nine weeks on the campaign trail, the Liberals and the NDP are still competing to be that agent of change. Without a clear choice, many voters — and candidates — believe the Tories will continue to win through vote splitting.
In several ridings across Canada, including in the Greater Toronto Area, in New Brunswick, Nova Scotia, Vancouver and northern Vancouver Island, around Ottawa, in the North, even in Saskatchewan and Manitoba, vote splits between Liberal and NDP candidates help elect Conservative candidates.
A HuffPost analysis of the 2011 election results suggests that were it not for the vote splits the Conservatives would have been prevented from obtaining a majority government.
Of course, all Liberal voters don't have the NDP as their second choice, and neither do NDP supporters naturally rank the Liberals as their second choice. Polling from Abacus data this week suggests a large overlap but not an identical one.
But both the Liberals and the NDP know that in this election they are competing for support from voters who want change — anybody but Harper.
Over the past two weeks, the NDP's fortunes in Quebec have taken a beating, in part because of the niqab issue, and the party's national numbers have reflected the slump. Outside of B.C. and pockets of regional support, the NDP appears stalled.
The Liberals, who are strong in Atlantic Canada and surging in Ontario where the NDP is trailing in third, appear to be on an upswing.
"The Liberals won just 34 seats in Parliament, in the last election, which means that Justin Trudeau and the Liberals would need to win 100 more seats to form a government. That is not a realistic path to victory," Lavigne states in a video posted on Facebook. "Our path to victory is much simpler. In 2011, the NDP won 103 seats, and today Tom Mulcair needs just 35 more seats to defeat Stephen Harper."
Liberal spokeswoman Kate Purchase told HuffPost on Saturday that "Brad and the Mulcair team are taking all the people who voted for Jack Layton for granted. That's arrogant."
Mulcair and Trudeau have spent considerable time this election fighting each other to be the "change" candidate and the choice for strategic voters.
Fighting for the so-called change vote
In the last debate, Friday on TVA, Mulcair accused Trudeau of being just like Harper by voting in favour of his budgets, supporting the Keystone XL pipeline, and supporting C-51.
"I never voted for any of Mr. Harper's budgets…. You have the same economic, social and environmental policies," Mulcair charged. "We, we voted against Mr. Harper. We want to beat him and replace him."
Trudeau countered, as he has in his television ad, that Mulcair is cannot offer generous change because he is adopting Harper's fiscal plan — pledging to run balanced budgets. "You can't invest in families, you can't invest in infrastructure," Trudeau told Mulcair on Friday.
Last week, Trudeau told reporters: "The real progressive voice in this election is not from the NDP. It's from the Liberal party."
On Sunday, as the two parties head into the last two weeks of the campaign, they are each putting on a show of strength trying to persuade voters that their party has the momentum and is best placed to replace Harper.
Liberals expect 6,000 people to attend an afternoon rally in Brampton, Ont., where the party hopes to make several gains at the Conservatives' expense.
The NDP has organized a six-city tour of Southwestern Ontario, beginning with a stop in Brantford, and continuing to Waterloo, Stratford, London, Sarnia, and Essex — seats that are held by the Tories federally, but are in areas where the provincial NDP is strong.
One of the party's star candidates, Diane Freeman, is a Waterloo city councillor. Freeman, who formerly was a card-carrying Liberal and active Grit volunteer, has been making the media rounds over the past several months to explain her conversion to the NDP.
In an interview with HuffPost, Freeman said that she felt over time that the Liberal party was no longer aligned with the policies she felt passionately about, notably childcare.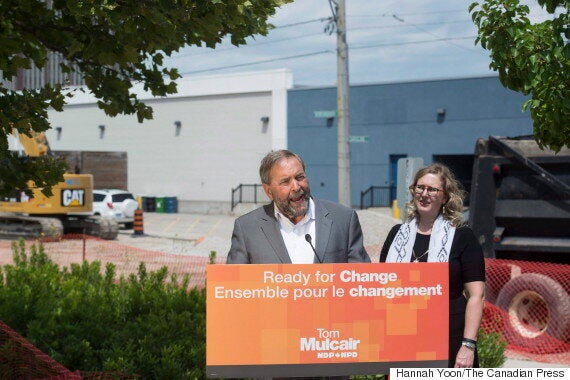 Thomas Mulcair speaks at an event in Waterloo with Diane Freeman. (Photo: Hannah Yoon/CP)
The Liberals had 10 years with back-to-back majority governments to implement a childcare agenda but did nothing, she said.
The straw that broke her Liberal-affiliated back, however, was C-51.
"I was really hopeful that the Liberals would see that it fundamentally undermines civil rights, and then when they voted for it… it was too much for me."
She cancelled her membership in February, she said.
"In terms of policy, I just feel that the Conservative and Liberal policies aren't so far apart anymore," she said. "I haven't had one person explain to me, the leader of the third party's economic plan for Canada, but I certainly have had them explain to me what Tom's plan is for economic growth."
In Mulcair, Freeman said, she sees someone who has a "heart of service."
"I saw someone who genuinely cared for Canadians."
Carolynn Ioannoni is another former Liberal who was approached to run for the NDP.
The Niagara Falls candidate also cites Trudeau's support for C-51 as one of the primary reasons she decided to hang up on the Grits. She said she attended a conference of Federation of Canadian Municipalities in Edmonton in June and came away thinking Mulcair was going to be Canada's next prime minister.
"He resonated with me," she said.
Trudeau's inexperience shows, she said. "That's not something Canadians see in Mulcair. They see confidence, they see experience, and I think he's believable."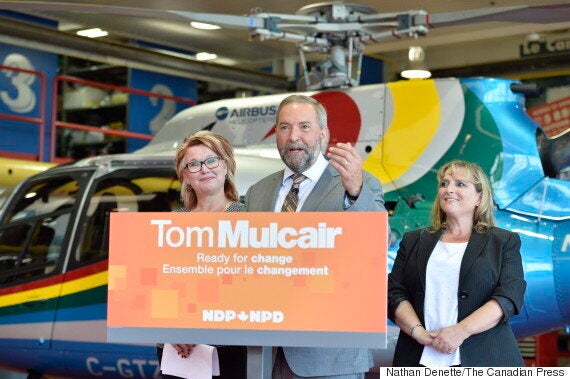 Carolynn Ioannoni and Thomas Mulcair attend a campaign event at Niagara Helicopters Limited in August. (Photo: Nathan Denette/CP)
Ioannoni said she thinks Trudeau's plan to run deficits is "backwards," and she views the NDP as a party that has moved far more to the centre.
"This isn't the NDP party of the past," she said.
Past NDPers have also gone to Trudeau's team
The Liberals also have several former NDP supporters now running as Grit candidates.
Hunter Tootoo, the Liberal candidate in Nunavut, ran for the NDP in 1997 before the territory was created. After a long stint as an MLA in the non-partisan legislature, Tootoo said, he took a look at all three parties and decided to approach the Liberals.
"A lot of it had to do with Justin. I look at him as a very charismatic, very open, good listener, very easy to talk to, very comfortable, and you look at the team that he is building around him," Tootoo said. "As far as the economy goes, his plan is the only one … that makes sense.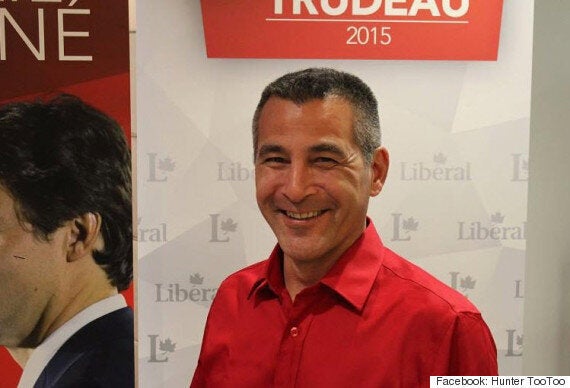 Hunter Tootoo, a former NDP candidate, is running for the Liberals in Nunavut. (Facebook)
"There is a lack of trust right now between aboriginal people of Canada and the federal government, and listening to [Trudeau], he wants to rebuild that trust and rebuild that relationship."
The current MP, Conservative Leona Aglukkaq, isn't doing her job, Tootoo added.
"She's just saying what Stephen Harper is telling her to say."
Tootoo said he liked Layton, but he didn't want to run under the NDP banner in this election because he doesn't like their economic platform.
"They are telling people what they want to hear," he said. "You don't just tell people what they want to hear; you need to tell them what they need to hear.
"It's not always going to be good, and they are not always going to like it, but if you're open and transparent and honest about it, they may not like it but they will understand it."
"I've always been an individual who says what needs to be said, whether it's popular or not," he added.
MaryAnn Mihychuk, the Liberal candidate in Kildonan–St. Paul, served as minister of industry, trade and mines under premier Gary Doer's NDP government and was later appointed minister of intergovernmental affairs.
She said she ran for the Liberals federally because she's focused on job creation and economic development, so there was never any doubt which party she'd align herself with. "They have the best plan on the economy, they have the confidence of the business community and they have a team to implement it."
Mihychuk said she knows people are itching for change. She hears about it at the doorstep. But she is convinced, she said, that, in Manitoba, the Liberals will best represent that change.
No one talks to her about coalitions or NDP-Liberal coalitions, she said. "That is way into the future. Right now, there is still a considerable undecided."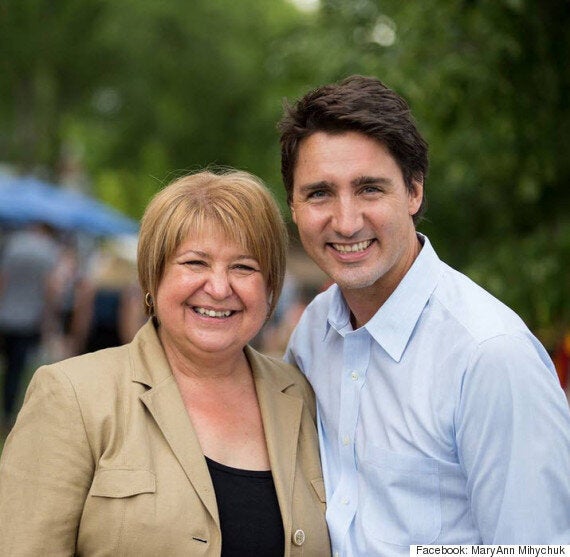 MaryAnn Mihychuk poses with Liberal Leader Justin Trudeau. (Facebook)
'Thomas Mulcair is no Jack Layton'
Lawrence Joseph, former chief of the Federation of Saskatchewan Indian Nations, is another former NDP candidate. He ran under Layton in 2011 but is now the Liberals' candidate in Desnethé–Missinippi–Churchill River.
Joseph told HuffPost that he met Mulcair 3.5 years ago when he was running for the NDP leadership. Mulcair told Joseph then that he expected him to run again, but once elected never called, so Joseph figured that, perhaps, the party had someone else in mind.
Joseph doesn't seem bothered in the least about it. After describing Mulcair's style as brisk, controlling and disrespectful, he said Trudeau is more like Layton.
"Layton was a person that really impressed me because of his compassion, his dedication and grassroots understanding and I'm telling you, with all due respect, Thomas Mulcair is no Jack Layton. He's the furthest thing from him," Joseph said in a phone interview. "Justin Trudeau actually portrays the attributes of the late Jack Layton."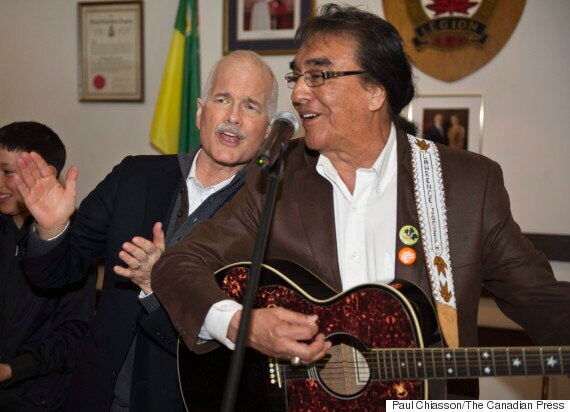 Former NDP Leader Jack Layton sings along with Lawrence Joseph at a 2011 campaign stop.(Photo: Paul Chiasson/CP)
The Liberals have the better plan when it comes to First Nations, he added, but both parties share similar social goals.
"We don't disagree … but we don't agree on how to get there. That's the real issue. I'm a realist, and I'd like to get something real on the table."
Mulcair is not being truthful about his plan, Joseph said. "[He] is promising everything under the sun so [he] can become prime minister.
"It reminds me of the treaty process, [when] the Queen's representative promised the aboriginal people, you can have everything under the sun, and when it came to actually implementing those promises, they were nonexistent."
Joseph said he worries that an NDP government would result in cuts. The provinces, he added, don't have money to implement programs such as national daycare and minimum wage hikes. "It's not realistic."
Like Fenik, however, Joseph is certain that if the Conservatives win again on Oct. 19, the pressure will mount on the two parties to merge or at least form a coalition.
"Absolutely. This is something that people are talking about. In fact, they are asking me about it," he said. But will it happen? "Personally, I don't know. I have no idea."
Right now, he said, his only goal is to ensure that the Liberal party has enough seats to form a government. "So I don't think of any mergers."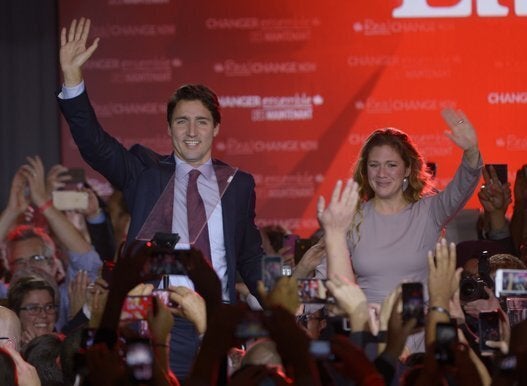 In Photos: Canada Election 2015

Popular in the Community