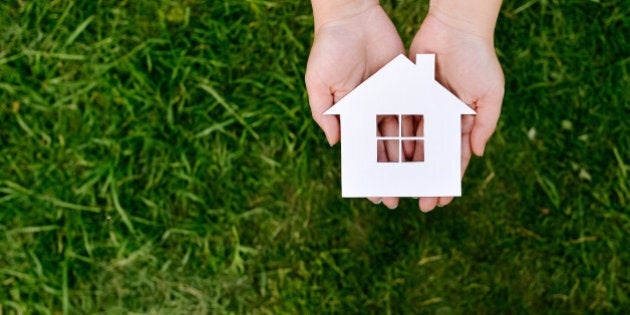 If you had the choice between buying a downtown condo or a house far off in the suburbs for the same price -- which would you choose?
Millennials considering their first foray into homeownership are often placed into a box -- or more aptly put, a box in the sky.
Regularly depicted as through-and-through urbanites who, in the tug-of-war between square footage and location, will always choose the latter, 20-to-30 somethings are seen as open embracers of the condo lifestyle.
But not all millennials are swept up in the high-rise boom. For some, a minute's drive to the GO Train is a worthy enough replacement for steps to the TTC if that means owning a spacious yard and two-car garage.
And of those who live outside of Canada's largest metropolis, an Angus-Reid survey found 73 per cent voiced it was the search for a larger abode at a lower price-point that led them beyond city limits.
It's not necessarily groundbreaking news; the pros (and cons) of moving to the suburbs are a no brainer to many. However, it does counter the popular image of millennials as a generation who no longer covet detached homes and would rather squeeze into tight fitted condo apartments than abandon urban life.
For buyers in search of more space and other perks a condo can't offer, finding an affordable place to call home is a tough proposition, even in the burbs. In 2016 so far, the average detached home in the suburban GTA sits at around $855,000, up almost 20 per cent from a year earlier.
On the other end of the spectrum, condominium apartments in Toronto averaged $430,000 -- up seven per cent.
It's no wonder almost 84 per cent of people believe "it's unrealistic for young people to expect to own a house and yard in the GTA."
For millennials who are on a condo budget but want to skip the starter-apartment to move straight into a house, we've highlighted the suburbs in and around the GTA worth eyeing below. It's worth noting, everything listed comes under the $500,000 mark, so you won't be impacted by new rules that mandate a minimum down payment above five per cent.
Compared to Avg. TO Condo: $28,262 More
Compared to Avg. TO Condo: $111,831 Less
Compared to Avg. TO Condo: $62,394 Less
Compared to Avg. TO Condo: $23,627 More
Compared to Avg. TO Condo: $48,804 More
Compared to Avg. TO Condo: $11,741
Compared to Avg. TO Condo: $59,191 Less
Compared to Avg. TO Condo: $38,367 More
Compared to Avg. TO Condo: $36,004 More
Compared to Avg. TO Condo: $40,733 More
Young buyers willing to circumvent an affordable starter condo for a more spacious family abode with room for future kids will see some strong benefits. For one, houses appreciate at a far faster rate than their high-rise counterparts, meaning they're a more solid investment. Plus, by going with the "forever home" first, you'll avoid the added costs of buying, selling and moving again within a short amount of time.
There are caveats of skipping to a house however, not the least of which includes hours of arduous commuting time as well as being disconnected from young professional life in the city. Plus, with more space, comes higher energy bills and a greater risk of a stretched budget (along with increased maintenance responsibilities). Without the experience of having gone through the purchasing process before, you could also get stuck with buyer's remorse for a house you planned to live in for years on end.
Housing figures are for Jan-May 2016 from Stratus MLS® System
Follow HuffPost Canada Blogs on Facebook