Quebec. Boring? Not this time. The provincial elections set for October 1 in the mainly French-speaking province will matter for the rest of Canada. Here's why.
First of all, the ruling Quebec Liberals of Philippe Couillard have been in power since 2003, except for a brief 18-month stint by the Parti Quebecois (PQ) in 2012-2013. A large majority of Quebecers are fed up with the Liberal regime. That's normal, as 15 years in politics is a long time.
The Liberals have imposed on citizens a major austerity program in the first three years of their last term, cutting budgets in everything from higher education, seniors homes and social services. A major push for the centralization of decisions and services in the public health-care system has so far been a failure, and has led to a major outcry by nurses and citizens. Horror stories in retirement homes are related daily now in local news outlets. Heavily-taxed Quebecers do not like that budget cuts led to such crappy services.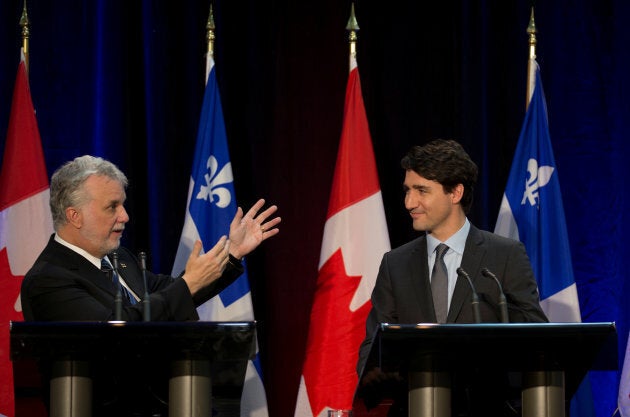 If elections had been held in the past few weeks, the Liberals of Premier Philippe Couillard would only have kept 42 seats out of 125 in the Quebec National Assembly. The popular right-wing Coalition Avenir Quebec (CAQ) would get a majority government with some 66 seats, and the separatist PQ would keep 13 seats.
But these are just polls, and we know opinion surveys can be wrong. Also, eight months in politics is an eternity, and a 35-day election campaign can make a huge difference at the last minute.
My conclusions so far are:
The Liberals are not finished

The CAQ is headed for a victory, but anything can happen

The PQ could lose its party status in the provincial legislature

The left-wing Quebec Solidaire party is the X factor
Since last year, the Quebec Liberals have been throwing goodies all over the place. The budget austerity of the past few years has been replaced by a Santa Claus. Almost every day, the provincial government announces new money for education, roads, hospitals, local projects and tax cuts. Quebec is now projecting large budget surpluses, and this week gave a $500 million package to medical specialists, just to buy peace ahead of the elections.
This flood of money might create the impression with some voters that things are back to normal in Quebec. And that could help the Liberals at the end of the day.
On the downside for the Liberals: Couillard's lack of charisma, and the deep budget cuts between 2014 and 2017. Many Quebecers just can't accept that society went backwards in the past three years.
The CAQ is led by former businessman and Air Transat CEO Francois Legault. He is not charismatic, but many Quebecers want the change Legault embodies. Legault is a former separatist, but has since distanced himself from the PQ and is now a pro-Canada politician.
The CAQ's program is pretty radical in some shape or form, so that may turn off some voters next fall. For instance, Legault wants to abolish equalization, set up baby bonuses to support population growth, cut immigration by 20 per cent, abolish school boards across Quebec, push for electoral reform (switch to the proportional vote), clamp down on doctors' incorporation to save money, etc On the non-controversial side, the CAQ want to cut income tax and school taxes. That will be popular.
Legault also wants a strong Quebec in a united Canada, and he is quite nationalist, so this theme may play well with some voters.
The PQ is not dead, but there has been a major generation shift in the past few years.
Right now, the CAQ has no seats in the Montreal area, but recent polls show the party could win the entire Quebec City area next fall. Without some wins in Montreal, a city of 4.3 million people including the suburbs, it could be a challenge to win a majority government. The worst scenario for them is a minority government, because they could be defeated within 18 to 24 months on any motions by opposition parties.
Last and not the least: Legault is not an inspiring speaker and he has often made mistakes in the past. The 35-day campaign could be a major test for him, especially in this social media era. Right now, the CAQ is sort of hiding Legault, and his public appearances are limited. Stay tuned!
The PQ is not dead, but there has been a major generation shift in the past few years. Support for Quebec independence is hovering around 35 per cent according to Jean-Marc Léger, head of Léger Marketing, against 49.4 per cent in the 1995 referendum on sovereignty.
Young voters don't give a shit anymore. They are citizens of the world, mostly bilingual, and want a new paradigm. That is not going to help Jean-Francois Lisee, the PQ leader. Lisee is a bright intellectual and former writer/columnist. He has a good sense for punch lines, but his leadership is also contested inside the party since he wants to wait until 2022 to talk about a referendum on sovereignty.
If the PQ get less than 12 votes in the legislature on October 1, it will lose its party status. That would be a huge blow, and a message to the rest of Canada that sovereignty is definitely on the back burner for maybe another generation, or for good.
Whatever happens, the PQ might have to dissolve or rebrand itself. That would be huge.
QS is a tiny but influential left wing and separatist party. Current polls give them between four and seven seats in October. QS has recently merged with the Option nationale separatist party. They could steal a few ridings from the PQ, who are now an adversary after failed coalition talks with QS.
QS is led by the charismatic Gabriel Nadeau-Dubois, a former student leader that came into the limelight during the student strike of 2012 (based on tuition fees,) and Manon Massé, a popular former social worker. They are the X factor. If they make inroads in Quebec City and outside Montreal, and get over 12 seats, that would be a new ball game.
In a nutshell, nobody has a crystal ball and all bets are on. But my point is that English Canada should take the time to follow closely the upcoming Quebec election. It will matter for its future.