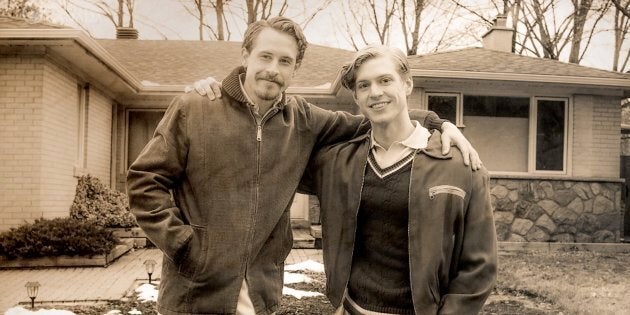 I'm sure you've seen them: Heritage Minutes — those dramatized, 60-second TV spots and cinema shorts that celebrate iconic events, stories and people from Canadian history?
Well on June 13 Historica Canada, the organization responsible for creating this growing collection of national gems, marks its own historic milestone by releasing its first-ever Heritage Minute dealing with Canadian LGBTQI2S history.
Joining such notable historical figures as Sir John A. MacDonald, Viola Desmond, Louis Riel, Laura Secord, Agnes Macphail, Richard Pierpoint and Emily Carr is James Egan, Canada's pioneer gay activist.
From 1949 to 1964 Egan wrote a deluge of letters and articles to the Toronto press, challenging the lurid, stereotyped depictions of homosexuals in the tabloids and arguing for the repeal of laws which criminalized same-sex relationships. In doing so, Egan became the first person in Canada to speak out publicly for gay rights.
In the summer of 1948, at the beverage room of Toronto's Savarin Hotel, Egan met and fell in love with the young man who became his life partner: Jack Nesbit. However, in post-war Canada (until 1969) homosexuality between consenting adults was illegal under the Criminal Code, punishable by imprisonment. Jack's fear about Jim's increasingly public profile as a gay spokesperson finally prompted Egan to give up the chase and move with Jack (and their three Chihuahuas) to Vancouver Island in 1964. They focused on their business, preserving and selling biological marine specimens, and Jim found new political outlets as an environmental activist and elected politician for the Regional District of Comox-Strathcona.
But Egan wasn't finished with gay activism. Upon retirement he decided to wage one last battle for the LGBTQ community, this time with Jack standing proudly by his side. Both men were convinced that politicians would never have the gumption to recognize gay rights, so they decided to seek equality through the courts.
In 1987, Jim applied for a spousal pension benefit for Jack that was routinely granted to heterosexual couples. As expected, the federal government denied them the allowance on the basis that Jack did not meet the definition of "spouse" under the law: namely, "a member of the opposite sex." Thus began an eight-year Charter of Rights challenge that would end at the Supreme Court. Although Egan and Nesbit did not win the pension benefit, the Supreme Court unanimously ruled that sexual orientation was protected under the Charter of Rights and Freedoms — a landmark victory in the fight for LGBTQ rights in Canada.
Our stories and contributions to Canadian society remained largely unknown, even to many within our own communities.
I was honoured a year ago when Historica Canada asked me to be a consultant on their Heritage Minute about Egan. I knew Jim and Jack personally because in 1995 I made a documentary film about them: Jim Loves Jack: The James Egan Story. When I was fresh out of graduate film school, and only recently out of the closet as a young gay man, I was doing research on the gay community for the National Film Board. The NFB was just starting to produce films about the lives, stories and struggles of LGBTQ Canadians. A few years later, Egan's Supreme Court case was making headlines, and I put two and two together. Jim Egan and Jack Nesbit were figures of major importance to the history of LGBTQ rights in Canada, and somebody — namely me — had to make a film about them.
In 1995 there were few films made about queer Canadian history and heroes. Our stories and contributions to Canadian society remained largely unknown, even to many within our own communities. James Egan loomed as an exceptional figure whose story needed to be documented while he and Jack were still around to tell it in their own voices.
For centuries, the existence of LGBTQ people has been omitted, suppressed or rendered invisible by mainstream historians. This history is still not widely taught or spoken about in schools. Growing up as gay kid in Saskatoon, I didn't know that some of the most famous historical figures — philosophers, conquerors, explorers, artists, composers, writers, scientists, kings and queens, political and social leaders — also happened to be queer. Knowledge about LGBTQ history and the significant contributions LGBTQ people have made to human society is important to queer youth. It supports the positive development of their identity and pride, and a sense of connection to other people, past and present, with whom they share common experiences, feelings and struggles.
Why is it important for non-LGBTQ Canadians to learn about LGBTQ history?
Because understanding the journeys of others who are different from us breaks down barriers of ignorance and prejudice, and because recognizing the mistakes and injustices of the past can help us recognize them in the present, and possibly avoid them in the future.
Lest we think that the legalization of gay marriage and official apologies from the prime minister mean that the struggles of LGBTQ people are over, consider this sobering fact: 25 to 40 per cent of the homeless kids living on the streets of our Canadian cities identify as LGBTQ. These youth have left home or been kicked out because of lack of love and acceptance in their families and communities. Laws may have changed, but there is still clearly much work to do in fostering real social acceptance and understanding toward LGBTQ people in the hearts and minds of the general public.
Historica Canada's embracing of queer Canadian history is a welcome step forward in this journey.
We need to continue celebrating the rich diversity of the many heroes and ordinary Canadians who, together, have built this country.
Every one of them is part of our heritage.
David Adkin is a Canadian documentary film producer, director and writer, whose films include Jim Loves Jack: The James Egan Story and several episodes of the White Pine Pictures/History Television series A Scattering of Seeds: The Creation of Canada.
Have you been affected personally by this or another issue? Share your story on HuffPost Canada blogs. We feature the best of Canadian opinion and perspectives. Find out how to contribute here.