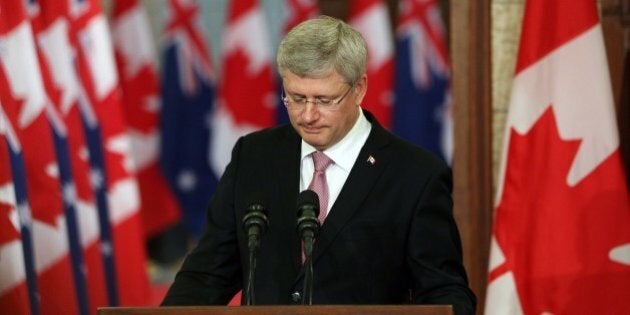 I've prayed in downtown Toronto mosques, on multiple occasions, in the last week. According to Prime Minister Stephen Harper, that means I may be a frequent visitor to a terrorist breeding ground.
On January 30, a reporter asked Harper how newly-introduced anti-terror legislation will differentiate between somebody who is "radicalized" and "a teen who's just messing around in the basement." Harper answered by saying promoting terrorism is a serious offence no matter "what the age of the person is, or whether they're in a basement, or whether they're in a mosque or somewhere else."
Harper's response to this question associates hundreds of mosques across the country with the promotion of terrorism and violence and is misguided for multiple reasons.
Primarily, mosques in Canada are overwhelmingly the sites of peaceful worship and spiritual education, not violent preaching, as Harper suggests. In addition, mosque communities and Muslim leaders have played an important role in assisting security agencies when it's clear they are pursuing a genuine threat. For example, a tipoff from a Toronto imam in 2012 significantly contributed to arrests made in the 2013 alleged VIA Rail terror plot.
Furthermore, those lost Muslims who do commit violent acts typically do not have strong relationships with their local mosques or imams. This was established in a 2011 study from CSIS itself, titled "A Study of Radicalization: The Making of Islamist Extremists in Canada Today."
In a more recent example, Michael Zehaf-Bibeau, the Ottawa shooter, was banned from a Vancouver mosque in 2012 for his outlandish behaviour, and hardly frequented mosques afterward. Meanwhile, Martin Couture-Roleau, who killed a Canadian soldier with his car in October, spent far more time with radicals on Facebook, Twitter, and jihadi forums, than in any mosque.
Harper's flawed response, though certainly a mistake, is not a harmless one as it will likely further enflame hateful sentiments toward Muslims in Canada.
On Feb. 2, the National Council of Canadian Muslims (NCCM) and the Canadian Muslim Lawyers' Association put out a press release strongly condemning Harper's statement. The press release states that, "Canadian Muslims are deeply troubled by the Prime Minister's comments last Friday which implicated Canadian mosques as venues where terrorism is advocated or promoted. The words used by our elected leaders have a profound impact on public perceptions."
Since the Oct. 22, 2014 Ottawa shooting, mosques in Ottawa, Kingston, Alberta and Quebec, among others, have been vandalized, with some incurring damages up to $10, 000. These mosques were attacked by xenophobes incapable of separating the actions of individual Muslims from the vast communities of Muslims in Canada. The NCCM is correct to note that Harper's words have an impact on the public, and in this case, his words have done nothing to quell the hatred of those who put innocent Muslims at risk. It is also important to note that Harper has not publicly condemned these attacks, and has come under fire from numerous Muslim groups for failing to do so.
The severity of Harper's comments, and lack thereof, are especially troubling considering the context in which they were delivered. The anti-terror legislation Harper was taking questions on when he made the remarks, Bill C-51, is just another example of ramped up securitization under Harper. This legislation has been widely derided by civil liberty groups and constitutional lawyers for its threat to Canadians' civil liberties.
The past 13 years have made it clear that Muslims disproportionately bear the brunt of these invasive policies, whether in the form of misguided detainment like Maher Arar's in 2002, entrapment from spies which the RCMP has admitted they employ, or arbitrary no-fly lists that severely and unjustly prevent freedom of movement.
As such, it should be clear that Harper's comments cannot just be brushed off. Harper has power, influence and a track record to make it apparent that these words will be, and have been, backed by strong actions. In this case, as in so many others, these actions further marginalize an already targeted Muslim demographic in Canada.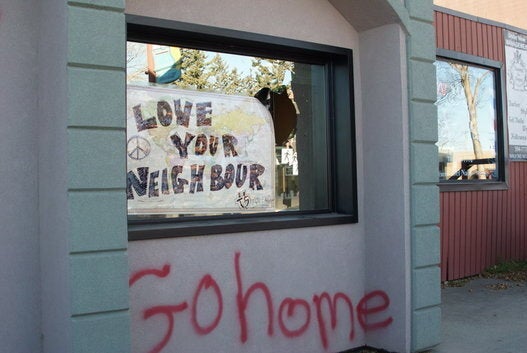 Vandalism At Cold Lake Mosque