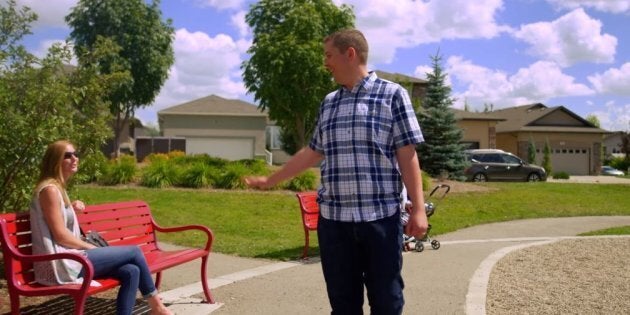 Federal Conservatives are seeking to raise the profile of their leader with a new ad that presents him as a friendly, familiar face at a neighbourhood park.
And, following in the footsteps of other opposition leaders, the 30-second spot gives Andrew Scheer a chance to introduce himself to Canadians by name.
"Millions of Canadians don't know Andrew – and we need to change that," Marshall said in a pitch to party members in which he lauded Scheer as a "devoted father of five" who is "true to his conservative principles, in politics and out."
Marshall asked supporters to "chip in $38" to help get the ad on TV, presumably because Scheer is 38 years old.
The clip shows a smiling, untucked Scheer talking about his middle-class upbringing as people sitting on benches interrupt him to say hello and children climb on playground equipment.
"Conservatives want to see every Canadian succeed and prosper," he says. "So, the other guys can take their cues from the cocktail circuit and celebrities. I'll take mine from the grocery stores and the soccer fields.
"That's who I am. That's who I'm fighting for."
The quip about the cocktail circuit is similar to one Scheer used in his first speech to caucus after winning the Tory leadership last May.
"We're the party of everyday Canadians who work hard, who make sacrifices to secure a better future for their kids. That's who we are, that's who we fight for — that's never going to change," he said at the time.
"The Liberals can take their cues from the cocktail circuit. We will take ours from the minivans, from the soccer fields, from the legion halls and the grocery stores.''
Since then, Scheer has doggedly tried to make the case that Liberals are making life harder for ordinary Canadians, even as Prime Minister Justin Trudeau touts how his government raised taxes on the wealthy and cut taxes for middle class families.
In the House of Commons last week, for instance, Scheer accused the prime minister of making things harder for small businesses while turning a blind eye to "loopholes" enjoyed by the rich. Liberals make things easier for those in the "jet-set life," while always making things tougher for those "in the road-trip life," he said.
Needs 'name recognition' boost
In a poll from Abacus Data released last week, 71 per cent of respondents said they either don't know Scheer "all that well" or "don't know much about him at all," despite him having served as a Saskatchewan MP since 2004 and four years as Canada's youngest Speaker of the House of Commons.
By comparison, 79 per cent felt the same about new NDP Leader Jagmeet Singh, a former Ontario MPP who won the job last month and does not hold a federal seat.
Unsurprisingly, Prime Minister Justin Trudeau is far better known than his rivals, with 84 per cent of respondents saying they had a very or pretty good idea what Trudeau is about.
Past party leaders have tried the same tactic as Scheer to get themselves better known. Before he became prime minister, former Tory leader Stephen Harper released ads in which he said: "My name is Stephen Harper."
Back in 2009, Liberals released ads showing then-leader Michael Ignatieff sitting in the woods, talking about his values and career before politics. The ads were meant to respond to Tory attacks claiming that Ignatieff, who spent decades outside of Canada working as an academic and journalist, was "just visiting" and just in Canadian politics for himself.
Scheer's ad similarly begins with him starring in the camera and proclaiming: "Hi, I'm Andrew Scheer. The new leader of Canada's Conservatives."
With a file from The Canadian Press