Why would a high-end, design and manufacturing company choose to be located in a mountainous area?
Dolce Vita design and create fashionable leather goods, which sell all over Europe. They are based outside a small mountain village, inside a national park in Central Italy, famous for beautiful mountains.
Are there any commercial advantages to being located in a relatively remote mountain area?
From an increasingly out-dated business perspective, the answer is "no." Transport is costly and the logistics of production are not cheap.
Yet, from a more progressive stance, viewing business in terms of sustainability, the answer is positive.
Bruno Treggiari, director of the Dolce Vita explains:
'Our philosophy is: 'Work where you live, not live where you work.' We decided not to sacrifice our lives to work. We decided to make a life that includes work in a satisfying way.'
Indeed they work in a stunningly inspiring location (see photo of them in the workshop/office) and they try to give pleasure in life, as much value as work.
Does it result in a better product?
'We have customers all over Europe, like Russell and Bromley in the UK. We produce high-quality products, not mass production. Because we are a small family business we can offer special services to our clients. We can do orders at short notice, and unique projects, or we can work over the weekend or extra hours because we are a flexible, small team. When clients come to see us they don't stay in a hotel. They can stay here in the workshop where we have a kitchen, dining rooms, bedrooms and every comfort. We like to entertain our clients like friends and give them an experience of life in this mountain region."
Bruno's family have been living in the nearby mountain village since the year 1,200. For him, there is a deep sense of place and thereby human relations or contact to the community are central to their business. Their sons have joined the business and have brought new technical skills to Dolce Vita.
Sandra, Bruno's wife and co-director of the company, explains that the production team is comprised of mostly young people, often friends of their sons." Since they know each other from the community and from going to school together they form a strong team of collaborators, rather than simply members of staff.
Sandra and Bruno in the office/workshop
All these factors have made the business sustainable during its twenty-two years. As Bruno says:
'We've been through recessions before. Several times we had to re-start from zero."
They seem ready for whatever challenges the future brings.
Being located inside the Monti Sibillini National Park, Dolce Vita is very conscious of the environment in terms of pollution. Instead of having their own tannery, which is potentially highly polluting, they send their leather to Tuscany where there is a specialist tannery, which uses vegetable tanning products -- dying the leather with natural dyes from plants.
Their clients in Scandinavia request these environmentally friendly products.
When they are not working Bruno is in the mountains hunting wild mushrooms. Sandra collects their drinking water from a mountain spring because of the especially good taste and health benefits. And the rest of the time, as Sandra says:
"There is a great pleasure in the tranquility of life here, in the beauty of nature."
Both working and relaxing, it is a life with family and friends. Although mountains are not an obvious location for businesses of this kind, when organized with values like these, the location may add to the longevity and sustainability of the enterprise.
Take a look at this gorgeous leather motorcycle helmet they are making: see photo below. How could one have anything else?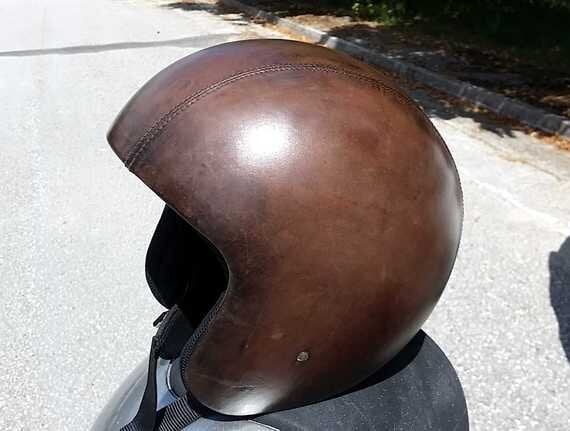 Leather motorcycle helmet made by Dolce Vita
Follow HuffPost Canada Blogs on Facebook
Popular in the Community