Are you getting enough fibre in your diet? It's likely not the case since most Canadians consume only half the amount of fibre they ought to eat in a day. But is your lack of fibre affecting your health? And if that is the case, what are you doing about it?
Thankfully, the solution to getting more fibre in your diet can be as simple as buying All-Bran Cereal. So we've partnered with our friends at Kellogg's* to get the 411 on all things fibre -- what it is and what it can do for you.
Fibre is a part of a plant that our bodies can't digest. It comes in two forms -- soluble and insoluble -- that are found in different foods and do different things for your body. Soluble fibre, for example, can be found in apples and helps regulate blood sugar levels while insoluble fibre can be found in whole grain breads and can help prevent constipation, among other things.
The benefits of a high-fibre diet
A high fibre diet has many health benefits. People who eat more fibre have a lower risk of developing type 2 diabetes and cardiovascular disease, as well as a reduced risk of digestive disorders and obesity. The protective effects of this "powerhouse" nutrient are related to its ability to lower cholesterol, improve blood sugar control, promote regularity and increase satiety to assist with weight management.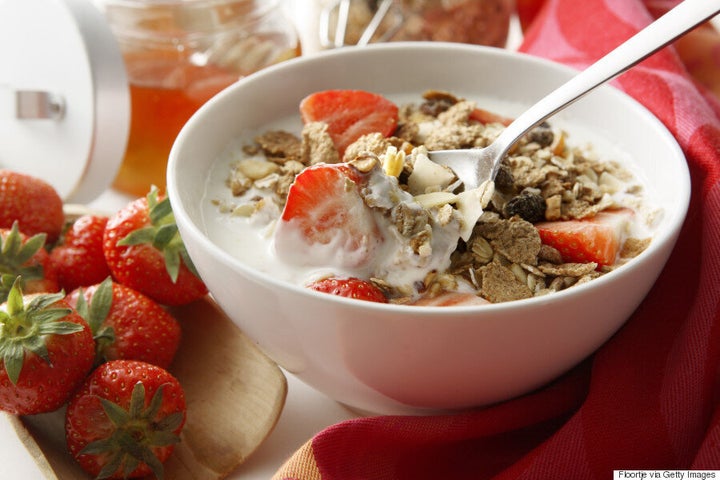 What are good sources of fibre?
It's recommended by Health Canada that men aged 19 to 50 need to consume 38 grams of fibre a day and that women of the same age group need to consume 25 grams. But how do we reach these recommended values? Grains, vegetables, fruit, beans and seeds are all excellent sources of fibre. For instance, one medium-sized cooked artichoke contains 10.3 grams of fibre.
How to get in even more fibre
The good news is that getting more fibre into your body doesn't require a crazy diet. It just calls for including more thoughtful ingredients in your recipes. With your morning smoothie, for example, blend in some flax seeds or top your yogurt with a high-fibre cereal such as Kellogg's* All-Bran*.
With your lunch and dinner, focus less on simple carbs and fill your plate with a salad made of dark leafy green such as kale. The solution to having a fibre-rich diet can be both nutritious and delicious!
One part of feeling good comes from a healthy and efficient digestive system. Include natural wheat bran fibre in your day to help promote regularity and your body will thank you. Learn more about Kellogg's* All-Bran* here.
*Trademark of Kellogg Company used under licence by Kellogg Canada Inc.