A high school student in Saskatoon put Prime Minister Justin Trudeau on the spot Wednesday by asking how he will right the wrongs faced by Canada's indigenous peoples, including "Third World" living conditions and acts of "genocide."
Trudeau told the young woman that the federal government alone won't be able to fix a relationship that has been "broken for centuries."
The prime minister was a guest at Oskayak High School and took questions from students enrolled in the Aboriginal Youth Entrepreneurship program.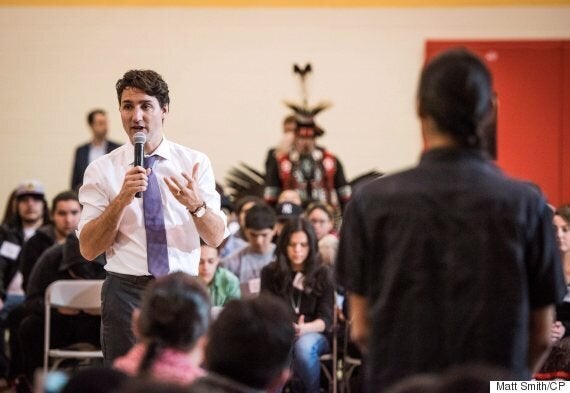 Prime Minister Justin Trudeau speaks with students, teachers, chiefs, and dignitaries at Oskayak High School in Saskatoon, Sask. on April 27, 2016. (Photo: Matt Smith/The Canadian Press)
One such student — Tahris Bear — did not pull any punches.
Here is her full question:
There have been a total of 23 elected prime ministers in Canada. Treaty 6 was signed Aug. 23, 1876 at Fort Carlton Saskatchewan. How do you intend to honour the promises your ancestors made with mine, exactly written in all the signed treaties across Canada, to make up and pay for the acts of genocide our ancestors were subject to long before and after the signing of Treaty 6?

And how do you, Justin, with all your politicians and representatives, plan to right the wrongs? The past 22 elected prime ministers have failed.

My ancestors helped you once in your time of need… when they first came to this land, now Canada. Are we not considered Canadians as well? If we are, why do you allow the first people of this land to endure and live in Third World conditions?
The room erupted in applause after she was done speaking.
Last month, the "Third World" conditions of some reserves was raised after nine people — three generations of a single family — were killed in a Pikangikum fire.
Ontario Regional Chief Isadore Day asked for a "direct and immediate response," adding that unacceptable living conditions are typical among First Nation communities.
Trudeau told the high school student her question went to the heart of what his government seeks to do, noting his words to cabinet ministers that there was no more important relationship than the one between the federal government and indigenous people.
"The federal government can't fix this. We can't fix it on our own," he said. "Everything the federal government has tried to do over the past centuries, some it very well-meaning but horribly wrong in its consequences, happened to indigenous peoples. And the future that we have to build will be with indigenous peoples."
Trudeau said Ottawa needs to get back to the "very core and essence" of treaty relationships built on partnership and respect. He suggested his commitment to restoring trust was part of the reason he was elected last fall.
"This is going to take many more years and many more billions of dollars to fix a relationship that has been broken for centuries, as you point out."

— Prime Minister Justin Trudeau
"I wouldn't be prime minister if it wasn't for the fact that the people who have been pushing incredibly hard to fix and renew this relationship properly include non-indigenous people across this country," he said.
The prime minister reiterated Canada's future must be built around a nation-to-nation relationship.
"It's a good start," he said. "But this is going to take many more years and many more billions of dollars to fix a relationship that has been broken for centuries, as you point out."
CBC News has video of the exchange:
With a file from The Canadian Press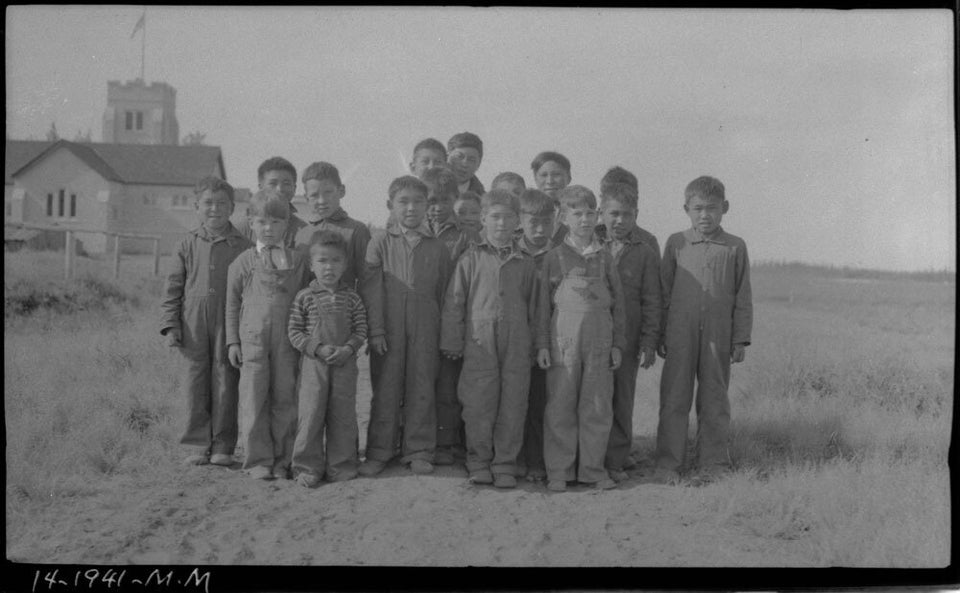 Residential Schools: A Photo History