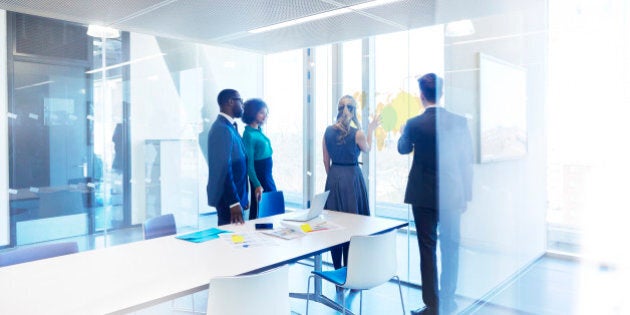 Qualified and steady referrals may be fuelling your business. Thanks to those referrals, you think that you have sewn up all the business you need for months to come. This may lead you to prioritize serving and growing existing relationships, growing your business from within your current client base.
It's true that it's usually easier to convert existing clients into larger clients than it is to invest time and money in developing new relationships. But the adage, "Keep your pipeline full" is heeded by business owners and managers for good reason.
As the lifespan of companies gets shorter owing to buyouts or business reversals, chances are that today's revenue producer for your business won't be your meal ticket for much longer. The demise of financial icons Lehman Brothers and car manufacturer Saab as a result of economic turmoil or increased competition highlights the fact that companies don't live forever.
It sounds intuitive, but many business owners forget that to ensure the consistent growth of a business, you need to maintain an updated sales list containing high-value leads who can potentially become high-value clients. This can be easier said than done. Generating high-value leads is the greatest challenge marketers face. A list is only as valuable as the quality of its names. It's more profitable to build a short, well-researched list that really is 'high-value' than one that is not selective and is the result of wishful thinking versus careful business analysis.
Updating your sales list and identifying high-value targets is much like referral gathering. It is a pragmatic process and not an event. Identifying and approaching high-value prospects is essential to creating qualified leads that translate into your revenue and growth. But you need a solid list before heading out on the networking circuit and into the potentially hit-and-miss prospecting arena.
Here are five tips to ensuring your sales list remains current and includes high-value targets.
Before starting to build your sales list, ensure that you are clear about your company's services and products, target audiences, competitive advantage, and business goals. The names on your sales list must mirror these elements, otherwise you may end up changing your message frequently to meet the needs of each prospect and up trying to offer all things to all people. Consider engaging an objective third party professional who can help you articulate these elements and help you build your ideal sales list.
#2: Get your house in order
Identify and measure the sources of your current business revenue, liabilities and other key financial measures that form a balance sheet. This is an obvious activity for most business owners, but in many cases updating this information is not the priority it should be and a clear snapshot of your business can become hazy and dated.
When you adopt a disciplined approach to managing your own business, you can engage high-value prospects more efficiently using the same pragmatic and measurable approach. Once you start to convert these prospects into clients, you will find these important forecasting and assessment tools indispensable to helping you manage your growth.
#3: Define a 'high-value' prospect
High-value prospects offer the potential to generate growing and consistent revenue for your business. They tend to be: financially stable and are among the top performers in their sector; led by skilled management teams and leaders who lead the brand in business, media, and community circles; focused on the evolving needs of their shareholders, employees, vendors and strategic alliances; and are respected both within and beyond their industry.
Performance measurement and target setting are important to the growth process for even small businesses that tend to "wing it" with business development and growth. Once you formalize a high-value sales list and start formally approaching names on the list, you will find that target setting and performance measurement are key to their success.
You need to consistently assess your high-value sales list to ensure you are always reaching out to the right organizations and people -- at the right time and through the right channels. Look to trusted personal industry contacts to stay apprised of industry developments and attend conferences to stay current. Guide your sales teams in listening to the needs of prospects and ensure their focus remains on the needs of their high-value prospects versus their product and service offerings.
This requires a strong commitment to getting your team "high-value" ready. Third-party, experienced communications specialists can be invaluable in helping your team develop the skills essential to winning the trust of high-value prospects and converting them into clients.
Depending on the size and scope of your business, your list may contain 50 or 5,000 high-value prospects. Structure your lists by sector, the potential revenue it can generate for your business and the similarities between your business and those on your sales list. These similarities can indicate how well you and your prospective customer will work together. Similarities may be based on your knowledge of and interest in their industry; shared priorities (including community and charitable involvement, commitment to research), employee skills development and retention and similarities in leadership styles and strategies, to name a few.
For example, if your business supports consumer education and actively reaches out to the media and public with useful, objective information, you may forge a closer link to a high-value prospect who shares the same philosophies about transparency, public engagement and brand building. A meeting of the minds between leaders can help form the foundation of a mutually successful business relationship.
With the help of a sound marketing team and professional development strategy that boosts your brand awareness and equips all team members to become brand ambassadors, you can identify and cultivate the high-quality list that will drive your business growth.
Follow HuffPost Canada Blogs on Facebook