In its throne speech Friday, Canada's new Liberal government promised to "work with the provinces and territories to make post-secondary education more affordable." New research from the OECD suggests Trudeau's Liberals have their work cut out for them.
Canada has some of the highest costs in the world for university and college education, according to the Education at a Glance 2015 report, and ensuring Canadians have access to education depends on maintaining financial aid to students or institutions.
But even with financial aid, high tuitions can hit students and families hard when times are tough, the report says.
Canadian students in bachelor's programs at public institutions paid an average tuition of US$4,761 per year in 2013-2014, the fifth highest among 23 developed countries for which data was available.
That's lower than tuition fees at public institutions in the U.K., U.S., Japan and South Korea, but higher than everywhere else, including many countries such as the Netherlands (US$2,300), Austria ($861) and eight countries where tuition is zero.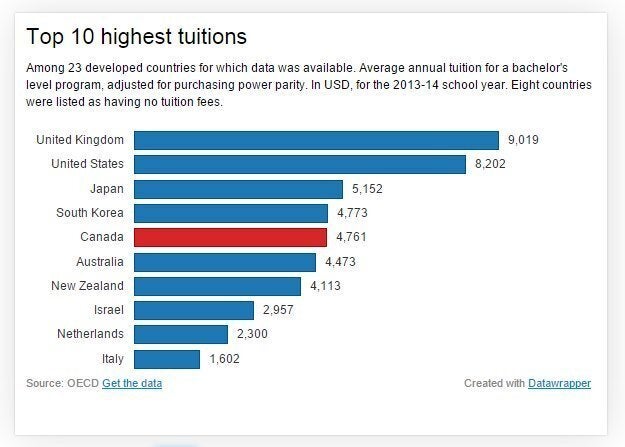 The study suggests that Canada's high tuitions could keep people out of the education system during hard times.
"During periods of economic crisis, high tuition fees impose a considerable financial burden on students and their families and can discourage some of them from entering [post-secondary] education."
But the report doesn't exactly come out in favour of a low-tuition or no-tuition model. That's because it found that a larger share of the population gets a post-secondary education in high-tuition countries than in low-tuition or no-tuition countries.
The study breaks down countries into four categories: High tuition and lots of financial aid (U.S., Canada, U.K.), high tuition and low financial aid (Japan, South Korea), low tuition and high financial aid (Austria, France, Italy) and countries with no tuition (Denmark, Norway, Sweden).
It finds that Canada's model (high tuition, high financial aid) has the highest rate of entry to bachelor's programs of any of the models.
The average entry rate into bachelor's programs in the tuition-free Nordic countries is 59 per cent. By comparison, the average bachelor's entry rate for high-tuition, high-aid countries like Canada is 71 per cent, "higher than in most countries with low tuition fees," the report said.
The study notes that Canada has the highest level of educational attainment of any of the countries surveyed.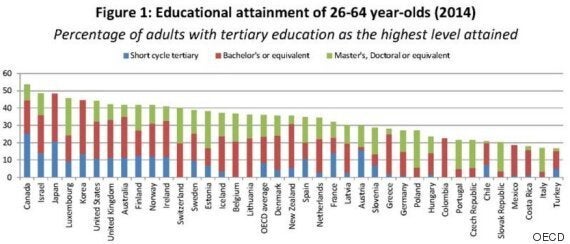 But maintaining financial aid to students is key to making the system work. The study notes that high-tuition, low-aid countries have low bachelor's entry rates, as low as 48 per cent in Japan and 55 per cent in South Korea.
Provincial governments across Canada have — in recent decades — repeatedly slashed funding to post-secondary education and allowed tuitions to rise, a phenomenon that is now translating into higher student debt.
StatsCan data from last year shows student debt in Canada grew by 24.4 per cent from 2005 to 2012, reaching a total of $28.3 billion outstanding.
Still, that pales in comparison to the U.S., where student debt grew 110 per cent in the same period, to a total of nearly US$1 trillion outstanding.
But the OECD study notes that even in no-tuition countries, students often graduate with debt, thanks to expenses other than tuition, such as room, board and books.
Canadian governments have responded to rising student debt by putting into place new financial assistance measures for students. But critics say this new system is chaotic and inconsistent.
"The increasing number of exceptions and qualifiers for financial assistance makes the system far more difficult for students and families to navigate, and makes it harder to compare province-to-province," said a 2013 report from the Canadian Centre for Policy Alternatives.
"If provinces directed their funds to across-the-board fee reductions instead, it would make the system fairer, more predictable, and easier to navigate."