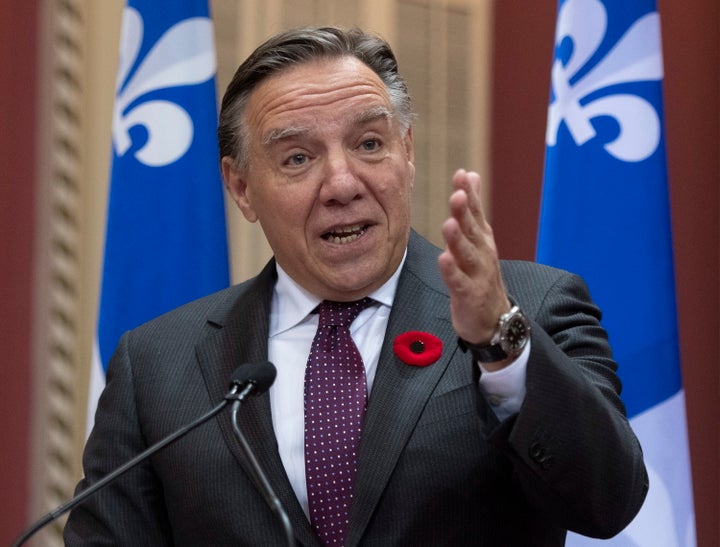 OTTAWA — A new chapter in identity politics was written in Quebec Tuesday with the province's premier offering a definition of who is considered a "historic anglo."
The province's French language charter, Bill 101, is on politicians' lips this week in the wake of new restrictions limiting people's access to certain government services in English. Quebec Immigration Minister Simon Jolin-Barrette said earlier that the "historic English community" will continue to have access to English services, but newcomers will be served in French.
Asked how the province will determine who is and isn't a "historic" anglophone, Coalition Avenir Québec Premier François Legault offered an explanation.
"How? As per the Bill 101, if your parents went to the English School, you have rights in Quebec and we will respect those rights," Legault told reporters in the National Assembly. "If you're a new immigrant, you have to talk with them in French."
He added that members of Indigenous groups will also continue to have access to certain government services in English.
Watch: Quebec renames hydroelectric installations after late premier. Story continues below video.
Renewed attention has been brought to the language charter since Le Journal de Montréal reported that Hydro-Québec was sending 400,000 unilingual English bills to customers. Legault ordered a review of the government's linguistic practices and the Conseil supérieure de la langue française published its report Monday.
It gave the province good marks for following linguistic policy to promote French unilingualism. Vague linguistic policies are among some "shortcomings" the government and provincial agencies need to address to ensure "exemplary administration," it read.
It's unclear how the province will verify who is and isn't a historic anglophone when determining people's access to certain government assistance in English, including driver's licence renewal and health care-related services.
University of Ottawa law professor Pierre Foucher told HuffPost Canada that Legault's definition for who would be considered a "historic anglo" has "questionable" social validity. He compared it to the Indian Act, where there's been much debate about who is considered "Indian."
"Defining who is or is not included in a minority – and who should decide - has always been a thorny question both in Quebec, in Canada and in international language law."
In New Brunswick, "Francophone community" is a generic term that's used without a formal definition. It's the same in Nova Scotia and PEI where "Acadian community" is commonly used by government without defining it.
Quebec Liberal finance critic Carlos Leitão is critical of the CAQ government's latest policy targeting newcomers. He used air quotes every time he mentioned "historic anglo" to reporters Tuesday.
Leitão wants to know where the province will draw the line between a "historic anglo" and "another kind of anglo."
"So when somebody calls Service Quebec and says, 'I'm an anglophone, so please answer my question in English.' And then what?" he said during a press conference.
The former provincial finance minister mocked the government's plan, asking if a "secret password" or "secret handshake" be required to confirm someone's identity as a "real anglo."