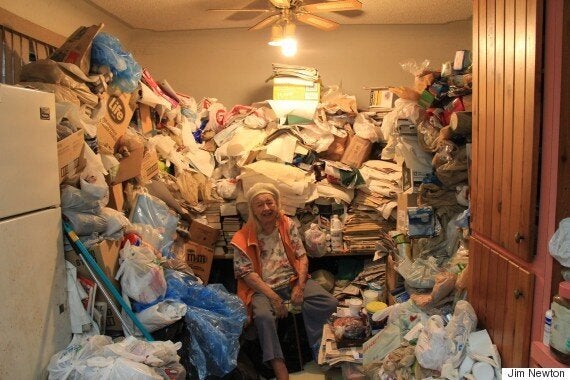 Pauline Jollymour has so much stuff hoarded in the Chilliwack, B.C. home she shares with her son that you can barely see her among the towering piles of papers, Kleenex boxes, and garbage.
Jollymour, 92, and her son Gary, 58, have been living for years in what the city has called one of the worst hoarding cases it has ever seen.
"I've got to hang on to things because I lose my balance, I've fallen down four times," Pauline told CTV News. City council approved a cleanup order, as the home is considered a severe fire risk.
Gary has obsessive compulsive disorder, and collects used tissues and Kleenex boxes. The basement has been moldy ever since the hot water tank burst, and rats can be heard rustling through the home.
The bathtub is filled with more tissues and garbage. The mother and son have to heat water on the one usable element on the stove for sponge baths.
But their lives are turning around, thanks to some dedicated community volunteers, and a real estate investment company run by three Chilliwack brothers.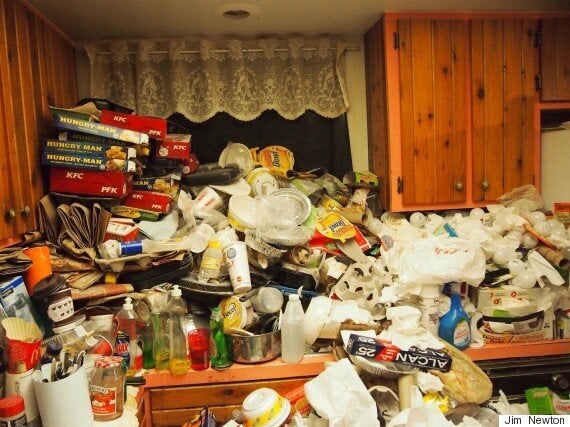 In 2013, retired veteran Jim Newton decided to see what he could do to help his neighbour.
"Just her being in my backyard and seeing these shows on TV and stuff like that, I can't sit around and do nothing," he told The Huffington Post B.C. in an interview. "I went and knocked on the door ... [and] asked them what I can do to help."
"This is our hometown. We grew up near here. We live here, so we wanted to help out," Mark Gore explained to HuffPost B.C.
The brothers and a home they worked on in Washington state were featured in the TLC reality show "Hoarding: Buried Alive."
Trying to help the Jollymours has been a lesson in patience for everyone involved.
"Pauline basically has to get Gary's approval for anything, and Gary just can't make decisions," said Gore. "Gary was bringing it in as quick as we were hauling it out. We were thinking of different ways to help them."
Gave them townhouse to live in
Cleaning up the house while the mother and son lived there was not only difficult, but also dangerous because of biohazards such as hantavirus, which humans can get through contact with infected rodents' urine, saliva or feces.
So the Gore brothers decided to buy a townhouse and furnish it — and convince Pauline and Gary to move there.
Realtor Jill Hall, the Gores' sister, will list the hoarder house for free once it's fixed up. The brothers are covering all costs until the Jollymours' house is sold.
"It's an adventure for us, plus we're helping somebody," said Mark Gore. "That might sound really stupid, I know some people won't believe it. Not everything's about money."
He continued: "They're guaranteed a price on their home but we're going to try to get more for them.... She's a sweet old lady. They're good people."
Story continues after slideshow: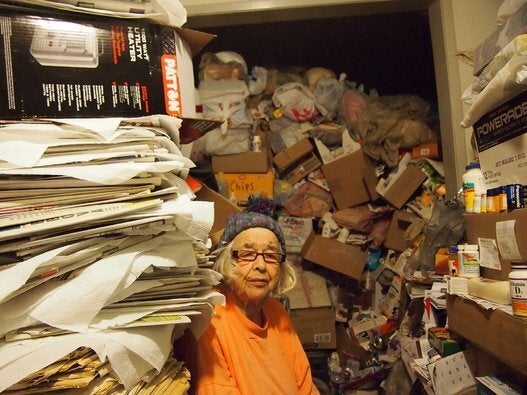 Hoarding House In Chilliwack, B.C.
Gary has been transitioning to the new home, sleeping over more frequently over the last few weeks. His mother had a breakthrough by staying overnight for the first time on Sunday.
"It's very hard, very frightening for me right now," Gary told CTV News. "There's a lot of things attached, a lot of feelings right now that make me ill at times because of the attachments."
A Vancouver psychiatrist is part of the unofficial group of volunteers, according to Newton. Glen has been seeing psychiatrists since he was a child, reported The Chilliwack Times.
Newton and other volunteers have cleaned up the backyard and hauled away some vehicles, but there's much more to tackle inside.
There's a contract in place for the Jollymours to move out of the hoarder house by the end of the month. Newton has been checking on Gary and the new home regularly.
"It's not just a TV show thousands of miles away. It's someone in our backyard that needs our help," said Newton. "There are probably a lot more hoarders out there than we know."
For more information on how to help Newton and other volunteers, click here.