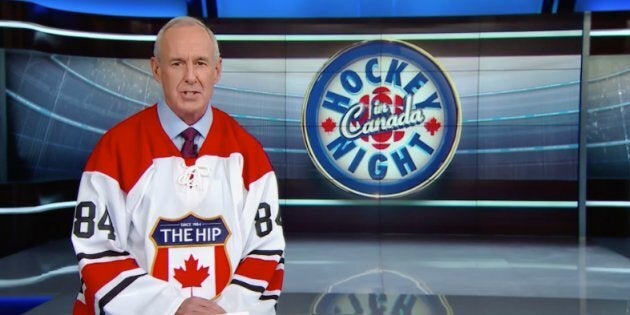 Gord Downie made no secret of his love for hockey. The Tragically Hip frontman, who passed away on Tuesday, referenced the sport's thrilling, heartbreaking and human moments throughout his career.
CBC's "Hockey Night in Canada" paid tribute to the great Canadian with a special segment on Saturday.
"He loved the game," Ron MacLean said of Downie, wearing a jersey with "The Hip" emblazoned on the front. "And The Tragically Hip did everything like hockey, including sell these sweaters at every stop along the way.
"Gord obviously went down swinging. He had two things he wanted to do. One was to say 'Thank you.' And the other was to get the First Nations back on Team Canada — their team, for heaven's sakes."
Downie was connected to hockey his whole life. His godfather, Harry Sinden, was coach and general manager of the Boston Bruins.
The Tragically Hip's song "50 Mission Cap" pays tribute to another team, however, the Toronto Maple Leafs. The song tells the story of Bill Barilko, who in 1951 scored a Stanley Cup-winning goal for the Leafs, just to die in a plane crash months later. Barilko's death was a mystery until 1962, the year the Leafs won another Stanley Cup.
"Hockey Night in Canada" tweeted another tribute to Downie on Saturday. The video, posted by Toronto filmmaker Tim Thompson, revisits some of Downie's most Canadian moments.
The emotional montage shows Don Cherry making jokes about The Tragically Hip and vice versa. The band discusses how they play "like a good team."
"A song that we write isn't really a song that we write until every guy has put his stamp on it," Downie says.
Spoken like a true team player.
Popular in the Community