B.C. teachers who are in their second week of rotating strikes got some star support from "Game of Thrones" actors whose characters know all about nasty, divisive feuds.
Kristian Nairn, who plays Hodor, was photographed with Vancouver-based actress Kandyse McClure holding a handmade sign that read, "I support the teachers in British Columbia and public education! So say we all."
The last phrase comes from "Battlestar Galactica," which McClure co-starred in. McClure's mother, Lizanne Foster, is a teacher in Surrey and a blogger for The Huffington Post B.C.
McClure, currently starring in Netflix series "Hemlock Grove," appeared at the Indy PopCon in Indianapolis last weekend with other actors from popular sci-fi and fantasy TV shows and movies.
Ever the supportive daughter, McClure posted photos on her WhoSay account of other celebs holding the sign, including Esme Bianco who plays Ros on "Game of Thrones," Keahu Kahuanui who is MTV's "Teen Wolf," and veteran actor Ron Glass from "Firefly" and "Barney Miller."
"She also got the entire audience who were there for a panel discussion ... to hold up signs saying they support B.C. teachers. And she got them to dance because that's what I get my students to do for brain breaks in my classroom. I think she talked a little about what I do in my classroom and also what the strike was about."
B.C. teachers and the province are locked in a bitter dispute over wages, as well as classroom size and composition.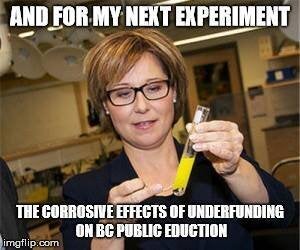 B.C. Teachers' Strike 2014 Memes