I adore the holidays for their ability to welcome an array of awesome 'ugly Christmas' sweaters that I'm able to marvel at in one room, the boisterous conversation levels, the large gatherings, and tables covered with festive eats.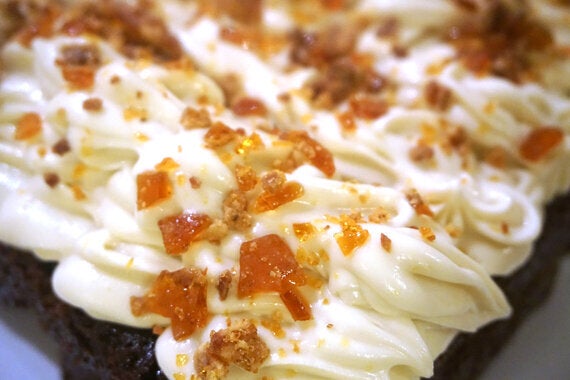 And since it's the season for giving, I'm usually keen to show my appreciation by making the hosts something for their holiday party.
But, if you're an avid baker like me and doing a LOT of swirling and mixing this time of year, I understand that it can be stressful. Supermarkets can run out of the necessities you need. But, I assure you that my gingerbread cake is easy to make and assemble. It's also stupendously forgiving.
I adapted this recipe from the Domestic Goddess herself, Nigella Lawson. One of the essential ingredients called for is stout-- and while I immediately thought of Guinness Extra Stout for its crisp barely notes, I was intrigued with Innis & Gunn's Oak Aged Beer. Established in 2003 and hailing from Edinburgh, Scotland, it's become one of the popular beers among Canadians. And interestingly enough, its inception was a happy accident. Initially, the beer was just used to infuse flavour and aroma in barrels used for aging in William Grant & Sons Distiller's ale cask reserve whisky. The beer was supposed to be discarded after it served its purpose in the casks, but fortunately, they decided not to because of its 'unique' and transformed flavour profile.
If you've never tried their brand before, I recommend getting a variety pack so you don't have to commit to one type. Inside, you receive four different varieties as well as a bottle opener. If I wasn't using it for baking, it'd make for an ideal holiday/housewarming gift for that craft beer lover.
Between the four choices (Original, Rum Finished, Toasted Oak IPA, Bourbon Dark Ale), for this recipe, I recommend using either the Rum Finish- which has been matured in American oak and infused with a blend of specialty rums-- or the Bourbon Dark Ale which has been matured for 30 days to give it a smooth, full-bodied finish.
In doing a very scientific process of elimination via the "Eeny, meeny, miny, moe" method, I settle on Bourbon Dark Ale.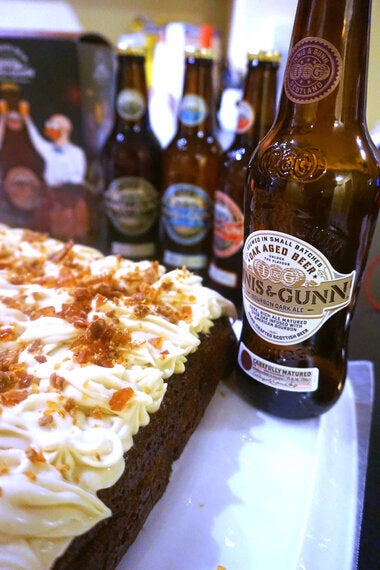 If gingerbread cookies and sticky toffee pudding had a child, this robustly textured cake would be it. Squidgy, squishy, soft and with a heady blend of spices, it touches on all the Merry Christmas notes of this coziest time of year.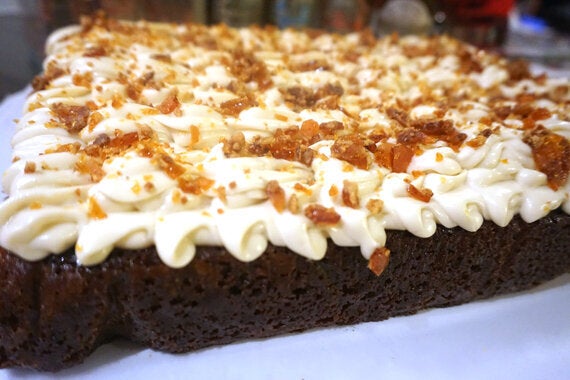 Sticky Gingerbread Cake with Lemon Cream Cheese Frosting
Recipe adapted from Nigella Lawson
FYI: I've included my notes and tips. If you have a kitchen scale, I highly advise you to use it instead of measuring spoons or cups. Weighing your ingredients is a far more accurate way to ensure you have the right amounts of each ingredient. A good scale brand that's not too expensive is Salter (and the one I have at home).
1 1/4 sticks (10 tbsp or 5 oz) unsalted butter, plus some for greasing
3/4 cup (or 9 fl.oz) golden syrup (aka light treacle) or substitute dark corn syrup
1/4 cup (or 2.75 fl.oz) blackstrap or fancy molasses
1 cup (packed) plus 2 tablespoons (or 9 oz) dark brown sugar
1 cup (250 mL) reduced stout (see below)
1 tbsp freshly grated ginger or ground ginger
2 1/2 tsp ground cinnamon
1/4 teaspoon ground cloves
2 cups (or 10 oz) all-purpose flour
1 1/4 cups (or 10.75 fl.oz) room temperature, full-fat sour cream
2 large eggs (room temperature)
1 cup (or 6 oz) bittersweet chocolate (such as Pernigotti) cut into small chunks
1 rectangular aluminium foil pan or cake pan, approximately 13 by 9 by 2-inches
Set metal rack on second last set of rungs in oven. Preheat your hot box to 325 degrees F. Line your cake pan with aluminium foil or parchment paper and grease it, or grease your foil tray.
Pour bottle of stout (330ml) into medium sauce pan. Set heat on medium. Once stout starts to bubble, continue to let it bubble for five minutes. Off heat and cool. Pour into measuring cup. Your now reduced stout should be 250ml.
Put the butter, syrup, dark brown sugar, reduced stout, ginger, cinnamon and ground cloves into the pan you used for the stout, and melt over a low heat.
Put flour, baking soda, salt in a medium bowl. Reserve about 1/4 cup flour mixture for chocolate chunks. Toss this remaining flour with chocolate pieces and set aside (this will ensure they don't sink to the bottom of the batter).
Take off the heat and sift in the flour and baking soda with a whisk (do not use a rubber spatula). You will need to be patient and whisk thoroughly to get rid of any lumps.
Whisk the sour cream and eggs together in the liquid measuring and then beat into the gingerbread mixture, whisking again to get a smooth batter.
Sift in remaining 1/4 cup flour that was used for chocolate. Stir just until there are no more flour streaks. Fold in chocolate chunks.
Pour this mixture into your cake/foil pan, and bake for about 40-45 minutes (rotating half-way through); when it's ready it will be shiny and risen at the centre, and coming slightly away from the pan at the sides.
Let the gingerbread cool before frosting.
Lemon Cream Cheese Frosting
2 x 250g packages of Full-fat Cream Cheese, room temperature (e.g. Philadephia)
1/2 cup (or 4oz) unsalted butter, room temperature
1tbsp (15mL) fresh lemon juice
2 1/2 - 3 cups (or 10 oz to 12 oz) sifted confectioner's sugar
1/4 cup to 1/3 sour cream or heavy whipping cream (optional)
Crushed caramel candy for decorating
In a large bowl, whip cream cheese until light and fluffy with butter and salt- about 5 minutes.
Using a rasp or microplane, grate the lemon zest from both lemons and add to cream cheese. Add fresh lemon juice. Mix. Sift in 2 1/2 cups of confectioner's sugar. Taste. If you want it sweeter, add the remaining 1/2 cup. If you want a stiff frosting, don't add sour cream/whipping cream. But if you want a more pliable & soft texture, add to your preference.
Frost room temperature cake. Add crushed candy to the top just before serving (I used bacon caramel, but crushed candy canes would work just as well).
Cut into small squares. Serves 16-20 people.