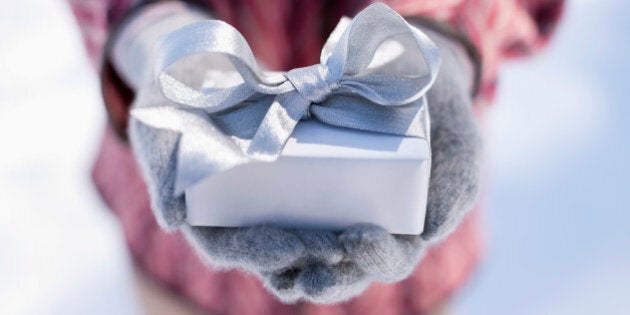 The holiday season is a fine opportunity to thank the professionals who serve us daily.

My husband and I are especially grateful for our cleaning lady and the driver that takes our children to school daily.

Rather than offering gifts, we decided that it makes more sense and it will probably be more appreciated and certainly more useful, to offer them a sum of money instead of token gifts.

What amount would you suggest for each of them?

Knowing that they usually offer us a gift, we don't want to be too excessive and put them ill at ease. But, at the same time, we want to be generous while recognizing that our means are not the same, especially with that of our housekeeper.

How much should we give Julie?

Thanks in advance for your advice.
You are right, the holiday season is the perfect time to thank those that make our lives better and beautiful. With the offering of cash, your service providers can spend according to their wishes or needs.
As these are professionals that you compensate with money to help you meet the needs of your family, in our culture, it is usual and quite acceptable, to offer money in lieu of a gift.
As for the amount, it could be as much as the cost of one service.
In your case, you could give up to the price of a cleaning session and as much as the weekly rate for your children's ride.
As for how to give, place the bills or cheque, in a card. Make sure to take the time to write words of gratitude that will reflect the well-being that these people contribute to your family; refreshing your home and making sure that your children get to and from school safely.
If your children are of writing age and capable of making crafts, I encourage you to engage them in demonstrating their appreciation. They also benefit from these services. Don't they? This is a good way to teach them that this time of the year is not just about receiving gifts, it also involves a tradition of giving and recognition.
To make sure that you don't forget anyone, here is a list of other services providers, from a previous post, that are typically recognized at the end of the year.
Babysitter: Cash equal to one night's average pay plus a token gift from your child.
Building supervisor: Cash, minimum $20, the amount depends on the level and frequency of services provided throughout the year.
Teacher or daycare worker: All who equally care for your child receive equal gifts.
lt is very difficult to show favoritism in a work environment that offers a team service. Employees see everything everywhere and regularly exchange throughout the day. If you feel the need to recognize a particular person within the working group, do so very very discreetly, or, it might just be best to do it verbally.
The value of the gifts vary between $10 to $40 dollars. Include your child in the gift choosing process and card.
Dog walker: Cash or gift, up to one-week pay.
Hairdresser and beauty treatment specialists: Cash and/or a gift; depends on how generous you usually tip during the rest of the year. The amount could be as much as double your usual tip or that value in a gift.
Live-in help: Cash tip plus a personal gift.
Mail or parcel service carrier: No cash -- gift or gift card at about $20. Note that the Canada Post gift policy states that the maximum acceptable value of a gift is $100.
Massage therapist: Cash or gift, up to the cost of one session.
Note: you do not tip a service provider that is for a doctor-prescribed medical condition, who gets paid by your medical benefits.
Nursing home care giver: Small gift for each person or a group gift such as a basket of luxury sweets.
Personal trainer: Cash or gift, up to the cost of one session.
Lastly, if you are enjoying the services of a new professional again, in a new city or province and are not sure what to offer, remember the wise words of my maternal grandmother, Florina: "When in doubt, find out." Ask the receptionist, manager or even professional him or herself. It is better to be informed than to make a faux-pas especially if you plan on using that person in 2015.
You have a sticky situation at work or at home? This is your forum. Write to Julie and she will reply promptly. Want more solutions to sticky situations? Go to Facebook, Twitter or order your autographed copy of Etiquette: Confidence & Credibility. Planning a conference? Julie happily travels coast to coast and beyond, to present customized activities. With Julie's help gone will be awkwardness, embarrassment and faux-pas.