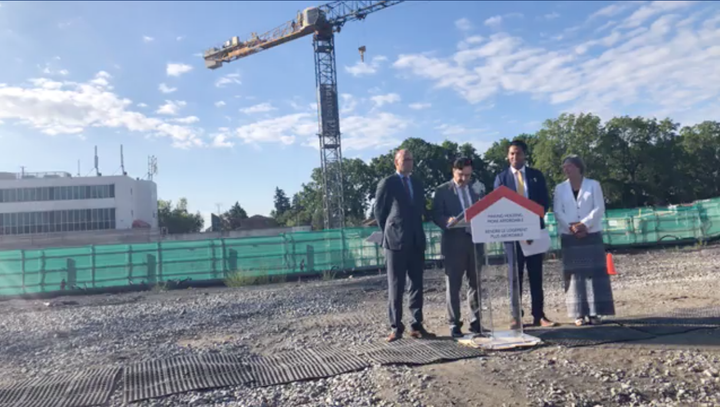 Standing at a Richmond Hill, Ont. construction site Wednesday, federal Families, Children and Social Development Minister Jean-Yves Duclos formally announced the launch of the First-Time Homebuyer Incentive, the policy on which the Liberals are staking their housing-affordability credentials this election.
Under the plan launching Sept. 2, Canada Mortgage and Housing Corp. will buy a share of a first-time homebuyer's house ― 5 per cent for resale homes, and 5 or 10 per cent for newly built housing. The idea is to reduce monthly mortgage payments, and only households with a total income of $120,000 or less will qualify.
"The First-Time Home Buyer Incentive is designed to benefit those who need more assistance with housing costs, middle class Canadians," Richmond Hill MP Majid Jowhari said at the event.
Watch: Why are rents skyrocketing in Canada, and what can we do about it? Story continues below.
But the Liberals' choice of venue actually highlights one of the problems that critics of the plan point out: That it might not actually help middle class people in the places where they need help most.
Of the 916 homes for sale in Richmond Hill (a Toronto suburb) on the Multiple Listing Service as of Wednesday, only 57 were listed at $500,000 or less, potentially qualifying buyers for help. That's roughly 6 per cent of all homes on the market. And of those, only 13, or less than a quarter, have two bedrooms or more.
Zoocasa surveyed 25 major housing markets around Canada, and found that the average selling price is out of reach of the program in six of those. All of those markets are near Vancouver or Toronto.
The Liberals' program "may be enough to buy a small- to medium-size condo apartment in those markets but probably not a family-friendly home," RBC economic analyst Robert Hogue wrote in a report in March, after the Liberals announced the program in their federal budget.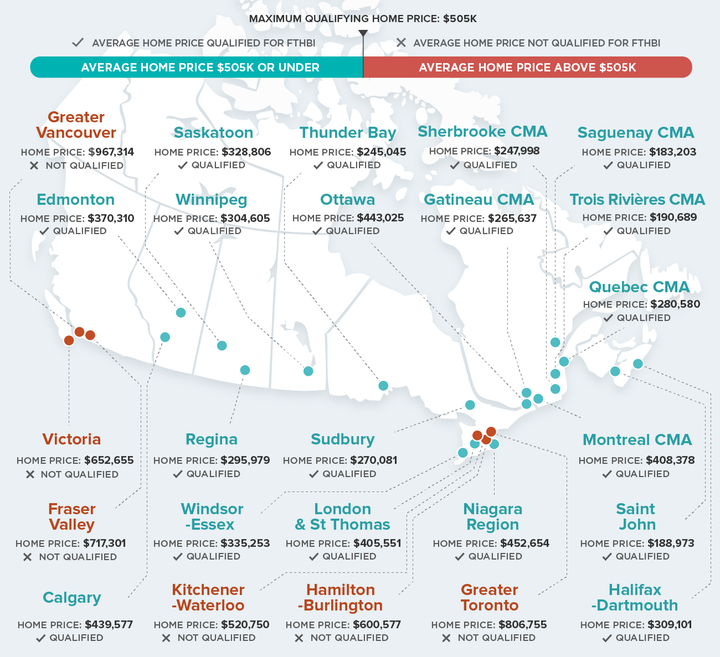 However, as Zoocasa's data shows, the program could have an impact on many less expensive markets, including Montreal and Ottawa, both of which have had very heated conditions recently.
If Britain's experience is anything to go by, these markets could see prices pushed up as a result. Britain's own version of the plan, running since 2013, resulted in higher house prices, a recent analysis found.
With the government ponying up a chunk of the purchase price, buyers chose to purchase more expensive homes, the study found. In London, they spent 7 per cent more than other buyers; in the less expensive North West, they spent 67 per cent more.
Good news on Oct. 15
If that were to happen with the Canadian version, it would likely mean a boost in home prices and sales in hotter but less expensive markets like Ottawa, Montreal and ― would you believe ― Charlottetown, P.E.I.
But we won't know that for sure until October 15, when the Canadian Real Estate Association releases its home resale data for September.
That could mean a fortuitous bit of economic good news for the Liberals landing six days before the federal election on Oct. 21.
CMHC says this was the "earliest timing" possible for the plan, given its announcement in the budget this past March.
"There was a lot of operational work that needed to be done and we worked as fast as possible to launch this new program," a spokesperson told HuffPost Canada by email.
Pollsters say housing affordability, and general cost of living concerns, are top of mind for Canadians in this election cycle.
"All of the major parties are going to be obsessed about carving out territory around affordability," Tim Powers, vice-chairman of political strategy at Summa Strategies, told Reuters last week.